Alkaline Trio announce massive Past Live box set (8 LPs, 4 Blu-ray discs)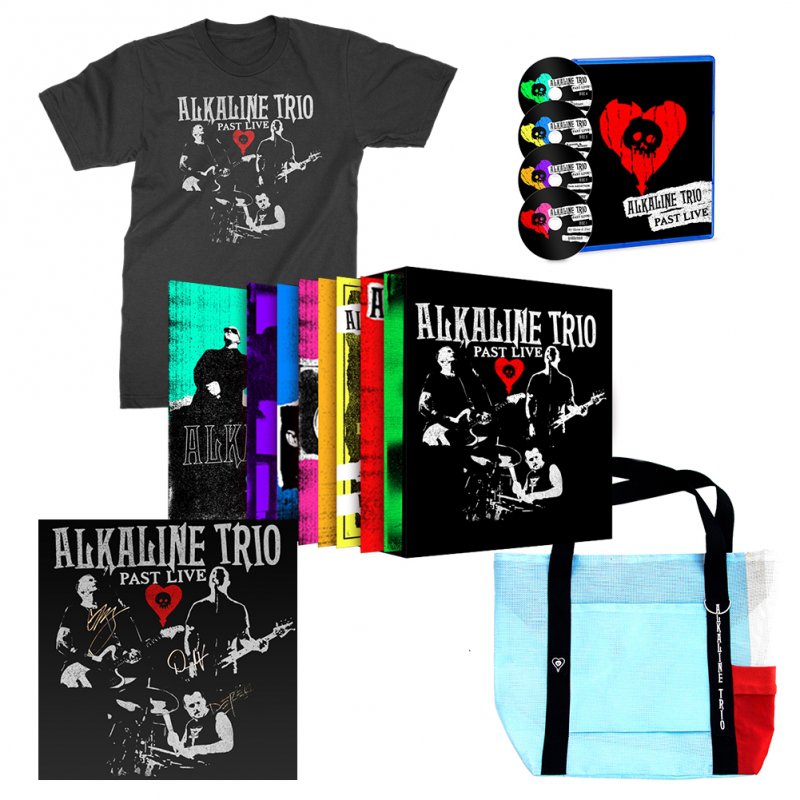 Alkaline Trio fans better apply for a credit line — the band has just announced the details for their Past Live box set, a massive package that includes 8 vinyl LPs and 4 Blu-ray discs.
Each album is an entire live run-through of a studio LP, with all 8 performances spread out over the 4 Blu-ray discs. The performances were recorded live in the band's hometown of Chicago at The Metro. A Super Deluxe package is also available which includes colour vinyl with exclusive covers, a signed screen print, a T-shirt, and a bag made up from cut down old Alkaline Trio stage backdrops.



The super deluxe package runs $315 USD, while everything but the bag will set you back $275 USD. Individual LPs and the Blu-ray set are also available separately. Everything is up for pre-order now at alkalinetrio.com until February 9th. Check out a trailer for the sets below, along with the full Super Deluxe package contents.
The Alkaline Trio Past Live Deluxe Bundle includes:
– Alkaline Trio Special Edition Stage Banner Tote Bag
This special, limited-edition tote bag is made from genuine Alkaline Trio stage banners. Each high-quality tote bag is unique and features different materials and designs depending on which bag you get. These are only available as part of the Past Live Box Set Super Deluxe Bundle.
– Alkaline Trio Past Live 12"x12" Print (Signed)
This autographed, limited-edition screen print measures 12"x12" and features the cover of the Past Live Vinyl Box Set. These are only available as part of the Past Live Box Set Deluxe Bundles.
– Alkaline Trio Limited-Edition Past Live Tee (Black)
This limited-edition Past Live tee will only be around for a short time so pick yours up today!
• Screen Print
• 100% Cotton
• Standard-Fitting, Premium Quality Tee
• Machine wash cool, tumble dry low
– Alkaline Trio – Past Live 4xBlu-ray
This 4 disc Blu-ray set features the band performing all 8 albums live in superior 5.1 audio
Disc 1 – My Shame Is True
-Goddamnit
Disc 2 – This Addiction – Maybe I'll Catch Fire
Disc 3 – Agony & Irony – From Here To Infirmary
Disc 4 – Crimson – Good Mourning
– Alkaline Trio – Past Live Box Set 8xLP (Colored Vinyl)
All 8 LPs collected together in a box that is exclusive to the Past Live Deluxe Bundles. All LPs pressed on limited edition colored vinyl.
– Goddamnit: Past Live LP (Pink)
Track list:
Cringe
Cop
San Francisco
Nose Over Tail
As You Were
Enjoy Your Day
Clavicle
My Little Needle
Southern Rock
Message From Kathleen
Trouble Breathing
Sorry About That
– Maybe I'll Catch Fire: Past Live LP (Purple)
Track list:
Keep 'Em Coming
Madam Me
You've Got So Far to Go
Fuck You Aurora
Sleepyhead
Maybe I'll Catch Fire
Tuck Me In
She Took Him to the Lake
5-3-10-4
Radio
– From Here To Infirmary: Past Live LP (Blue)
Track list:
Private Eye
Mr. Chainsaw
Take Lots With Alcohol
Stupid Kid
Another Innocent Girl
Steamer Trunk
You're Dead
Armageddon
I'm Dying Tomorrow
Bloodied Up
Trucks & Trains
Crawl
– Good Mourning: Past Live LP (Turquoise)
Track list:
This Could Be Love
We've Had Enough
One Hundred Stories
Continental
All On Black
Emma
Fatally Yours
Every Thug Needs A Lady
Blue Carolina
Donner Party (all night)
If We Never Go Inside
Blue In The Face
– Crimson: Past Live LP (Green)
Track list:
Time To Waste
The Poison
Burn
Mercy Me
Dethbed
Settle For Satin
Sadie
Fall Victim
I Was A Prayer
Prevent This Tragedy
Back To Hell
Your Neck
Smoke
– Agony & Irony: Past Live LP (Yellow)
Track list:
Calling All Skeletons
Help Me
In Vein
Over & Out
I Found Away
Do You Wanna Know
Live Young, Die Fast
Love Love, Kiss Kiss
Lost & Rendered
Ruin It
Into The Night
– This Addiction: Past Live LP (Gold)
Track list:
This Addiction
Dine, Dine My Darling
Lead Poisoning
Dead On the Floor
The American Scream
Off The Map
Draculina
Eating Me Alive
Piss And Vinegar
Dorothy
Fine
– My Shame Is True: Past Live LP (Red)
Track list:
She Lied To The FBI
I Wanna Be A Warhol
I'm Only Here To Disappoint
Kiss You To Death
The Temptation Of St. Anthony
I, Pessimist
Only Love
The Torture Doctor
Midnight Blue
One Last Dance
Young Lovers
Until Death Do Us Part