Interview: Ron Funches on his mega "Funch-A-Mania" show at Just for Laughs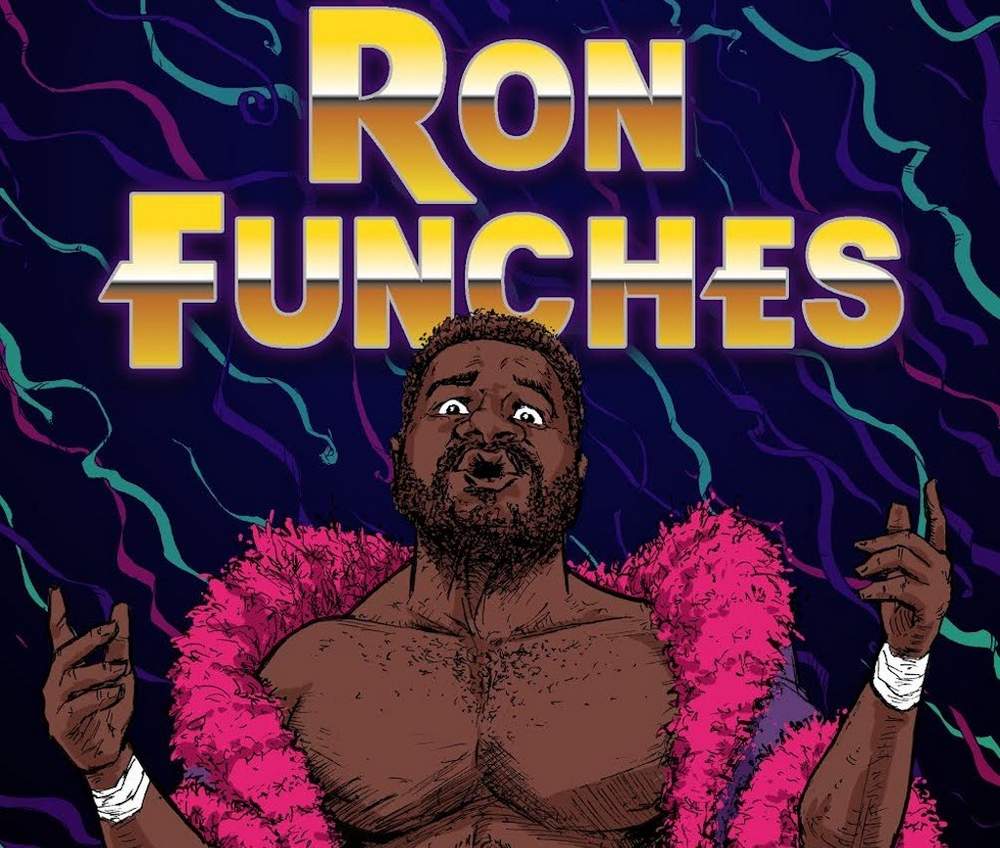 Comedian Ron Funches has an irresistibly high-pitched laugh, and a low-key stage style that doesn't necessarily bring to mind the bombast of professional wrestling. That juxtaposition is front and centre in his new stand-up tour, Funch-A-Mania, Funches' largest solo tour to date. We caught up with the Powerless and Undateable star to discuss the inspiration for the tour, his love affair with wrestling, his favourite current video games, and his Just for Laughs appearances this week.
Ron Funches: Funch-A-Mania runs from July 26-29 at Monument National – Studio Hydro Quebec. 10:30 pm. Tickets are $25.65 – $28.88 (including taxes and fees), available here.
How have these first few Funch-A-Mania shows gone?
They've gone really well! They've been really fun. It's been really cool to actually travel with my friends and stuff instead of being alone on the road and having to hope that the comedians that were at the clubs were kind of similar to my sensibility or at least something that I would enjoy. And it's kind of nice to be in control of all aspects of the show, down to the pre-show music, because I just try to make the whole vibe. People have been digging it, a lot of people have been coming out, some of them have been selling out, most of them not, but that's the position I'm in. But people that have been coming have been enjoying it, I've been getting a lot of standing ovations, and that makes me so happy.
These must be some of the biggest shows you've ever done.
Yeah, as far as headlining, definitely. Ive opened for some people like Aziz [Ansari] and [John] Mulaney doing stadium stuff, so those were good as far as helping me get used to bigger crowds, but as far as myself, doing the 800-1000 [seaters], those are the biggest I've ever done pulling on my name for sure.
How did the concept of Funch-A-Mania come about?
Well basically, I'm just a big ol' geek wrestling nerd, and in my life the biggest event in all of entertainment is WrestleMania, so I wanted to make this comedy event that was like, boom, I'm here, this is me, this is different, this is my theatre show. So I was like, this is Funch-A-Mania. It just makes sense to me and also sounds cool to me. [Laughs]
You have a pretty reserved stand-up style, how does that mesh with the over-the-top vibe of wrestling?
I think it works very well, it's a nice juxtaposition. So I think it's kind of cool to just come out and have this big, exciting event and then it's just like, "Hi guys, it's me doing my comedy." [Laughs]
What do you love about wrestling? What do you think people don't get about it if they're not fans?
I'll just take an example from yesterday, I was getting my manicure / pedicure that I get every month or so, and I was watching some wrestling at the time because they have TV's that you can watch, and then the lady that was doing my nails was like, "Why do you watch this stuff, it's so silly and stupid, and that doesn't even hurt." But at the same time, she's watching the whole thing, because she's caught up in the flips, and she's looking at the guy with the abs, Mr. Abs is what she calls him, and it's like, you don't get it that you like it! [Laughs] You get so conditioned to go, "Oh, it's stupid," but it's like, everything is stupid, and everything is fake, so to me, it's just the old adage of like, "For those who get it, you don't need to explain it, and for those who need explanation, none will work." So, to me, if you don't get it, you don't get it, it's just fun and it's silly and enjoyable, and for me as a young kid it was kind of a place — I grew up in a house full of ladies, so it was kind of the only place where I had a little testosterone, even though they were all covered in tassels and whatnot.
When did you decide to try stand-up?
It's just been a constant knocking or calling for me, I just loved it since I was five, and then I was like, you don't just do that as a normal job. But I hated any other job I had, I had no other — and still have no other aspirations in any other field. There were a few events where people kept pushing me towards it, like, "You're funny," or "You should try stand-up," and then when I had my son, and then when I found out my son had special needs and he had autism, it was like, oh, I need to have a career. I was like, I better go back to college, or try the only thing that I want to do, so I went that route.
How did your style evolve from when you started out? You have such a distinct style on-stage, there's no one else who could do something like the Skittles bit that you've done.
It's just more experience and getting better, getting more myself really. Just doing things I thought you should do, like, "Who's drinking tonight?" Like, I don't care, I don't even drink, I'm allergic to alcohol, so it's like, I really don't care. So I just had to learn to be OK with being myself, especially when I realized that in the job you told a lot of the same jokes all the time, I was like, I only want to talk about what I like and what I care about, so that's pretty much what this hour that I'm going to be doing is about. It's just everything I like and everything I enjoy is pretty much what I talk about in this hour. So it's pretty fun.
You have a joy on-stage that many comics don't demonstrate, was it intentional to keep it light throughout?
No, it's just who I am, but I don't think that I ever try to avoid any topic or subject or anything, but in my life and a lot of my comedy, I'll introduce a subject that isn't great, and then I'll be like, "Here's some positives," that's kind of what my job is I think in life, just mining the positives out of negative situations, it's how I survived in general anyway. So it's just what my comedy is, plus I just don't see a point of not being positive, I don't get it. I mean, I understand that some people like that style, but I don't, I like being positive, I like dressing up, I like looking nice, I like being happy, I think those are good things.
I thought Powerless was a really underrated show, what was your experience working on that show like?
Oh, it was really awesome. It was really fun, it had a wonderful cast and it really was like, "Oh man, what do you have to do?" [Laughs] You've got a lot of great people, it was really fun and it still doesn't work out, but I mean to me, just to be able to go to work and play around with Danny Pudi every day and Allan [Tudyk] and Vanessa [Hudgens], everyone on the cast. I was always a big fan of Danny on Community and so, to meet him and to have him be really cool and fun and really fun to work with, always ready to improvise and add to your jokes was so fun. And for him to think that I was funny was a big deal to me, so it was just a great experience. I got to get a lot of free comic books.
What are some of your favourite comic titles right now?
Mostly I just read Bitch Planet, I've been reading that. I think that's it lately, that's all I have hanging around the house I think. I've mostly been playing a lot of video games.
What games are you excited about right now? Are you playing a lot of Nintendo Switch on tour?
Yeah, I bring my switch with me but I also bring my Playstation with me, so I'm a walking toy store if you see me on the street. I'm excited, I just got Platoon 2 so I'm excited to play some of that, I'm getting ready to go do a sketch with Rob Hubel so I'm going to take the Switch with me, so I'm going to be zipping around for a while. And I've been playing this game called Battlegrounds on PC. It's like Battle Royale or The Hunger Games but it's a video game, you're just dropped on this island and then you've got to find weapons and there's 100 online strangers and you just have to be the last person alive, it's great.
I feel like I'd get destroyed pretty fast.
It happens, but you just jump in and jump back out and you just try to see how far you can get, I've made it as far as #3, but I've never won.
You've been to Just for Laughs a few times, do any special memories stand out from your times here?
I just always love the city, my greatest memory is being like, "Oh man, how come all of your girls are beautiful?" Like you have no non-pretty girls, and they're so nice and sweet too and so down-to-earth. So I was like, "Man, maybe I should live there," but it didn't work out that way. And you know, you've got great food, I love French, I can't speak it but I love how it sounds. So it's just a real cool time for me, and it's just a place where you kind of get to see everyone who's doing anything in comedy and your peers and people who are above you, and you just kind of get to assess where you are and how far you need to be going, and it's really fun to be a part of. To me, it's like, "Thank you guys for even considering having me," you know?
What's coming up next for you? I know you're working on this Seeso animated show.
I've been working on that, yeah but I think Seeso is going to go under, so who knows. [Laughs] Who knows what's going to happen with them! I'm waiting to find out. But I'm working on a bunch of projects and working on writing my own sitcom stuff, and then 'm going to do a few episodes on The Goldbergs on ABC, and 'm going to be on an episode of Curb Your Enthusiasm I hope. I hope I'm still in it. I might not be in it anymore, but I think I am. Who knows. You never know with these things.
Ron Funches: Funch-A-Mania runs from July 26-29 at Monument National – Studio Hydro Quebec. Tickets are $25.65 – $28.88 (including taxes and fees), available here.