Interview: X's John Doe brings four decades of punk history to '77 Montreal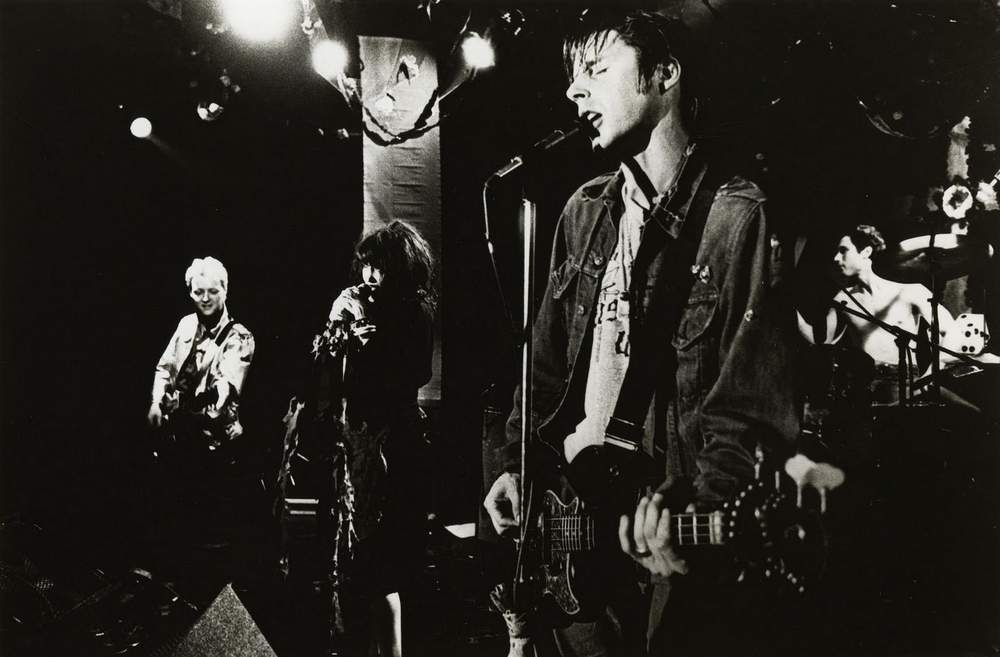 Currently out celebrating their fourth decade as a band, LA's X – vocalist Exene Cervenka, bassist / singer John Doe, guitarist Billy Zoom and drummer D.J. Bonebrake, are one of the few bands that made it through the 70's punk scene intact.
That early era of the LA punk scene forms the basis for John Doe and Tom DeSavia's Under the Big Black Sun: A Personal History of LA Punk, a comprehensive collection of writings on the scene by vets including Exene Cervenka, Henry Rollins (Black Flag), Mike Watt (The Minutemen), Jane Wiedlin and Charlotte Caffey (The Go-Go's), Dave Alvin (The Blasters), with interstitial chapters by John Doe linking their various recollections and experiences together.
We caught up with John Doe while he was travelling through Kansas on tour with Blondie and Garbage to discuss the 40th anniversary of X, the evolution of the band's sound, the inspiration for Under the Big Black Sun, and the band's appearance at '77 Montreal on July 28, alongside Rancid, Dropkick Murphys, The Vandals, Madball and many more. Tickets are $60 (including all taxes and fees), available here. Free for children under 10. We also spoke with Montreal hardcore legends Genetic Control about their reunion at the festival — check that out here.
John Doe and Tom DeSilva's Under the Big Black Sun: A Personal History of LA Punk is available now.
Why was this the right time to put this book out? Was it something you had been considering for a while?
Yeah, a few people, my sweetheart and Tom DeSavia, who I worked on the book with, had been talking about it and encouraging me, and it sounded like too much work to me. I just kept putting them off, and the one good idea I had about this book was that I could get other people to help me do it, so I wouldn't have to do all the work myself, number one, and most important. And number two, I'd get a more-balanced version of what happened. Because everybody has their own experience, everyone has their own truth, and as much as I supported all the different people that were in the scene, I'm not them, or I couldn't tell a story from the point-of-view of a Latino or woman. Each person had their own story as well, and topic.
What was the process of selecting the contributors like?
Some were pretty obvious, you know? People like Exene were obvious, so was Jane Wiedlin [The Go-Go's], Henry Rollins is maybe more obvious to most people because he's a pretty well-known public figure, but he was a little bit of a latecomer to the LA scene, but his perspective on hardcore was important to tell in the story. And then maybe Jack Grisham [T.S.O.L.] was a bit of an outlier. But I think it was important to include that hardcore perspective, even though it was a bit of a jolt when it happened at the time.
That Jack Grisham section is pretty hair-raising. What was it like for you when hardcore started coming in and the violence in L.A. started picking up?
Well at first it was alright. I mean, it was kind of just taking it to the next level.
But then it became impossible for Exene and I to go to shows, because a lot of those young audience members thought that we were sell-outs, or that we weren't tough enough. And they'd give us a bunch of shit, and you'd either have to get in a fight or leave. So we usually did both.
And then [we] just stopped going. It's dumb, but in retrospect, everything evolves. I wouldn't say that was a really positive evolution, but it did.
Did that spur X to go into more creative directions?
I think at that point we were already looking towards other styles of music that were influencing us, and were branching out into what our musical history and experience and education had been. By that time in '82 we got signed to Elektra, and made Under the Big Black Sun, where Billy's playing sax and D.J.'s playing vibes. We're doing songs like "Come Back to Me" and "Dancing With Tears in my Eyes," but you know, that's part of the book's ending. The scene at that point had so many people involved, both musicians and audience, that it could split up to a more roots style of music, or art bands or hardcore bands, all kinds of different things.
Is there anything about that era that you think is overlooked or misunderstood when people go back and write that history of LA punk?
Is there anything overlooked? Hard to say. I mean that was the rewarding part of doing the book, is that we felt like we set the record straight and gave people a window to see what LA punk rock was all about. Even though the hardcore scene got pretty violent, SST's roster was pretty diverse. It was like The Minutemen, Black Flag, Saccharine Trust, The Meat Puppets, it was pretty eclectic. I think it was maybe another five or ten years until the sound became a lit bit more codified into what you think of as hardcore now. Maybe Minor Threat and the DC scene, that kind of made that a more singular sound. I think there's probably more to be said about the LA scene. We'll see.
It must have been very freeing that when X was starting there wasn't a blueprint for punk yet — is that something that's been harder for newer bands to get to over the years?
I think there was a blueprint for punk rock. I think the blueprint was both a positive one, like what had come before in New York, and some other bands would have come before in England, but the biggest blueprint was what had come before in music, in the softer sound of you know, Boston and The Eagles and stuff like that — it was like, what not to do. Whatever Peter Frampton did, we didn't want to do. And whatever Chuck Berry and Little Richard did, or Eddie Cochran, we did want to do. That was our blueprint, just looking further back into the roots of rock n' roll.
This is the 40th anniversary of the band — do you ever think of what's made X able to continue for so long while so many others burned out so early?
Of course not. I mean, I think the amount of time that we have been able to play has made us very grateful for having a career, and as you start something you kind of hope that it's going to work out, no matter what it is.
And maybe if we had a couple of big Top 10 hits, we wouldn't have the kind of credibility that we do now.I mean like, street cred. But it would've been nice to be able to play any kind of Indian casino or county fairs or something like that.
I think that we had some ambition, and still do, we enjoy each other, and now the show that we're doing is really kind of broad. There's a lot of punk rock in it, but it also has those kind of deep cuts like I was talking about, like where Billy is playing sax. We have another person playing drums on a few songs while D.J. plays vibes, so we're doing songs like "Come Back To Me," or "I Must Not Think Bad Thoughts," or re-imagining a few songs, so in the middle of the show it's much more eclectic and kind of unexpected.
But by doing those songs we've never played live, we have a chance to experiment a little bit more and ad-lib. It's hard to ad-lib punk rock songs, it's like a string-quartet or whatever, it's pretty rigid. If you change too much then you lose the thread and the velocity, meaning like, speed and direction. These other ones let us fool around and play off each other and do weird stuff.
It must make it more interesting for the band to get to re-imagine songs at this point in your career. 
Yeah, and the reason we continue to play is become young people still come to see us. If it was a bunch of people just our age, and we were getting paid $500, we wouldn't do it. But it's like, Kris Kristofferson continues to tour, because he's giving all this joy to people, and we continue to tour because someone who's 15 or 20 that never saw us, now they get a chance to see us, so that's cool.
Do you have any plans for future solo recording or touring? 
Well right now Exene and I are opening for Garbage and Blondie in the US for about two weeks, we're just doing a duo, with an acoustic guitar. Some old-timey songs, some X songs acoustic. Garbage is so good, and Blondie is fantastic. We toured with Blondie so they're kind-of friends, I mean, they are friends now. Garbage seems to be vying for like the nicest band in the world. They're really inclusive. They seem kind of aloof and stand-offish, but they're actually — I hope this isn't blowing their public image! [Laughs] They're lovely. So I'm working on doing a proper memoir at some point, and Tom DeSavia, who I worked with on Under the Big Black Sun, he's starting to work on a part two of that, from '82-'87.
There needs to be a mini-series based on these books when they're done. 
Well, we're actually taking about doing a movie of sorts, kind of a documentary.
Anything else you want to let people know about your upcoming show at '77 Montreal?
It starts off with a bunch of punk rock, and ends up with a bunch of punk rock, because that's what we do.
X play the inaugural '77 Montreal Festival at Parc Jean Drapeau, Friday, July 28th, along with Rancid, Dropkick Murphys, Madball, The Bouncing Souls and many more. Free for children under 10. Tickets are $60 (including all taxes and fees), available here. 
John Doe and Tom DeSilva's Under the Big Black Sun: A Personal History of LA Punk is available now.