Beauty Kills! Montreal's "oversharing queer femme" artist Charline Bataille on her art, tattoos, and something she calls "Ugly Church"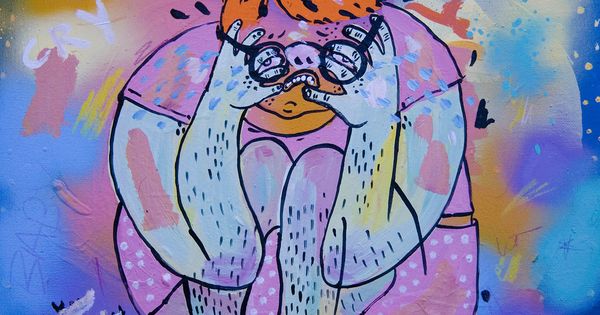 Walk into Montreal queer bar Notre Dame des Quilles (NDQ) right now and you'll see unforgettable paintings of a certain woman, monstrous but somehow also super cute, represented again and again with a variety of skin and hair colours, outfits, and flora and fauna. Vaguely reminiscent of Allyson Mitchell's Ladies Sasquatch in exuberance and monumentality, but definitely humanoid, the wildly colourful works combine the accessibility of flash tattoo imagery with a wholly unique vision of warrior women flexing – teeth bared and bellies out – against the patriarchy. These glorious and gritty Amazons spring from the mind of local artist Charline Bataille, who agreed to talk to me recently about her diverse practice – which includes these paintings but also clothing, drawings, stickers, zines, and tattoos.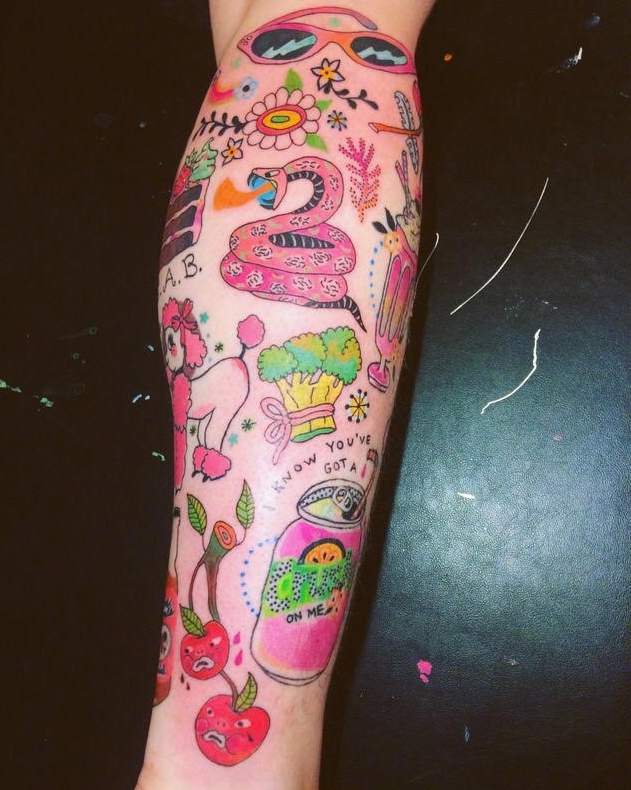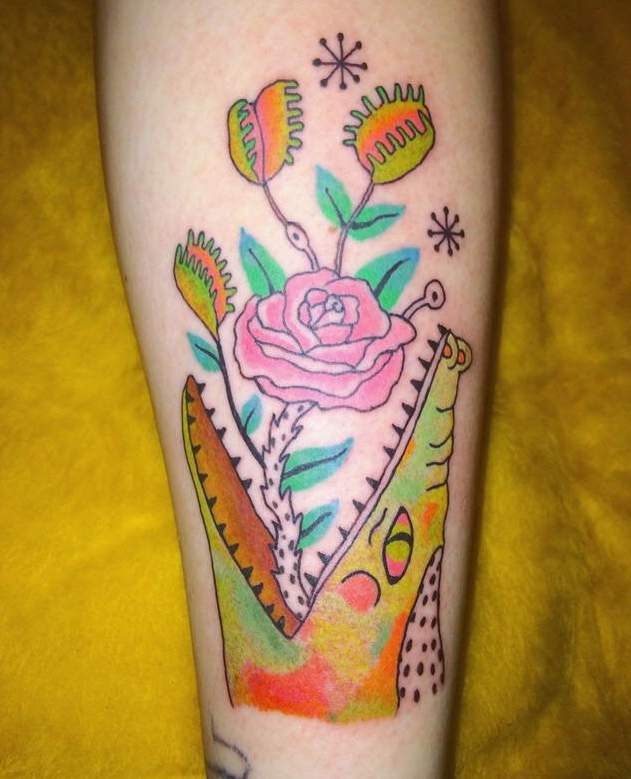 Shortly after Bataille and I start chatting, I veer off course from the questions we'd agreed on and instead start grilling her on her opinions about beauty versus ugliness, in art and in life. And it's lucky I do, because she's got a lot to say. Bataille explains to me that she and her friend Lucas started something very significant, which they call "Ugly Church." The premise of Ugly Church is devotional, sacred – a commitment to ugliness that she refers to as "a powerful thing." So anytime one of them hears the other complaining about an aspect of their appearance they find ugly, they remind them: "but we belong to Ugly Church!" Bataille contrasts her view with the increasingly popular mantra that "everyone is beautiful," protesting emphatically: "beauty is so violent!!" In her art the slogan "BEAUTY KILLS" sometimes appears; she references this same notion while we're talking, explaining that:
"Not being beautiful really kills … so I want to get as far as I can away from that … I want to be dirty … When men see me in the street I want them to be like 'EWWW,' not 'Hey girl.'"
Although Bataille's only been tattooing full-time for the past six months, she started in her teens. At first she used just black, no colour, which she says she despised but did for desperate community members. After about five years of that she finally started tattooing in colour, which she loves. Bataille's style works amazingly well on flesh; her tattoos are unforgettably adorable and totally distinct. As she puts it: "my tattoo industry is different from other people's tattoo industry … I don't care about generations of tattoo traditions." What she does care about is the people she's tattooing – queer community members in Montreal, Toronto, Oakland, and Los Angeles who come to her to get inked in a safe space, a comfortable environment where there is always consent about touching, as well as an understanding of trauma and its effects on the body.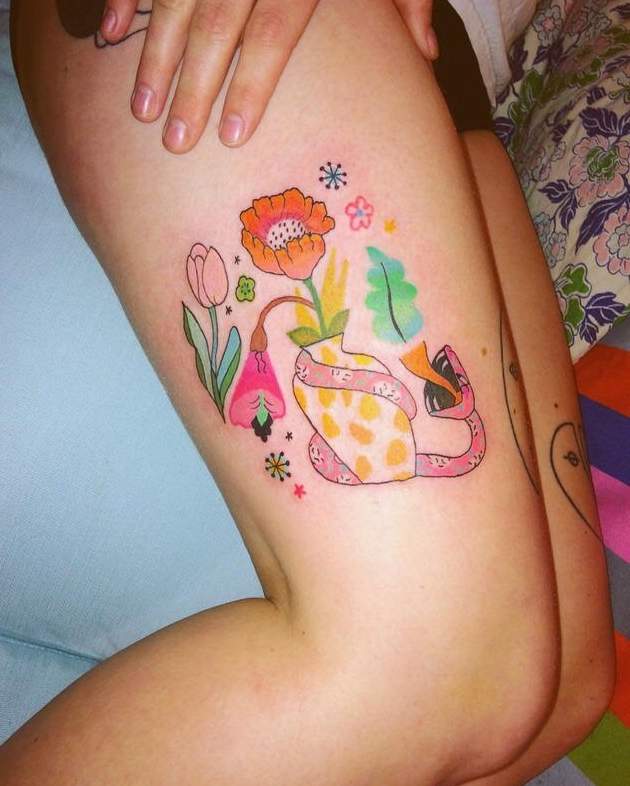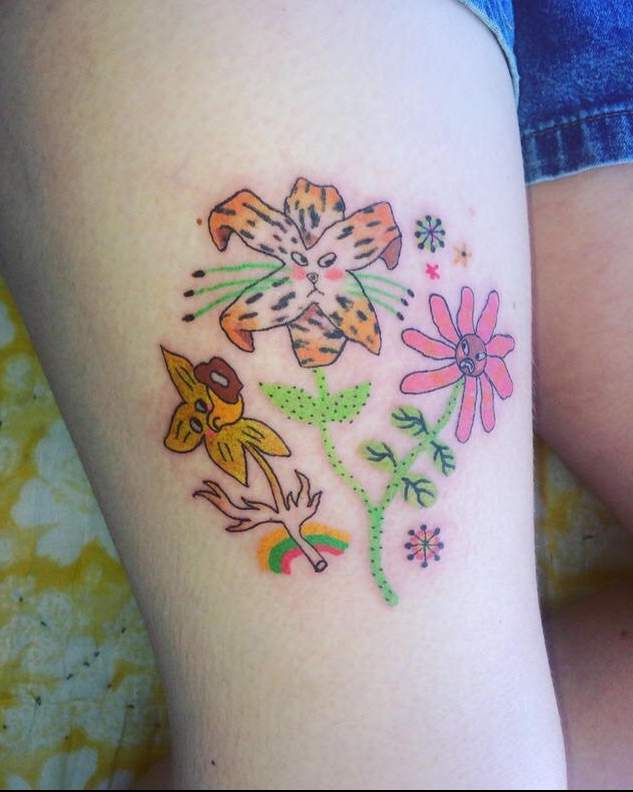 When I ask Bataille how she arrived at her representational style – the signature snarls, chubby cheeks, and almond-shaped eyes of her repeated female figures – she explains that the imagery is actually a form of self-portraiture. And the figures have changed over time, along with the artist. "When I paint pictures, it makes me feel like I exist," she notes. She says that when things were worse for her the paintings showed figures alone, with blood and cuts, always crying, and as she worked through things the figures got angrier, then healthier; they gained weight when she did, got hairy when she stopped shaving. And now? They're not alone, they interact with animals, and they're almost never crying.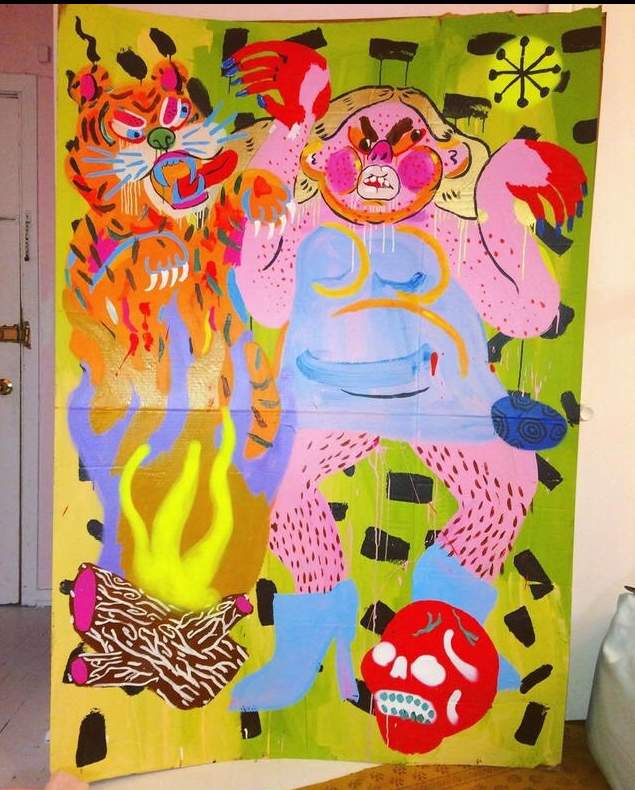 Bataille is walking while we talk on the phone, and a few minutes later she jubilantly reports to me that a man just passed her "shaking his head in hate" – just like she wants. We giggle happily. I ask her one last question, about what she's reading, listening to, and watching these days. For TV she responds instantly "Real Housewives of Toronto"; music takes a minute longer because, she explains, she cares less – the last concert she went to was Dixie Chicks and she generally listens to country and mainstream hip hop. And finally, Bataille's current reading picks are both from feminist pornographer Tristan Taormino: Sometimes She Lets Me, an anthology of butch femme erotica, and Taormino's The Ultimate Guide to Anal Sex for Women.
Charline Bataille's work is on display at NDQ (32 Rue Beaubien East) 'til the end of May. You can buy merch or schedule a tattoo session through her Instagram.