'77 Montreal to feature Rancid, Dropkick Murphys, X, The Bouncing Souls, The Vandals, Madball, Joyce Manor and more (+ win tix!)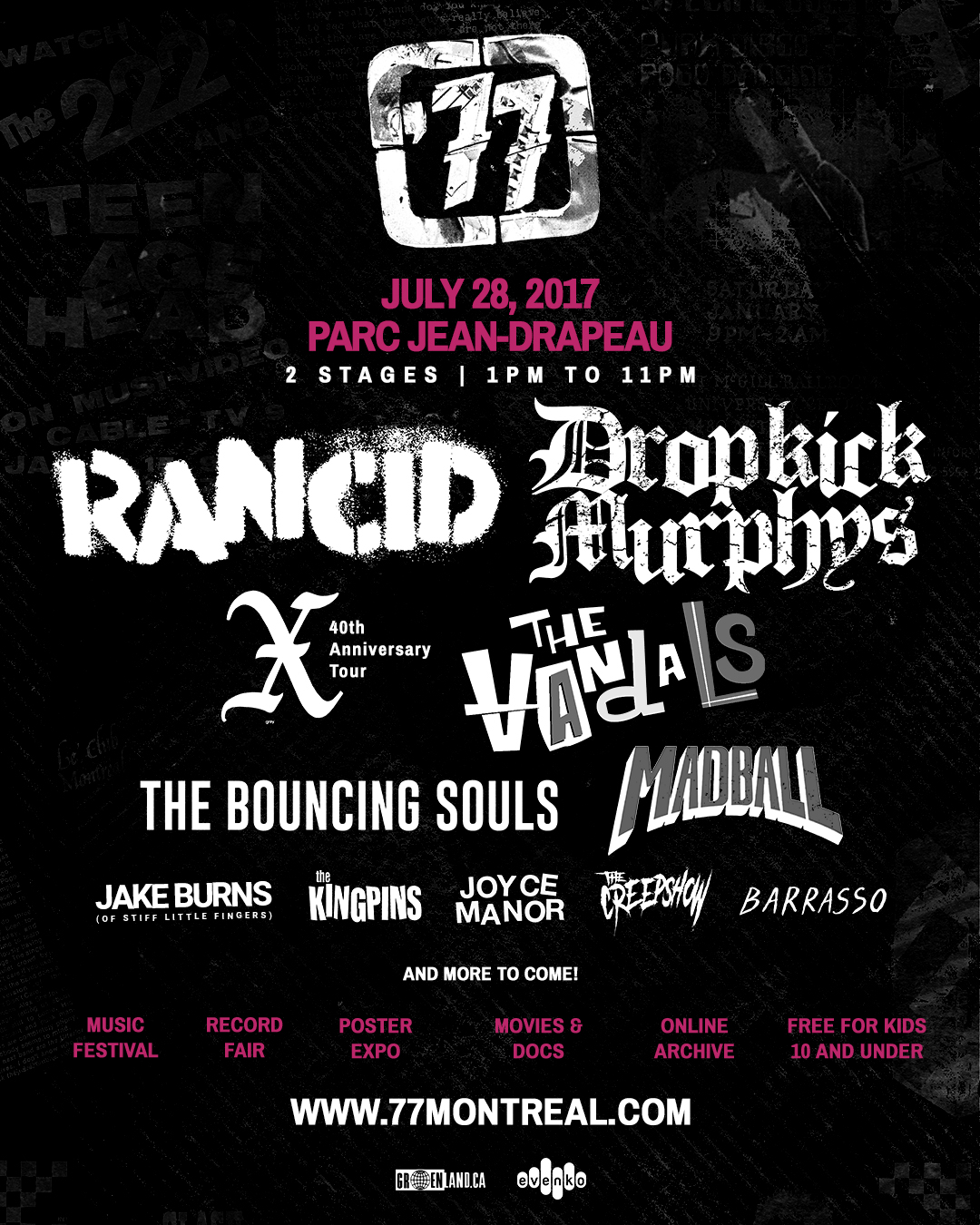 We've known for a while that the Rancid and Dropkick Murphys tour was coming to Montreal on July 28 at something known simply as "'77," and now we finally have the details on the hotly-anticipated punk show.
Produced by evenko and Greenland Productions, the first annual "'77 Montreal" Festival takes place on July 28, 2017 at Parc Jean Drapeau, featuring co-headlining sets by Rancid and Dropkick Murphys, along with appearances from Los Angeles punk legends X (celebrating their 40th anniversary), The Vandals, The Bouncing Souls, Jake Burns (of Stiff Little Fingers), Madball, Joyce Manor, a reunion by Montreal ska vets The Kingpins, The Creepshow, and more TBA.
The day long punk fest is also set to feature "a living archive of punk history with exhibits of vintage posters, 'zines and archival promotional items, a vendors village, a record fair and films." For those with little punk rockers, note that children under 10-years-old will be admitted free of charge. 
Apart from the music, the festival also plans to highlight the history of punk in Montreal, from the initial appearances of first wave bands in the 70's through to the skate punk explosion here in the 90's.
Tickets for '77 Montreal are $60 (including all fees) and are available as of Friday, May 5th at noon via 77montreal.com. We also have a pair of tickets up for grabs before they even go on-sale! To enter:
1. "Like" Bad Feeling Magazine on Facebook and share this post (set to public)
2. Tag the friends you'll be rolling to '77 Montreal with in the comments for this post. You can also comment directly via the embedded post below. We'll pick a winner at random on May 5th. Good luck!