Best of 2016: Our favourite pop culture of the year
2016 was a terrible year on nearly every front, which made pop culture more vital than ever. Below are our staff picks for our favourite pop culture items of the year, including our favourite films, music, books, TV, comics, and more.
Gabriel Sigler – Founder / Editor-in-Chief
Comics: The Flintstones by Mark Russell and Steve Pugh – Somehow, the most subversive and unexpected comic of 2016 is a mainstream Hanna-Barbera property put out by DC. The Flintstones shows our favourite stone-age family facing the onset of civilization, which gives the book's creators licence to skewer everything from the patriarchy, organized religion, consumerism and a variety of other relevant social issues. The Flintstones is simply the most consistently funny and thought-provoking book on the stands right now. Every single issue has at least a half-dozen panels so incisive that it's almost incomprehensible they're included in a title ostensibly for children. Track this down at all costs.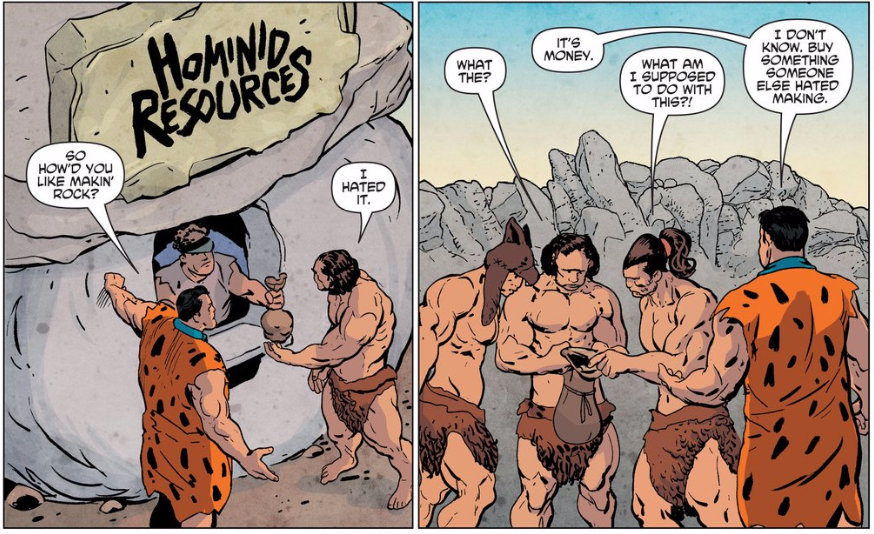 Books: Altamont by Joel Selvin – A thrilling and often unbelievable look at what is often considered rock's darkest day – the out-of-control, free 1969 Rolling Stones concert on the Altamont speedway in California that resulted in the stabbing death of fan Meredith Hunter by the Hell's Angels. Selvin's gripping account goes deep, and in a compelling argument, he points the blame for the chaos squarely at the feet of the Stones, whose desire for relevancy above all else led to a series of disastrous decisions (including hiring the Hell's Angels as security) that effectively slammed the door on the peace and love movement. One of the most compelling (and terrifying) books ever written about rock n' roll.
TV: Search Party – A dark TV comedy with echoes of both Girls and Twin Peaks, Search Party is the best new show that no one seems to have discovered yet. When an acquaintance goes missing, Dory (Arrested Development's Alia Shawkat), a bored millennial, turns into an amateur detective and begins looking into her disappearance, convinced that a conspiracy is afoot. A sharp satire of our narcissistic times combined with a mystery that is actually resolved in one season (in one of the best finales in recent memory), Search Party is destined to be a cult hit that people revisit years down the road. With one of the best supporting casts on TV, including Rosie Perez, Ron Livingston and Parker Posey (!), start the new year off right by binge-watching one of the most underrated shows of the year.
Music: The Jesus and Mary Chain – "Amputation" – 18 years since their last LP, the long-standing promise of new material from JAMC was beginning to take on Chinese Democracy-like proportions, but "Amputation," the band's first single of 2017's Damage and Joy, is vintage Reid Brothers, complete with squalls of feedback and an irresistible chorus. A welcome return from one of the greatest bands of all time. For more JAMC gushing, check out our review of their Psychocandy anniversary show in Toronto last year.
Music: Neurosis – Fires Within Fires – On their 11th LP, Neurosis have reigned themselves in and crafted their most concise and accessible record in over a decade. At half the length of much of their "recent" output, Fires Within Fires focuses on the pummeling approach of the band's early period, mixed with the eerie folk interludes that have been a staple of the band's sound since 2001's A Sun That Never Sets. Hypnotic and cathartic in equal measure, Fires Within Fires is a pure distillation of the fury and beauty that have always co-existed within the band. For more on Neurosis, listen to our podcast with singer / guitarist Steve Von Till here.
Film: Moonlight – Barry Jenkins' Moonlight is a heartbreaking look at black masculinity, sexuality and gender identity, topics that are rarely addressed in mainstream American film. The film's three-act structure allows us to follow Little / Chiron / Black through his formative years, from a quiet young boy to a street-wise hood, before culminating in one of the most moving finales in recent memory. With powerful performances throughout, including a revealing turn by rapper Janelle Monáe, Moonlight is hands down the most vital and necessary movie of the year.
Comedy: Mitch Hedberg – The Complete Vinyl Collection – While I don't actually own a copy of this yet, the very fact that a massive 4 x LP box set of the brilliantly surrealist comedian's work exists at all is a cause worth celebrating.
Film / TV: O.J.Made in America – We all know the basics of the O.J. Simpson murder case, but Ezra Edelman's 8-hour ESPN mini-series (which also got a brief theatrical run) provides some much needed context that helps explain why half the country was rooting for O.J. to go free. From exploring the long-running rampant abuse by the LAPD to O.J.'s "beyond race" celebrity status, O.J.Made in America takes a familiar subject and offers a myriad of new insights. The film really shines in its jaw-dropping post-trial segments, including the little-discussed Florida years when O.J. was trying to make it as a gangster rapper, before his eventual arrest in Las Vegas for stealing his own memorabilia. A riveting examination of race and celebrity that's sadly just as relevant today as it was in 1995.
Film: The Hunt for the Wilderpeople – There's something about the New Zealand sense of humour that I find irresistible, at least as filtered through the sensibility of director Taika Waititi. His mockumentary, What We Do in the Shadows, was one of our favourite films of last year, and his follow-up, The Hunt for the Wilderpeople, shares the same biting sense of humour, combined with real heart. Featuring a hilarious star-turn by Julian Dennison as Ricky, a chubby wannabe gangsta teenager on the lam from the law (and child services) with his grumpy foster uncle (Sam Neil) out in the New Zealand Bush, The Hunt for the Wilderpeople is one of the sweetest and funniest films of the year. Read our full review here.
Michelle Chow – Digital Development
Comedy – "OH, HELLO" (Just for Laughs, July 28 2016). That time that Gil Faizon (Nick Kroll) and George St. Geegland (John Mulaney) invited Judd Apatow on stage to eat french fries and for an impromptu interview.
Movie – The Witch. Who makes a period piece horror film and still scares the bejeebus out of people? Robert Egger. That's who.
Food – Ramen. Montreal is exploding with ramen. And I will be the last to complain about it because I love noodle soups.
Band to watch – The Sick Things. I cannot lie — their songs are as catchy AF. Look for a new full-length album in 2017.
Album – Chris Velan's Glow. Solid and sincere 2016 album from Montreal singer-songwriter Chris Velan.
Album – Laura Sauvage – Extraordinormal. I love this girl. Vivianne Roy's alter-ego, Laura Sauvage, released Extraordinormal this spring, an album that cleverly blends indie folk, anti-folk and laid-back rock riffs.
Album – A Tribe Called Quest – We Got it From Here… Thank You 4 Your Service.
Bar – North Star Machine à Piastres. Because I spend an inordinate amount of money and time there trying to keep a stupid silver ball from falling into a crack.
Looking forward to in 2017 – The new and mysterious album from The Adam Brown.
Jason Hughes – Photo Editor
The initial idea here was for me to post a standard "Best of 2016" list. However, the more I thought about it, the more I realized that I don't necessarily consume my media, music, books and movies in any recognizable chronological order. Slaving under the cruelty of the Bad Feeling overlords requires that I pick up whatever I can wherever I can from whichever year it may have been created. Let's just call this "The Best of What I Happened To Come Across in 2016."
Thanks for reading and here's to a 2017 full of happiness, health and love for you all. Cheers!
Books
Inherit the Dust – Nick Brandt – As far as photography books go, Nick Brandt can do no wrong. I have all of his books and this one is something special. Beauty, sadness and inspiration in equal parts make for a powerful work.
The Road to Seeing – Dan Winters – A book that is equal parts autobiography and photo book, this is a facinating and inspiring look into the path taken by one of the finest photographers working today.
Burning Girls -Veronica Schanoes – A great novella blending fantasy, horror and true historical events. With an opening line like "In America, they don't let you burn. My mother told me that." how can you not continue reading!
Photographing Wild – Paul Niclen – National Geographic photographer and biologist Paul Nicklen has made a career of documenting the Arctic. In this e-book, he shares some of the stories behind the making of some of his most iconic images. With our rapidly changing Arctic, these stories and images are more important than ever.
There's Something In My Attic – Mercer Mayer – Here's one for you parents out there. Not all children's books are created equal. This can lead to some serious torture. It's critical for parents to find stories that will keep the little ones engaged without pushing the parents to self-harm. This book does just that.
Podcasts
Waking Up With Sam Harris – One of the most fascinating podcasts I've ever listened to. The following is from Harris' bio says it all:

"Sam Harris is the author of five New York Times bestsellers. His books include The End of Faith, Letter to a Christian Nation, The Moral Landscape, Free Will, Lying, Waking Up, and Islam and the Future of Tolerance (with Maajid Nawaz). The End of Faith won the 2005 PEN Award for Nonfiction. His writing and public lectures cover a wide range of topics—neuroscience, moral philosophy, religion, spirituality, violence, human reasoning—but generally focus on how a growing understanding of ourselves and the world is changing our sense of how we should live."
Revisionist History – Malcolm Gladwell – Anyone familiar with Gladwell's work will enjoy this. Again, from the "About" section of the podcast:
"Revisionist History will go back and reinterpret something from the past: an event, a person, an idea. Something overlooked. Something misunderstood."
WTF with Marc Maron – I'm generally not a fan of his standup act but some of his interviews here are absolutely amazing. There are close to 800 episodes to choose from. Everyone from A-list movie stars to obscure road comics come into Maron's garage for what usually turns out to be a meandering, honest and sincere conversation.
The Candid Frame: A Photography Podcast – Truly one of the best photography podcasts around. So good in fact, I'd say that ANY creative person would likely learn something from these amazing interviews. Those interviewed range from living legends to talented young people who are taking their first steps in the industry. Fascinating subjects all!
Bret Easton Ellis Podcast – The author of Less Than Zero and American Psycho interviews some fascinating characters here. His own analysis and critique of cinema today matched with his seeming inability to not name-drop makes for an entertaining listen. There's definitely a feeling of getting an unvarnished view of today's Hollywood.
Music
(Or what my iPhone told tells me I listen to most these days.)
Benjamin Britten -Various Works
Charles Bradley – Various Albums
The Clash – From Here to Eternity (Live)
David Bowie – Blackstar
Dirty Three – Horse Stories
Godspeed You! Black Emperor – f#a# (infinity)
Hans Condor
Iggy Pop – Various solo and Stooges work
Lou Reed – Transformer
Mastadon – The Hunter
The Mighty Stef – 100 Midnights
Nick Cave & The Bad Seeds – Various Albums
Pearl Jam – Various Albums
The Rolling Stones – Various early albums
Steve Earle – I'll Never Get Out of This World Alive
Stiff Little Fingers – Various Albums
Titus Andronicus – The Most Lamentable Tragedy
Tom Waits – Various Albums
Xylouris White – Goats
'68 – In Humor and Sadness
Loads more but this is a pretty good cross-section.
The little one is telling me that it's time to go out and make a snowman. Let's speed this up a little.
Comic Books/Graphic Novels
Anything and everything by Warren Ellis and Ed Brubaker. Titles for you to look up which are still coming out monthly but also have a significant number of collected issues to look back at: Saga, Southern Cross, Lazarus, Monstress, Moon Knight…there are just so many amazing comics being published. Head to to your local comic shop and tell them what you like or don't like and start from there. My personal suggestion as far as a brick and mortar comic shop staffed by wonderful people is Crossover Comics.
Movies, TV, Comedy etc.
Archer, Brooklyn Nine-Nine, Planet Earth, Tales By Light, Into The Inferno, Life on Location, Ex Machina, The Lobster, Vu Du Ciel, Salt of the Earth, The Master, Everybody Street, Frozen Planet.
Ok, time to go play.
Wishing everyone out there a safe and happy holiday season. Cheers!