Steve Patrick Adams' Baby Put Me in a Corner proves kids aren't comedy kryptonite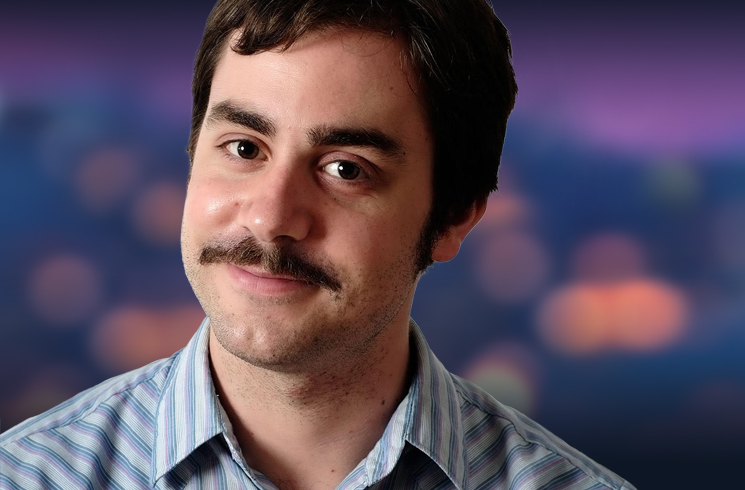 Many male stand-up comics like to describe their children as a hinderance – needy time-suckers that keep them from putting in the required late-night hours at their comedy clubs of choice. But for local comedian Steve Patrick Adams, the unexpected pregnancy of his girlfriend was doubly fortuitous, as it led to the creation of Baby Put Me in a Corner, a unique one-man about the impact of becoming a father that combines oral storytelling with animation.
Following an initial show under the umbrella of monthly live comedy series The Brunch Club, Adams is set to perform Baby Put Me in a Corner as part of OFF-JFL on July 23 at The Wiggle Room. Tickets are $20.87, available here. 
We caught up with Adams to discuss the origins of the show, and whether he's allowed to tell "Dad Jokes" now. For all upcoming live dates visit stevepatrickadams.com.
Bad Feeling: How did the idea for this show come about? Was fatherhood already something you were discussing in your comedy at the time?
Steve Patrick Adams: The baby was due in a couple of months and I was able to talk about it on stage for the first time. There was an embargo related to [Adams' girlfriend] Diane's employment that I had to respect until then. I did four or five jokes on the subject that accumulated from thinking about the pregnancy for several months. The jokes landed well, in part because the audience could likely sense the fear and anxiousness that came naturally in my performance.
Sasha Manoli, who runs The Brunch Club, approached me after the show and asked if I would be interested in writing a diary about the Dad experience, followed by her pitching the idea of a one-person show that involved animation. We both initially thought of the show as a bunch of material and animations related to being a Dad, but as I began putting stories and jokes together, a stronger narrative formed and we both agreed to pursue that direction.
What did your girlfriend think about using the pregnancy as a springboard for the show?
She thought it was a great way to turn a difficult and wonderful experience into something creative for me. She was very supportive. Didn't seem to mind the personal nature of the show, provided I ran everything by her. She is brave.
How did you come upon the storytelling / animation hybrid?
Sasha suggested I try to use some illustration and animation work in the show rather than keeping the worlds separate, as I was accustomed to. I thought the combination would at least be a sellable gimmick, but as I worked on the show I found it to be a great format for pushing the story forward in a more interesting way.
When male comedians speak about their kids it's often derogatory and played for laughs – were you conscious of putting a different spin on that family dynamic?
I was pretty tired of this trope by the time the baby was born and found myself oddly sensitive to baby and child mocking. (Yes, babies are not as smart as adults, great observation comedian.) The material and animation in the show doesn't tend to be derogatory towards the baby, although my former cat doesn't fare so well.
Does having a child make you pro "Dad Jokes" now?
I was accused of making a "Dad Joke" by Diane on a car ride and I don't think I said another word for the remaining hour of the trip.
You've performed the show in Montreal and Toronto, was there any difference in how the audience related to your story?
The audience in Toronto was a little bit more willing to laugh at the darker moments in the show but they were both wonderful audiences to perform for.
What's up next for you?
I'm going to push the show more with the help of Sasha and the Brunch Club. I have a few different ideas for the next show that blends animation and stand-up, but they're top secret right now, so no peeking! I'm considering turning the show into a graphic novel to explore some elements with more depth and visual flair. I'm also regularly performing stand-up at clubs and independent shows, so there's that.
Steve Patrick Adams presents Baby Put Me in a Corner at The Wiggle Room (3874 Boul. St-Laurent), July 23, 7:00 pm. Tickets are $20.87, available here.