Exclusive: Here's the first info on the upcoming Soundgarden documentary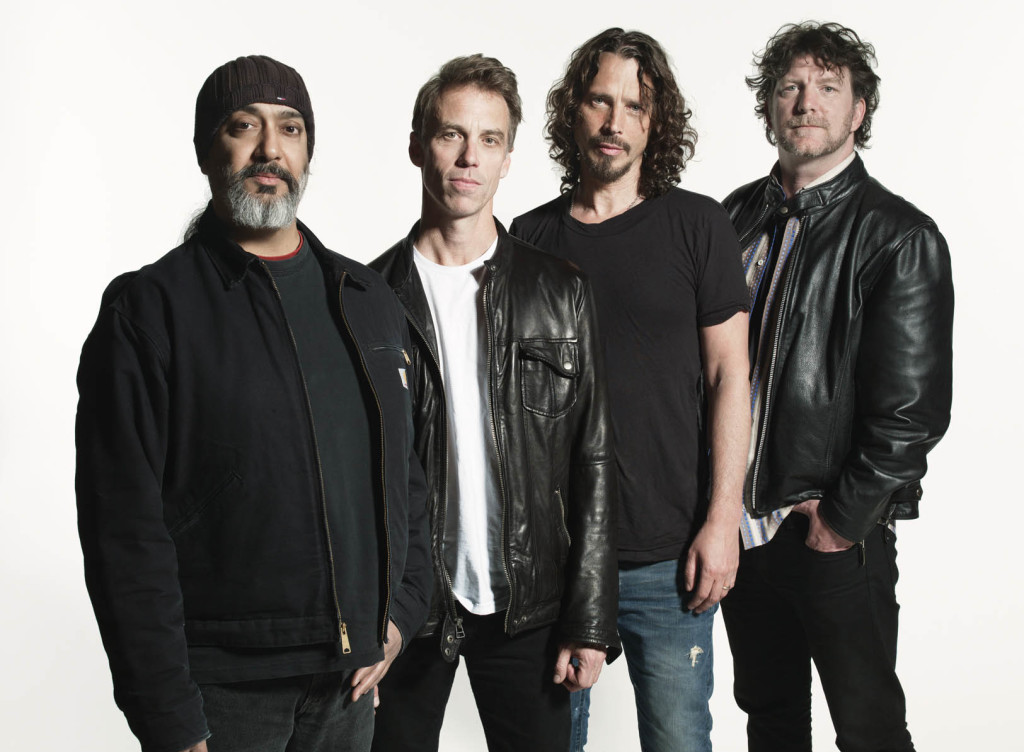 Super Duper Alice Cooper co-director Reginald Harkema (Goon) is happy to discuss his participation in the new "doc opera" tracing the history of Alice Cooper (read our full interview with him here), but it's his next project, a documentary on Soundgarden, that really has him excited.
The film is set to reunite Harkema with his fellow Canadian Super Duper Alice Cooper co-directors Sam Dunn and Scot McFadyen, the duo responsible for a slew of heavy metal documentaries, including Metal: A Headbanger's Journey and Rush: Behind the Lighted Stage. Harkema previously worked with the duo as an editor on VH1's Metal Evolution television series, during which he was first approached to participate on the Cooper doc.
"To me, Alice Copper was a voyage of discovery, from someone who could kind of journey into the past and see what it was like," says Harkema in a phone interview. "Soundgarden is much closer to my own sort of experience of being a music fan and kind of reconciling these punk rock ideals. For them it was much more exaggerated, having these punk rock ideals and then dealing with becoming "metal rock stars." I get that kind of internal struggle, much more than I do wrestling with free-base cocaine addiction," says Harkema, alluding to Cooper's past battle with drugs, documented in Super Duper Alice Cooper.
While much of the upcoming Soundgarden film is still in the planning stages, some filming is likely to begin this summer, during the band's tour behind the re-issue of 1994's Superunknown album, which includes a string of co-headlining dates with Nine Inch Nails.
"It's a little bit difficult because they're touring, but Matt Cameron is not touring with them this summer because he's got Pearl Jam commitments," says Harkema of Cameron, who handless drumming duties for both Soundgarden and Pearl Jam. "There's some key shows that Matt Cameron is going to be playing, so we're going to be trying to send cameras out for that. But I think when they're coming through Toronto, we've definitely got it scheduled in to get some interviews in with them."
The film is set to focus on the entirety of the band's career, from their early days in the Seattle club scene, through to their breakup in the 90's, and their return with 2012's King Animal release.
"We're going to concentrate on [the 90's] era mostly," reveals Harkema. "It'll probably be like 70-75% mid-80's to the breakup, and then catch up on the reunion and the present day. We'd like to shoot some big special concert, and maybe use that as a structural spine. We're going to shoot all the interviews so they're more on-camera, so you can kind of get the emotion in the faces. There's a lot of stuff that they went through, and a lot of stuff that they [shrug off], that I think we can dig deep underneath, and get back to how they felt emotionally at the time."
Super Duper Alice Cooper is out on Blu-Ray and DVD May 27.
Stay tuned to http://www.bangerfilms.com/ for info on the upcoming Soundgarden doc.
All current Soundgarden dates are below, including their July 13 Montreal stop @ Metropolis.
Fri 06/06/14 – Sat 06/07/14 Istanbul, Turkey
Sun 06/08/14 Berlin, Germany
Tue 06/10/14 Utrecht, Netherlands
Wed 06/11/14 Tilburg, Netherlands
Thu 06/12/14 Interlaken, Netherlands
Fri 06/13/14 Munich, Germany
Wed 06/18/14 Tel Aviv, Israel
Fri 06/20/14 Zürich, Switzerland
Sun 06/22/14 Clisson, France
Tue 06/24/14 Esch Sur Alzette, Luxembourg
Wed 06/25/14 Stuttgart, Germany
Fri 06/27/14 Oświęcim, Poland
Sun 06/29/14 Dessel, Belgium
Wed 07/02/14 Verona, Italy
Fri 07/04/14 London, United Kingdom
Sat 07/12/14 Quebec City, QC
Sun 07/13/14 Montreal, QC
Fri 07/18/14 Pemperton, BC
Sat 07/19/14 Las Vegas, NV
Mon 07/21/14 Morrison, CO
Tue 07/22/14 Morrison, CO
Thu 07/24/14 Tinley Park, IL
Sat 07/26/14 Clarkston, MI
Sun 07/27/14 Toronto, ON
Tue 07/29/14 Mansfield, MA
Wed 07/30/14 Camden, NJ
Fri 08/01/14 Wantagh, NY
Sat 08/02/14 Holmdel, NJ
Mon 08/04/14 Bristow, VA
Tue 08/05/14 Virginia Beach, VA
Thu 08/07/14 Charlotte, NC
Fri 08/08/14 Atlanta, GA
Sun 08/10/14 West Palm Beach, FL
Mon 08/11/14 Tampa, FL
Thu 08/14/14 Austin, TX
Sat 08/16/14 The Woodlands, TX
Sun 08/17/14 Dallas, TX
Tue 08/19/14 Albuquerque, NM
Thu 08/21/14 Chula Vista, CA
Fri 08/22/14 Irvine, CA
Sun 08/24/14 Mountain View, CA
Mon 08/25/14 Los Angeles, CA