Best of 2017: Our 10 favourite albums of the year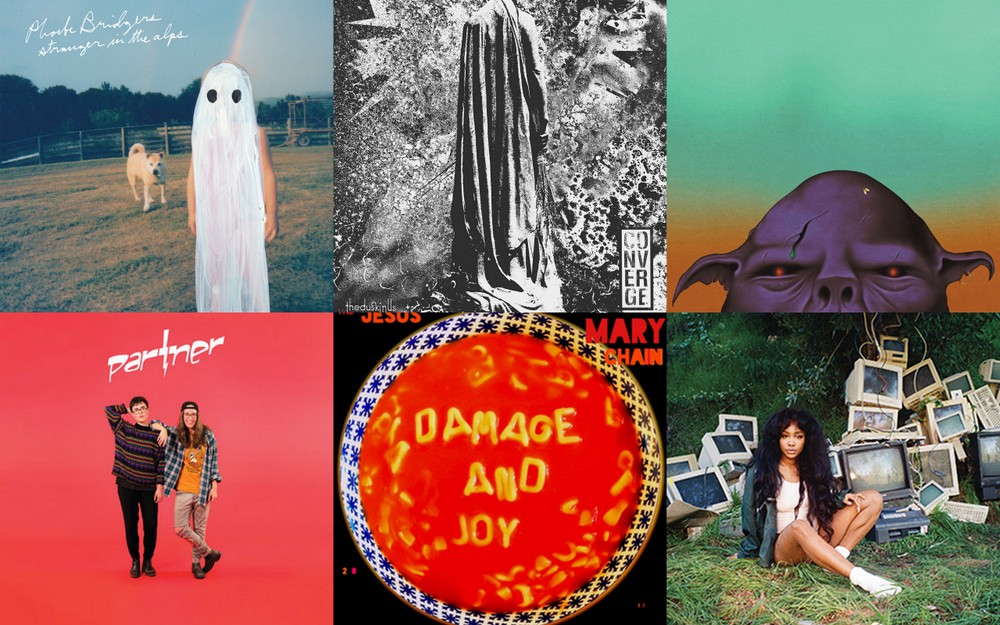 2017 may have been a raging trash fire in most respects, but there sure was a lot of great music released this year. Below is our entirely subjective list of the 10 best albums of the year, ranging from the long-awaited return of alt-legends The Jesus and Mary Chain to the heartbreaking debut from Phoebe Bridgers.
How did we do with our list? Was there a great album we missed? Let us know in the comments below!
10. American Lips – Kiss the Void (Ancient Fashion Records)
Featuring the husband and wife team of Montreal production guru Adrian Popovich and Jessica Bruzzese, along with Death From Above's Sebastien Grainger, this Montreal / Los Angeles trio deliver potent, no frills garage rock on this debut full length. At just over 2 minutes, "Heat Wave" is one of the catchiest songs of the year, full of mid-tempo RN'R swagger by way of a Phil Spector beach party, while "Depreciate" channels 70's post-punk with its insistent beat and angular guitar lines. In many ways this is the perfect party record — it's short, catchy as hell, and everyone will think they're listening to a different band.
9. Oh Sees – Orc (Castle Face)
They may have dropped the "Thee" from their moniker ahead of the release of this album, but Orc doesn't necessarily mark a major stylistic change for the long-running San Francisco garage band. If anything, band mastermind and guitar freakout wizard John Dwyer has doubled down on the band's wide range of influences, incorporating elements of garage rock, punk, psychedelia and doom metal alongside lyrics that could have been lifted directly from a Dungeon Master's guide to create a distinctly murky stew of out-there rock. No recording has ever truly captured the absolute power of the band in a live setting (especially with their current two-drummer set-up) but Orc sure comes close.
8. Charly Bliss – Guppy (Barsuk)
Few bands can craft such relentlessly catchy sad songs as Brooklyn's Charly Bliss. Singer Eva Grace Hendricks's syrupy-sweet vocals and the band's fuzzy upbeat alt-rock provide the perfect counter-point to lyrics that tackle insecurity, failed relationships, and the fear of ending up working at Dairy Queen. Filled with synth-heavy distorted earworms that sound like they came directly from a lost episode of 120 Minutes, Charly Bliss have crafted an album that brings to mind 90's greats like Weezer and The Breeders without ever sounding like a nostalgic retread. 
7. Converge – The Dusk in Us (Deathwish Inc.)
Nearly three decades into their career, Converge are still finding ways to adapt and evolve their metallic hardcore sound in new and unexpected ways. While The Dusk in Us has no shortage of Jacob Bannon's trademark blown-out vocal shrapnel and guitarist Kurt Ballou's fretboard gymnastics, the band sounds truly reinvigorated here and willing to branch out more than they ever have before, from the atmospheric 7-minute title track to the mournful "Thousands of Miles Between Us," which sounds like a cold wave ballad by way of Alice in Chains.
While musically this is easily Converge's most dynamic record, Bannon has also made a hefty switch on the lyrical front, tackling the desperate state of humanity and his recent fatherhood in some of the clearest and most straight-forward language in the band's history. The end result is Converge's most direct and accessible album ever.
6. John Moreland – Big Bad Luv (4AD)
The narrative with Big Bad Luv is that this is supposed to be John Moreland's "happy" album — now married and settled down, the Oklahoma signer-songwriter has mostly returned to the full-band Americana sound of his earlier work, which is indeed much brighter than the heartbreaking suicide watch acoustic records he's been known for recently. That said, Big Bad Love still swims in the murky Southern waters of pain and regret that have informed Moreland's most memorable songs — this time he's just decided to let a little bit of light creep into those darkened corners.
5. Partner – In Search of Lost Time (You've Changed Records)
Canadian duo Partner (Lucy Niles and Josée Caron) sound like they're having the time of their lives on In Search of Lost Time. Sandwiched between more skits than your average Wu-Tang album, Partner pack 90's alt-rock guitar crunch into perfect power-pop nuggets that reflect their lives as young, queer stoners, including getting high before class, watching trashy daytime T.V., and lusting after a fellow athletic student as they hilariously detail on "Play the Field," one of the most irresistibly catchy songs of the year.
4. The Jesus and Mary Chain – Damage and Joy (Artificial Plastic)
The fact that this album even exists at all is a minor miracle. The Scottish alt-rock heroes have been promising new music for years, and apart from a song on the Heroes soundtrack way back in 2008, the odds of the famously bickering Reid brothers getting it together enough to get back into the studio for a proper full-length seemed pretty dubious. Yet here we are with Damage and Joy, a collection of songs that may have been primarily culled from various JAMC side projects over the years, but that nonetheless works as one of the band's strongest albums ever.
From the amphetamine distortion rush of opener "Amputation," to the ridiculously catchy duet "The Two of Us," featuring Isobel Campbell, Damage and Joy finds the Reid brothers reaching back to their classic fuzz-pop sound while still managing to branch out into new and unexpected directions some three decades into their career.
3. Phoebe Bridgers – Stranger In The Alps (Dead Oceans)
Stranger in the Alps, the debut full-length from 23-year-old singer-songwriter Phoebe Bridgers, has the designation of being the most heartbreaking album of the year, no small feat given the seemingly endless stream of bummer discs that have seen the light of day in 2017.
Bridgers has a knack for crafting startlingly intimate songs that feel like late-night confessions, with incisive lines that puncture the sadness in totally unexpected ways. Take this great exchange from "Motion Sickness," one of the best songs of the year, that seems to conjure up the life of a relationship in just two lines: "You said when you met me you were bored / And you, you were in a band when I was born."
Stranger in the Alps is filled with similar tales of relationships gone awry and the messy ways we try to cope with them, along with Bridgers' deeper look at her own depression on a track like "Funeral," whose heart-wrenching chorus of "Jesus Christ, I'm so blue all the time / And that's just how I feel / Always have and I always will," somehow isn't even the saddest sentiment in the song. While this is undoubtedly a dark record, Bridgers is often ready to puncture the pain by highlighting the absurdity or awkwardness of a situation, making for a moving and cathartic listen.
2. Kendrick Lamar – DAMN. (Top Dawg Entertainment)
Coming off the colossal one-two punch of Good Kid, M.A.A.D City and To Pimp a Butterfly, Kendrick Lamar doubled-down on DAMN., unleashing a beast of an album that focused on the basic building blocks of hip hop. Eschewing the funk and Afrofuturism influences of Butterfly for the full-on air-raid attack of tracks like "DNA," and "HUMBLE," Lamar is clearly asserting his verbal dominance on this album, making the case for being crowned the greatest rapper alive. Apart from his thrillingly complex verbal dexterity, Lamar rounds out DAMN. with the lush "LOVE," a slinky, futuristic R&B track that sounds like nothing else on the album. Even a perplexing U2 cameo can't dethrone Kung Fu Kenny's unblemished run.
1. SZA – Ctrl (Top Dawg Entertainment)
SZA's long-awaited LP famously almost never saw the light of day due to her relentless tinkering, but Ctrl was more than worth the wait. An incredibly vulnerable and honest album, Ctrl struck a chord with its down-tempo R&B / soul mixed with SZA's sobering look at relationships, sexuality, and her own insecurities. Ctrl often reads like diary entries set to music, which makes for a refreshingly intimate listen, from the opening shots of "Supermodel" ("Let me tell you a secret / I been secretly banging your homeboy,") to album highlight "Drew Barrymore" ("I'm sorry I'm not more attractive / I'm sorry I'm not more ladylike / I'm sorry I don't shave my legs at night").
With its heart-on-the-sleeve lyrics, sparse and warm production and SZA's general fearlessness, Ctrl is a great snapshot of an artist coming into her own, as well as a frank look at the toll of modern relationships.
We caught SZA's Ctrl tour this past summer — check out photos and review here.