Montreal gets a star-studded tribute to Leonard Cohen featuring Elvis Costello, Sting, Lana Del Rey and many more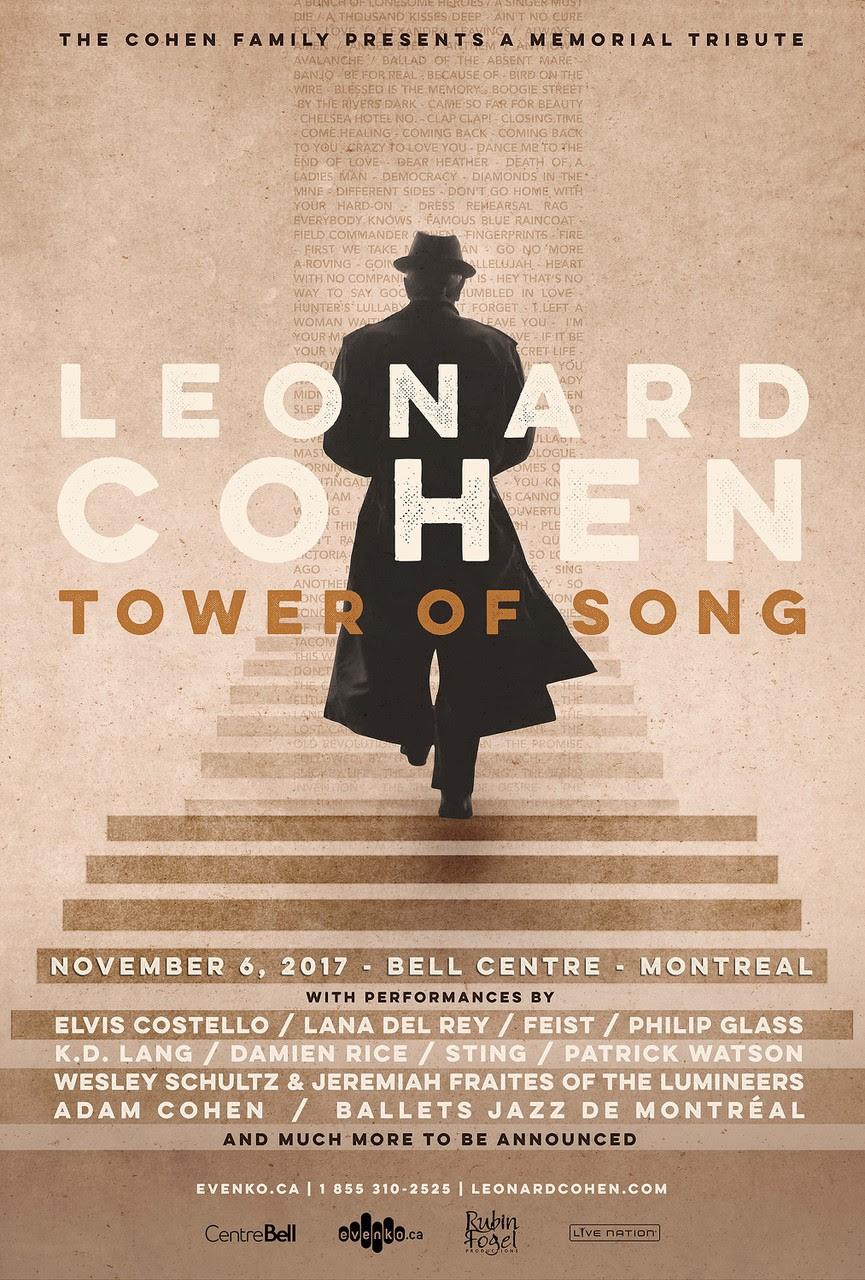 The family of Leonard Cohen have put together an incredible lineup of musicians to pay hommage to the late Montreal musician. Set for November 6 at the Bell Centre, the night will feature performances from Elvis Costello, Sting, Lana Del Rey, K.D. Lang, Philip Glass, Feist, Damien Rice, Patrick Watson, members of The Lumineers, Adam Cohen, and more to be announced.
Tickets range from $40.25 to $276.50 (including taxes and service fees) and go on-sale Saturday, September 23 at noon via evenko.ca.
The full press release is below.
The family of Leonard Cohen invites fans from around the world to join them, along with renowned musicians, the Prime Minister of Canada and the Premier of Quebec in celebrating Cohen's legacy for Tower of Song: A Memorial Tribute to Leonard Cohen at the Bell Centre in Montreal on Nov. 6, 2017. Tickets go on sale Saturday, Sept. 23 at www.evenko.ca.
Participating artists include Elvis Costello, Lana Del Rey, Feist, Philip Glass, k.d. lang, The Lumineers' Wesley Schultz and Jeremiah Fraites, Damien Rice, Sting, Patrick Watson, and Adam Cohen, who is also co-producing the event. Additional artists, as well as actors paying homage through spoken word performances, will be announced soon.
"My father left me with a list of instructions before he passed: 'Put me in a pine box next to my mother and father. Have a small memorial for close friends and family in Los Angeles…and if you want a public event do it in Montreal,'" said singer-songwriter Adam Cohen "I see this concert as a fulfillment of my duties to my father that we gather in Montreal to ring the bells that still can ring."
Noted record and concert producer Hal Willner serves as producer of the event, which will be co-promoted by evenko, Rubin Fogel Productions and Live Nation/Robomagic. Emmy nominated and Golden Globe winning director Jack Bender (Game of Thrones, Lost, The Sopranos, Mr. Mercedes, etc.) will film the event for an upcoming special.
"Leonard Cohen is a literary and musical icon of word-craft," said Hal Willner. "On the first anniversary of his passing, we will endeavor to present a tribute to an artist who is universally acknowledged as one of the great poets and songwriters of all time."
The event will benefit the Canada Council for the Arts, the Council of Arts and Letters of Quebec, and the Montreal Arts Council.
"Proceeds from the event will be shared by several of Canada's arts organizations in an effort to continue the legacy of great works," said Robert Kory and Michelle Rice, Leonard's managers. "In fact, Leonard often mentioned the Arts Councils, whom he credited as providing essential support in the early days of his career."
Tower of Song will mark the first anniversary of Leonard's passing and commence a week of celebrations honoring Cohen in Montreal. As previously announced, the Musée d'art contemporain de Montréal's new exhibit, "Leonard Cohen: Une brèche en toute chose / A Crack in Everything," will open to the public November 9. The exhibit was approved by the late songwriter before his passing and will celebrate Cohen's life and work.
For more information, please visit www.LeonardCohen.com