Live Review: The inaugural Mile Ex End Festival takes flight with City and Colour and Cat Power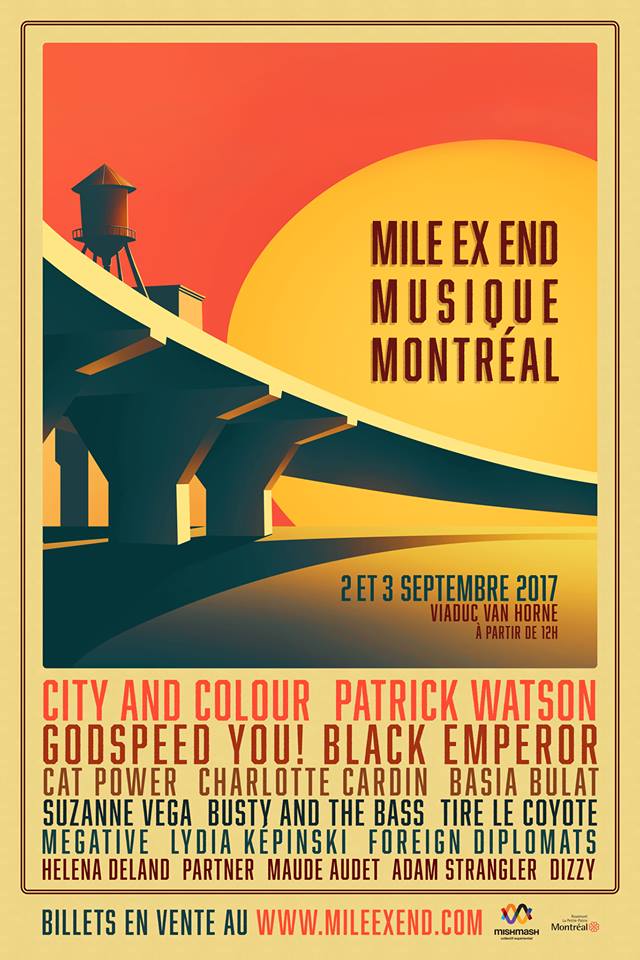 Mile Ex End Festival
September 2, 2017
Check out our photos from the night here, courtesy of Vitor Munhoz.
Festivals in Montreal are almost as common these days as "Rue Barré" signs. The inaugural Mile Ex End Musique Festival is the brainchild of the folks behind Piknic Électronik and La Tribu (an independent Montreal music promotions company). This new festival is held in a sprawling space under the Van Horne overpass, complete with picnic benches, decorated with strings of fairy lights, populated with a flock of food trucks, and two stages (the smaller Scène Mile End and the larger Scène Mile Ex).
Turning an inconspicuous, industrial space into a music venue is indeed a very Mile End sort of venture. However, bringing in thousands of people to such an outdoor venue is the kind of ambitious endeavor music promoters and festival organizers in Montreal seem to thrive on.
On this maiden night, Cat Power and City and Colour led the way as the headliners.
As for the former (real name Chan Marshall), she has become almost notorious for her stage presence, or lack thereof. Whether fair or not, a great musician is also expected to be a great performer, especially when fans spend their hard-earned dollars to watch them live. Cat Power, for all of her supreme musical talents, has not always exactly been known as a great performer. This raises an interesting question: can we blame a musician, who's known as an intensely shy individual, for lacking stage presence? To her credit, the lone woman at her piano performed admirably, singing beautifully with her distinct heartbreaking tenderness. When a CN train rolled by behind her in-between songs (to the customary cheers of many in the crowd), she took it in stride, laughing at the absurdity of it all, and reminding us that we weren't in your typical musical venue.
On a large parking lot overlooking the highway with cars zooming past, City and Colour enthralled the crowd. Lead signer Dallas Green's voice remains as magical as ever. In fact, being in a parking lot isn't supposed to be this intimate (unless you're in a car doing the "no pants dance"), but Green and his band turned this indistinct place into a surprisingly special space on this night. At the very end, he delivered one simple yet effective message to the faithful crowd: "Just fucking be nice to each other."
Mile Ex End continues today at 12:00 pm with performances by Patrick Watson, Godspeed You! Black Emperor, Basia Bulat, Suzanne Vega and more. Tickets are $50 plus fees, available here.