Win tickets to see Apocalyptica "Plays Metallica by Four Cellos" in Montreal September 13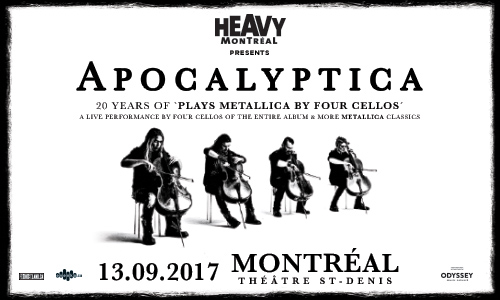 20 years ago, Finnish metal band Apocalyptica released their debut-album, Plays Metallica by Four Cellos, which as its name would suggest, featured classical arrangements of Metallica hits performed on cellos. The album was an unexpected hit, and now the band is celebrating the 20th anniversary of the album by performing it in full on their current tour, along with new takes on additional Metallica classics.
The tour lands at Montreal's St-Denis Theatre on September 13 — tickets are $29.50 – $49.50, available here. If you haven't grabbed your tickets to the classiest metal event of the season yet, you're in luck — we have a pair up for grabs courtesy of evenko!
To enter:
1. LIKE the Bad Feeling Magazine Facebook page and SHARE this post
2. Tag your guest in the comments for this post, along with your favourite Metallica song. You can also comment directly via the embedded post below. We'll pick a winner at random on September 12. Good luck!