FME's Jenny Thibault on 15 years of bringing live music to Rouyn-Noranda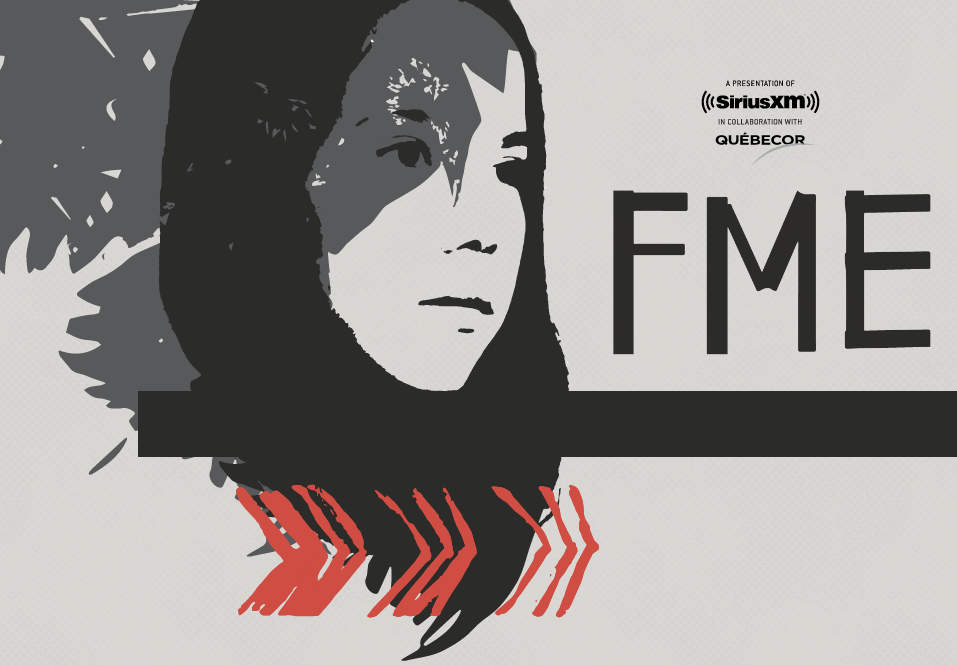 The Festival de musique émergente en Abitibi-Témiscamingue (FME) is celebrating its 15th anniversary of bringing boundary-pushing live music to the small Northern Quebec city of Rouyn-Noranda (population 41,000) this year. From August 31 – September 3, FME will showcase more than 60 acts throughout the city, including shows in clubs, a large outdoor stage downtown, as well as a special stage built directly atop the scenic Lake Kiwanis.
This year's edition features a slew of eclectic artists, including A Tribe Called Red, NYC's A Place to Bury Strangers, Swedish black metal legends Marduk, and plenty of Quebec favourites including Duchess Says, The Franklin Electric, Larry Kidd, Chocolat and dozens more. This year FME is also partnering up with the team behind the Pikogan Pow Wow to present Makwa, a free outdoor event on Friday, September 1 celebrating the culture of local aboriginal communities, held on the banks of the Osisko Lake.
We caught up with FME co-founder and vice-president Jenny Thibault to discuss how FME thrives in the ever-competitive festival space, what inspires people to make the 7-hour drive up from Montreal, and what festival newcomers can look froward to from this year's edition of the festival.
For tickets and the complete FME schedule, fmeat.org.
Bad Feeling Mag: What was the initial inspiration for FME? How often would touring acts come through to Rouyn?
Jenny Thibault: We were tired of going to Montreal or Toronto to see good music concerts. So we decided to organize something in our home town showcasing some of our favourite artists. It was 15 years ago. Now, the cultural scene has changed for the better. We have more to offer, we have really active rap and metal scenes, for example. Different venues are booking shows, bookers and artists know the place now, more tours are coming to the town.
With so many new festivals debuting every year, what do you think makes FME stand out? 
The FME is located in an isolated region. Therefore, festivalgoers who are driving 7 hours really want to be there. You can't only be passing by… And the timing is also excellent. We're at the end of the big summer festival season, so people from the music industry, from here and Europe have time to come for 4 days, to meet and to discover new talent.
Does the remoteness of the locale make the shows feel more exciting?
Yes for sure. It's the natural selection! Only passionate music people will make it. And, on top of that, they're going to be together or bumping into each other for 4 days. They can't go back home after the concert. I think it's a mix of all this that makes the FME ambiance so festive.
How did the inclusion of the Makwa event come about? 
We have 7 aboriginal communities based in the Abitibi-Temiscaminque region and we don't get the chance to visit and to meet with them on a regular basis. The idea was to do a cultural collaboration. We did something at the Pikogan Pow Wow event and then we invited them to do the same at FME. Hopefully, it'll be the beginning of something.
What are a couple of acts playing this year that you are especially excited about?
I'm very happy with the overall line-up this year. We do have a lot of interesting projects in many musical genres, from here but also from US, France, Belgium and Sweden! I'm really looking forward to A Tribe Called Red, Andy Shauf and the psych-rock bands playing late at night: Atsuko Chiba, Paul Jacobs.
Apart from the shows, is there anything else FME newcomers (like myself) should check out in Rouyn?
You can go fishing, hiking, visit a mine. Don't forget to download the app to be aware of all the secret concerts. And don't forget to pass by the mythical Bar des Chums to have a few drinks after the concerts!
FME runs from Thursday, August 31 – Sunday, Septemeber 3 in Rouyn-Noranda, Quebec. For tickets and the complete schedule, visit fmeat.org.