Comedy / Improv show Troubadour welcomes musician Eva Foote to Montreal Improv this Friday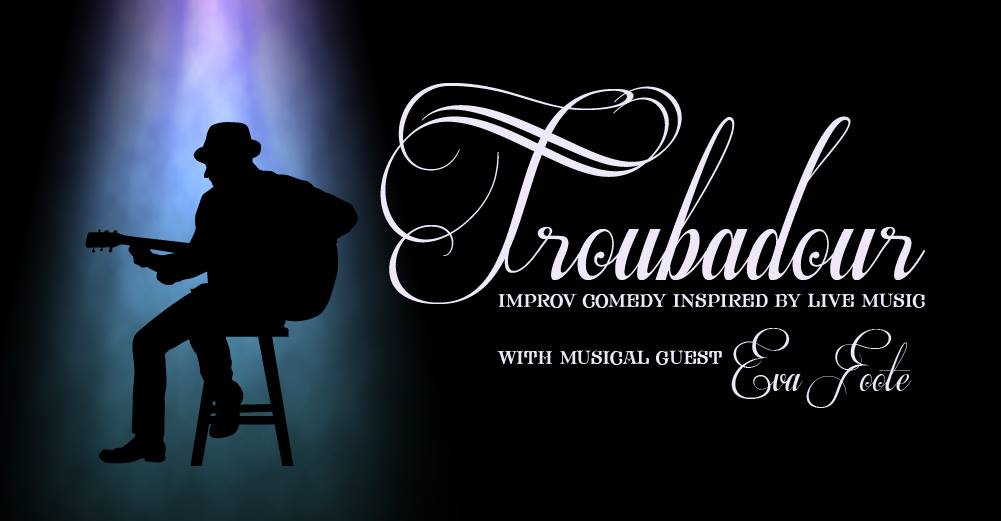 Returning to the Montreal Improv Theatre after taking a few months off, Troubadour will join another established musician with two whole new groups of improvisers this Friday, September 1st.
Troubadour uses a format that is similar to the Armando, where a monologue inspires a montage, usually of a few related scenes. But instead of storytelling, a singer-songwriter comes in and plays from their repertoire.
Being the third installment, Troubadour is still a new addition to the theatre's lineup; the last two shows were sold out. Live music and the ability to suspend disbelief (unstoppable laughter is known to follow) seem to be a winning and balanced combination.
Although the instrument of choice of the two first musicians was the guitar, their styles were quite different: bespectacled Jesse Daniel Smith played songs from his recent acoustic album, and Tyler Canaan (incidentally, bespectacled), whose intrigue wasn't just about his songs but also about the aloof and mysterious character he chose to adopt when he took to the stage. Troubadour's third artist is also the first female performer at Troubadour, Eva Foote (non-bespectacled).
A Montreal transplant by way of Edmonton, this well-seasoned musician and songwriter has three albums under her belt, and has recently performed at the Edmonton and Canmore Folk Fests. She can easily enthrall you leading a band just as much as with the lone presence of just her voice and her axe. We can tell she's excited about playing for the Montreal Improv crowd and having some of her songs reimagined into being by some of the funniest, coolest and hardest working local improvisers. I had the chance to interview her about the upcoming show and her work, while getting some great advice in the process.
Bad Feeling Mag: You moved here from Edmonton. Thank you for choosing Montreal, when you could have been anywhere else… What was your deciding factor in choosing this city?
Eva Foote: I got into the National Theatre School and made the move mainly to study. Also heard rumour that the city was great for music so covered the main bases… also poutine.
What inspires your songs? The environment, the locals, being away…Has Montreal inspired your songwriting, in another way/direction? Does if affect you in the same way Edmonton does?
Usually I write songs because writing music can coax words out of my cold dark heart better than talking ever has. When I first moved to Montreal I was pretty lonely, I forgot that you had to put effort into making friends if you wanted to have friends, so I spent a lot of time in my apartment with my guitar. Songwriting requires a certain amount of solitude in my experience and moving to a city with no friends is a DREAM retreat for alone time. Generally, any kind of unrest or transitional discomfort is welcome fodder for material —  writing songs sort of helps me knead out the knots.
What is most of your music about? I sense fun, contemplation, love & comfort, sentimentality…
fEeLiNgS! My first record chronicled my pre-move fears etc… second album I think was more about heartbreak and general nostalgia blah blah and the album I am making next is about KICKING BUTTS and learning how to manifest courage and the crooked road of respecting yourself.
Musical inspiration?
Musical inspirations range from Lou Reed to Bonnie Raitt to Sharon Jones to Lucinda Williams… I really look up to female folk writers who paved the way like Gillian Welch and Mary Chapin Carpenter and Dolly Parton. And anybody who can write a powerful folk song with a banjo.
What's been your fave place to play so far (anywhere in the world)?
It might sound a little lame/predictable but… Edmonton is my home – geographically and in terms of soul power, and I had the chance to play the Edmonton Folk Festival last summer and that was one of the most special shows of my life – sea of people that I grew up with – nurtured by and encouraged – I shed tears of happygratefuljoy when I think about it. Montreal is nice too.
Usual haunts where we can catch you performing in Montreal?
Le Cagibi, Casa Del Popolo, Sala, Vitrola, National Theatre School … some empty bars, my shower…
KISS once opened for Blue Oyster Cult and years later, that very band ended up opening for KISS. Who would you love opening for you one day?
Cher or a collective band of all my ex-boyfriends.
How did you agree to do the Troubadour show? Did it take much convincing to do this?
Zero convincing – I am probably the most excited person about this.
What do you think of your songs being broken down and reinterpreted in a new funny way by improvisers at Troubadour?
I am so excited. I think most songwriters are curious on some level which lyrics/moments in a song stand out to people. I can't wait to see what comes out of improvers' brains based on lyrics that came out of my brain.
(Assuming you'll be playing alone on stage) Playing with a full band, versus just being you on stage… any differences besides the number of people on stage?
Playing with a full band I feel like the songs are fuller – bouncier. I play with a guitar player, a drummer, a bass player and then two harmony singers. When I write songs, I hear 3 part harmonies in my head, so when I play solo I feel like the songs aren't their truest form. But playing solo is fun because you can toot around and change things up and you don't piss anyone off! My band in Edmonton is made up of great buds and we have a real fun time on stage together.
Sometimes an improviser might have a mental block on-stage where they don't know where to go next. When writing, have you ever experienced a writer's block? What are your coping solutions (do you have a muse who inspires what you write about)?
When I have writer's block I use a tool I call Theft – in that I just play a song I love by Dylan or Joni Mitchell or someone that really knows what's up and then insert my own lyrics into their structure. Then through taking some of the generative process out, I turkey baste the lyrics out of their structure and write my own melody. Sort of like taking the training wheels off. Then somedays, the mood strikes and it just comes out like an exhale and then you have a full song on your hands.
What do you enjoy doing when you're not singing/writing/performing/playing?
I go to a lot of music, sometimes every night of the week. I'm in school full-time for theatre performance in acting at the NTS – so a lot of my time is spent reading/memorizing/studying/practicing…
Troubadour features a mixed bag of improv veterans and new performers trying to get over their fears by accruing stage time with the audience and performing with their peers. And playing with an established songwriter is an added challenge. Is there anything you're afraid of or find challenging right now?
In music? Oh it's ALL very frightening. I had major stage fright as a kid, I think that's partly why performing has been so attractive to me forever. Scares the shit out of me and I never wanna do anything else. I feel challenged writing songs that break out of my folk/roots upbringing. I grew up singing bluegrass/honkytonk and I'd love to escape that genre now and then. But every time I sit down to write a song I play a G chord and maybe that's just in my blood.
Any advice for budding and shy songwriters who'd like to perform and carve out their space in the musical world?
Play everywhere you can all the time – open mics, backyard parties, open for anyone – get performance practice under your belt. You will learn which songs sail and which need work in the exercise of them. I don't know anything wise about songwriting, I'm still at the bottom of the barrel trying to piece things together but I know that practice is your ticket forward.
Would you like to talk about your recent albums or EPs you've released since you've moved to Montreal?
I released my last EP – Funeral Walking in August last year in Edmonton – it fared well out west and we had a fun release show in my hometown. Those songs I wrote in an apartment on Villeneuve Est and recording them was sort of immortalizing that time. Working on getting my ducks in a row to make a record in 2018 in Toronto and see what comes outta that attempt.
Anything you'd like to plug? Upcoming shows, website, other fun announcements?
Flyin' by the seat of my pants – but I'm playing September 18th with Isaak Soloman at L'escalier.
Anything else I may have forgotten to ask but feel the world should know?
I hate cilantro (and I am so grateful to be included in this amazing project – extra shout out to Dale for making it happen!)
Troubadour featuring Eva Foote at Montreal Improv Theatre, Friday September 1st at 10pm. $5. For more info visit the Facebook event page. You can find Eva Foote's music on iTunes, Spotify and at evateresefoote.bandcamp.com.