Interview: Montreal hardcore legends Genetic Control regroup for '77 Montreal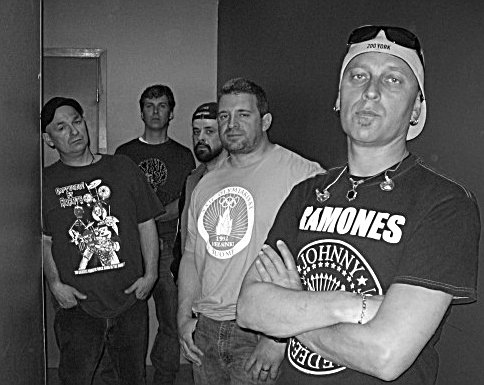 Legendary Montreal punks Genetic Control may have first disbanded way back in 1986, but they remain one of Canada's most influential early punk / hardcore bands. Combining breakneck thrash speed with witty and incisive lyrics, the band's 1984 debut 7″, First Impressions, has become a holy-grail for punk collectors worldwide, selling for hundreds of dollars if you can manage to track one down one of the only 500 copies floating around.
With members now spread out all across the country, the band is regrouping to play a rare hometown show at the inaugural '77 Montreal Festival on July 28, alongside bands like Rancid, Dropkick Murphys, X, Madball and many more. Tickets are $60 (including all taxes and fees), available here.
We caught up with vocalist Mike "Zabo" Price by e-mail to discuss the early days of the Montreal punk and hardcore scene, Genetic Control's upcoming reunion show at '77 Montreal, and whether they had an extra 7″ lying around for us.
When was the last time the last time the band played? How difficult is it to get everyone in the same city to practice?
The last time we played together was North by Northeast in Toronto a couple of years ago with Black Flag (the good version with Keith Morris lol).
Generally, when we play a show we get together a week to a few days before the show and rehearse in whatever city we are playing in. Since we are spread out all over the country it is the only way to do it economically and logistically.
What was the punk and hardcore scene like in Montreal when the band was starting?
The foundation for the scene was already laid a few years before. Before I played in Genetic Control I was a promoter and manager for SCUM, Montreal's first hardcore band, etc. I put on shows with the Dead Kennedys, The Vibrators, Exploited and the Ramones to name a few, and started the first hardcore fanzine APB with Andrew Campbell (creator of our foetus) and Stuart Peterson (from My Dog Popper). I was also a contributing writer for a Maximum Rock and Roll fanzine in San Francisco. So this really helped build the scene from nothing. By the time we started playing as Genetic Control the scene had already started developing and growing.
Montreal, however, was a very dysfunctional punk/hardcore scene. It was hard to keep venues going and venues generally got trashed, and I had to find a new venue for almost every show.
The only venues that were long-lasting were the larger ones with security to prevent the punks from trashing the place.
Once Foufounes opened up circa 1983, we finally had a regular place to congregate and hang out, but we left a very long trail of defunct venues in our wake. I must have booked shows at every church, YMCA and dive bar in the city. However, the club that would prove to be the most significant would be the Rising Sun on Sainte Catherine St. While it was small, it became the venue of choice in 1984 into 1985. It was were we played our last show back in the day with GBH.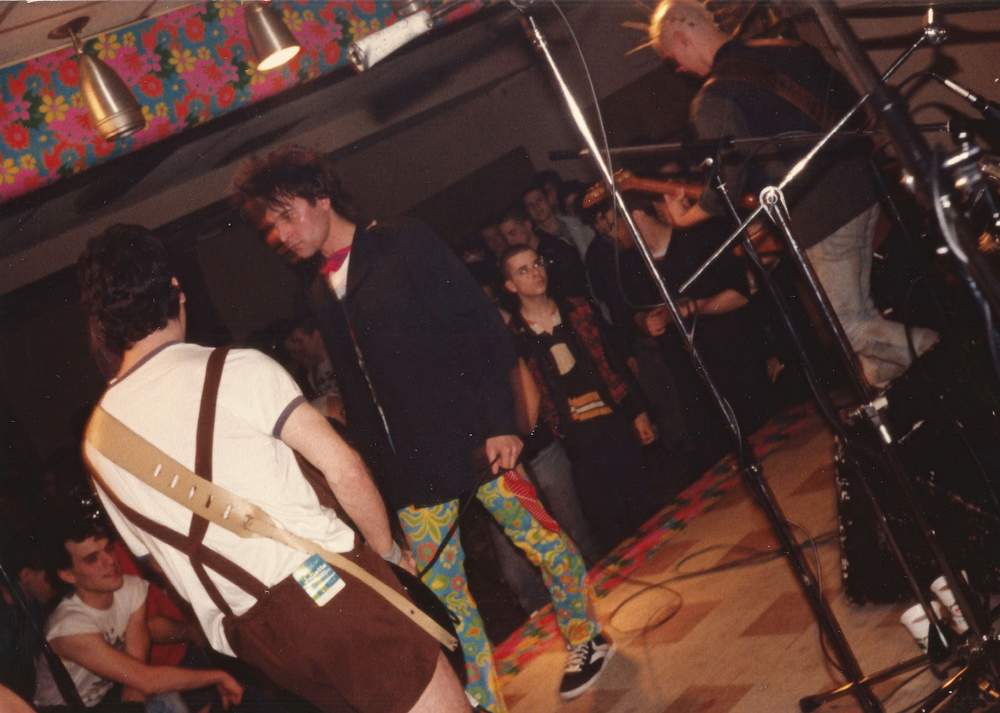 Prior to those venues we had Le Visage/The Hardcore Club on St. Laurent Mount Royal. I booked Social Distortion there and Chron Gen. Then after that Le Cargo on St. Dennis near Rachel. It was the venue where Genetic Control played its first show with Fair Warning, who were our favourite band to play with locally. The Cargo was for many bands at the time the first venue that they played. It was the spawning ground of the live Montreal hardcore scene and I was booking international bands to play there like The Subhumans and The Exploited from England, as well as Toxic Reasons and DRI from the USA, to name a few. Most bands cut their teeth opening for the larger out-of-town bands and thusly inspired bands to form in the DIY scene we created.

What local or touring bands did you feel a kinship with at the time?
We opened for Suicidal Tendencies, GBH and The Dead Kennedys to name a few, and we became good friends with those bands. Most of the bands would stay at the BBC (Bleury Beach Club), so we had an established community and we had a good reputation on the punk hardcore touring scene. Touring bands wanted to play Montreal, and as a result would often request to have Genetic Control play on the bill as we were one of the only bands who had records for sale outside of Montreal, so they were familiar with our songs. Back then we would have our first single in juke boxes at several bars around the city.
Did you have a favourite venue?
That is a hard question to answer, as there were so many venues and they all had significant and relevant reasons for being a favourite, even though some venues only had a lifespan of one show unfortunately. I don't think I could pick only one, but if I had to pick a number one it would be Le Spectrum, even though Genetic Control never played there, but I put on many shows there like the Ramones and the Dead Kennedys. The Pretzel on Clark was also one of my Favourite venues. I saw Black Flag and The Professionals there in 1982, but it did not last long, just like most venues. And of course, there was the infamous Hotel Nelson in Old Montreal. I saw the UK Subs and Anti-Nowhere Lepage there in 1982.
I am sure that everyone would think that the number one venue back in the days was Foufounes, but they didn't want to book punk shows. They would let us hang out there, but it took a few years before Foufounes would become a popular live venue. All the other clubs preceded it. We also played in Church basements and halls like the YMCA, etc.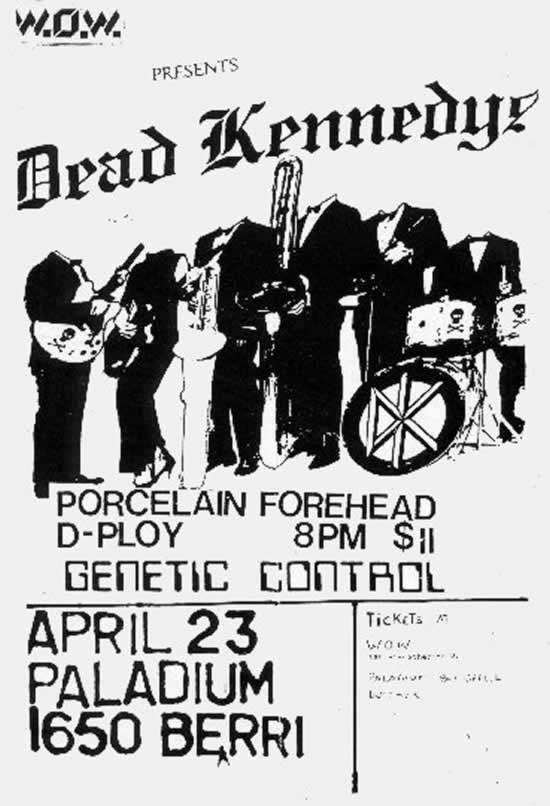 Any memories from your favourite Montreal show?
My favourite memory was playing with the Dead Kennedys at the Palladium, a huge roller skating rink at the corner of De Maisonneuve and Berry I think. It was the largest venue in the city. I think it held a few thousand people. We dressed up like Mötley Crüe at that show and Jello from the Dead Kennedys didn't recognize us and actually thought we were a metal band until we started playing. It was hilarious that we pulled one over on him. It was the biggest show we have played to date. Montreal '77 will now be our biggest show to date.
Also the show at Rising Sun that we refer to as the "Giving Birth Show."
We knew a guy named Andrew Campbell who was very active in the scene and he did special effects for film, and he created a foetus complete with umbilical cord, placenta and all the other bits associated to child birth. Our guitar player Teen Hunk Rob actually gave birth to it live on-stage.
The show was captured on video and is floating around on the internet. That was the highlight of our theatrical career. We were the Genesis (Peter Gabriel period) of the Montreal Punk Rock Hardcore scene.
The NYC and LA scenes were notoriously violent in the mid-80s — when I interviewed Harley Flanagan from Cro-Mags he said people from Montreal were the craziest. What was your impression of local crowds back then?
Montreal had a very healthy thrash scene as it was called back in the days. Most likely because we thrashed around in the mosh, but like sharks at a feeding frenzy, a frenzy where I actually broke my leg at a show at the BBC. We had some very violent thrashers for sure, but it was definitely a group effort, and it seemed like everyone at the show got involved and that made for very large mosh pits.
I guess people were not afraid of the pit like in some places, and most of the time it was controlled violence which rarely let to fights except for the usual suspects. I think that was one of the things that made the scene great.
The energy that the crowd gave to the band really fuelled the performance and made bands want to play even harder and faster. The key players back in the day in the mosh pit were the Fair Warning Crew of Sylvain, Mark and Robert Dembinski, Yves Insanity Victim and Cory from Unruled. These guys took it to another level. And then of course, stage diving took over. It was also somewhat dangerous and I broke my arm stage diving at a Dead Kennedys show in Toronto. So I guess that you could say I have some battle scars collected along the way.

What did you think when you first started seeing copies of the First Impressions EP going for hundreds of dollars online?
I thought I was crazy, but by the same token we took it as quite a compliment. I am sure that we all wish that we would have made more copies and hung onto them. If we had enough of them we could all be rich now haha! I know our drummer Lewis is really kicking himself, lol!
Are there any plans for another re-issue?
Yes we are currently planning a few releases with a few small independent record labels in Europe to re-release some vinyl. Hopefully that happens in not too far distant future.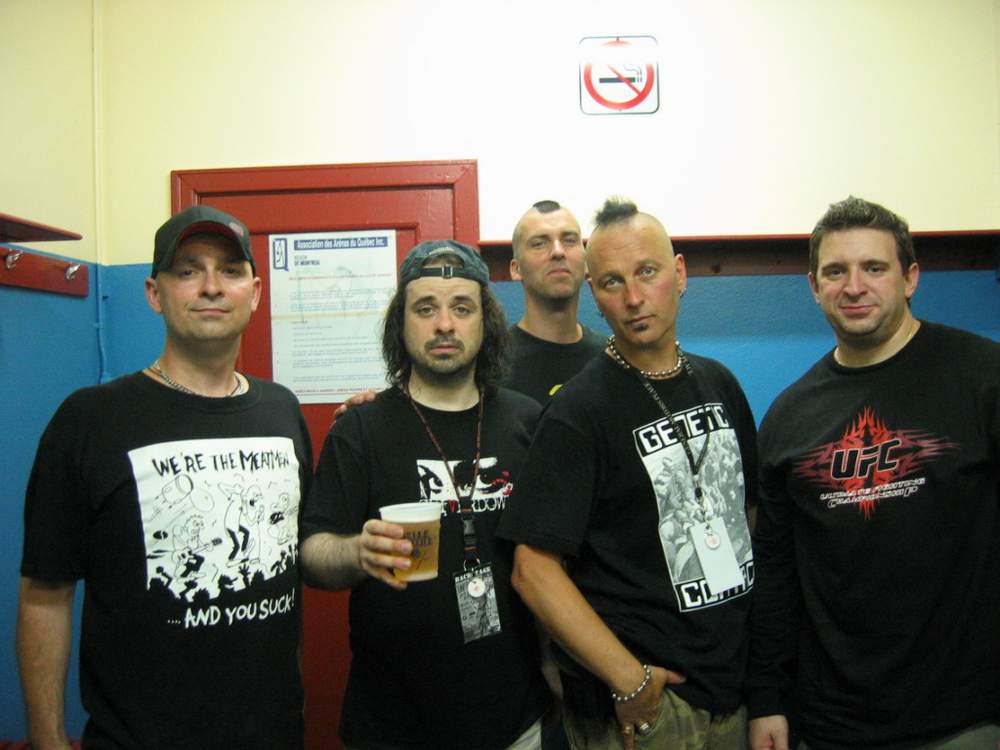 What are you most looking forward to when you get up to play next week?
Playing with my Gen Con brothers. We have known each other for some 35-odd years now and my band mates:
Rob Porter (Aka Teen Hunk Rob, Bobby Casino) Guitar
Rob Huppe (Aka Duke Crystal, Kung Fu) Guitar
Doug Crevier (Aka Dougo) Bass
Lewis Leveque (Aka Late Lewis, Max Cha-ching) Drums
are the reason I am doing it. The motivation for me is to get together with them and not only re-live our glorious youth, but cement our lifelong bond and play the music that we wrote together all those years ago in true Gen Con fashion.
Genetic Control play the inaugural '77 Montreal Festival at Parc Jean Drapeau, Friday, July 28th, along with Rancid, Dropkick Murphys, X, Madball and many more. Free for children under 10. Tickets are $60 (including all taxes and fees), available here.