Just for Laughs Review – Arj Barker: Get in My Head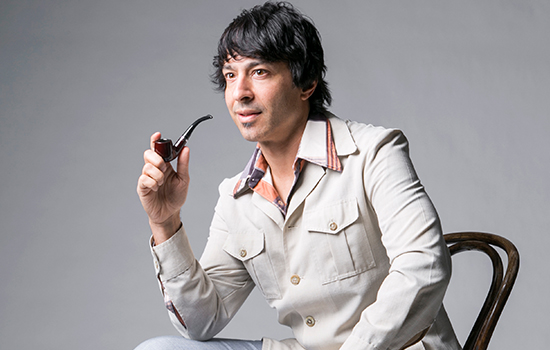 Arj Barker may not be a physical comedian, but he kicked off his recent Just for Laughs show by sprinting through the crowd and high-fiving the audience like a marathon runner, before ending up in the balcony, and finally hitting the stage in a heaving mess. It was a heck of an entrance, and a huge contrast from the rest of Barker's show, which featured a heady mix of topics discussed in Barker's laid-back and winding storytelling style.
Barker — best known for his appearances on HBO's Flight of the Conchords — specializes in long stories that often feature numerous detours and tangents. With his wide-eyed stare, the audience is left hoping that he knows where he's going, and just before he gets too lost in the weeds, he'll often bring it home in a big way.
One of his best bits focused on his idea for an app called Hunger Strike, that would immediately send a drone to kill the user before they could upload their food pics to Instagram. There were also some great absurdist moments poking fun at his domestic life, the "joys" of eating gluten, and our delusional modern existence: "Yoga is a very traditional practice that began in Los Angeles seven years ago."
Even if every moment didn't hit, Barker is an incredibly affable storyteller, and his relentless optimism almost made his show feel like a TED talk. If you're willing to go along for the ride, Barker will definitely lead you to some unexpected and inspiring places.
Arj Barker: Get in My Head runs from July 24-289 at Mainline Theatre. Tickets are $24 – $27, available here. For the full Just for Laughs schedule, visit hahaha.com.