Just for Laughs Review: Drunk hecklers no match for The Nasty Show crew
The Nasty Show
Metropolis
July 20, 2017
Photos: Eva Blue
For better or worse, The Nasty Show seems to exist outside of the regular Just for Laughs festival universe. One of the festival's most popular shows, the bill always features a cast of foul-mouthed comics performing without the need to censor themselves. After all, if you come to something called The Nasty Show, you should have a pretty good idea of what you're getting into.
Therein lies part of the problem — the crowd at the media premiere of this year's show – now hosted by Ari Shaffir, and featuring sets from Jimmy Carr, Robert Kelly, Godfrey, Big Jay Oakerson and Yamaneika Saunders, had seemingly never been to a comedy show before. From the very get-go, many in the crowd seemed to be under the impression that this was a group exercise, talking back loudly to rhetorical questions posed by the comics, with some straight-up heckling Shaffir during his set. After attending dozens of Just for Laughs shows over the years, I've ever seen anything like it — and judging by reports from the night before, the same sort of nonsense almost unraveled the show on its opening night.
So what is it about The Nasty Show that makes many in the audience feel like they have equal billing with the performers? Part of it is the "anything goes" mantra of the show, which some have taken on as a personal license to yell out their opinion on the spot. Maybe some think that their outbursts make the show better, that this is what the comedians are hoping for — an un-prompted chance to directly engage with the audience. Either way, there is going to have to be some sort of re-education campaign on behalf of the festival to let the crowds know how to behave at a comedy show before the drunk party bros derail one of their flagship events. At least the comics were able to quickly eviscerate each heckler, turning the night into what occasionally felt like a high-endurance performance sport.
Despite those hiccups, this year's Nasty Show features one of the strongest lineups in years. Host Ari Shaffir kicked things off by discussing his Orthodox Jewish upbringing, and how he eventually came to doubt what he'd been taught in school, including a great anecdote about how The Great Flood was essentially a failed attack to root out "butt fucking."
Robert Kelly, perhaps best know as a Louis C.K.'s "Bang Bang" dinner companion on Louie, offered up a great set of exasperated ruminations on relationships and getting older ("I have 30 summer's left"), while admitting that he occasionally wishes death on 3-year-old children.
The little tykes also got no love from Yamaneika Saunders, who admitted she's sick of friends pushing their babies on her: "I'm taking Plan B every day and falling down stairs – don't share your kids with me!"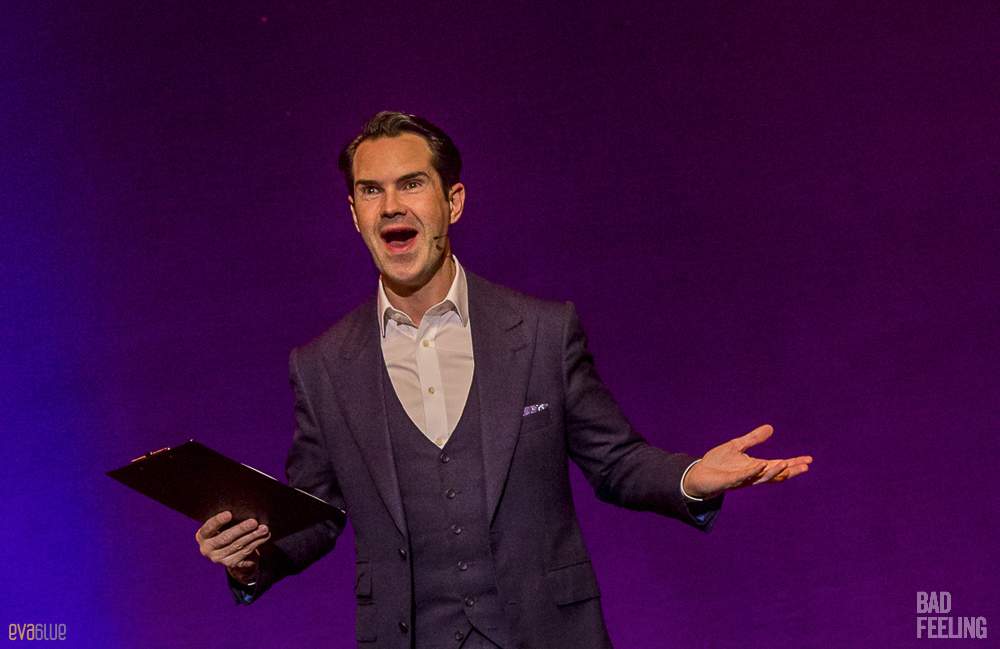 UK comic Jimmy Carr is a festival regular, and as the only non-American on the bill had some big shows to fill — "I'm not fond of people from the UK," someone in the front row helpfully chimed in early in his set.
Nevertheless, after completely obliterating anyone who dared to heckle him, Carr ran through a series of quick Montreal-focused one-liners that got some of the biggest laughs of the night. A few gems:
"You're all very proud of your French heritage…for some reason."
"You might as well have called it Montreal 375 — fuck the Mohawks."
Godfrey, a Just for Laughs regular, had a great energetic set that included a not insubstantial amount of crotch rubbing.
Finally, Big Jay Oakerson had the crowd in uncomfortable stitches with a story involving walking in on his teenage daughter changing in her bedroom: "Full bush."
With a diverse set of comics, this year's Nasty Show is a solid night of raunchy comedy  — just keep the heckling to the professionals please.
The Nasty Show runs until July 29 at Metropolis. 9:30 pm. Tickets are $44.99 – $60.49, available here.