OFF-JFL homegrown spotlight: Ladyfest & The Sketch Republic join Just for Laughs this year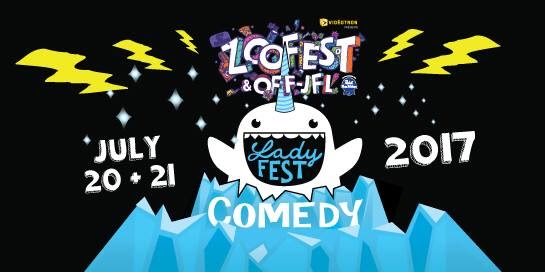 As Canadians, we have a pretty great idea of how funny and talented we can be. And as contributors to the national comedy scene, Montreal is no freeloader, incubating and occasionally attracting some of the rawest, out there minds that will add dimensions to whatever scene they join, whether they make it somewhere else in the world, or choose to set-up base here. When July rolls around, I'm reminded that this little big city is a huge fucking deal when it comes to comedy. After all, Just for Laughs, the biggest comedy festival in the world, was birthed and is headquartered here. Not to be dismissed as a mere coincidence.
This year, the fest has increased the presence of homegrown talent within its OFF-JFL spinoff; not just in the standup department, but in sketch comedy as well.
Coming up this week is Ladyfest, running for its third year. And this time the organizers have paired with OFF-JFL to celebrate the funniest female stand up comics, from the hood and beyond, featuring a mixed roster on Thursday, July 20 and Friday, July 21.
The most important purveyors of the underground comedy sketch scene is without a doubt the Sketch Republic, the monthly showcase of non-slackers, non-rank amateurs when it comes to writing and performing short comedy gold that's bite size but oh so addictive in a manageable way, yet keeps you wanting more, awaiting next month's batch. Also spearheaded by Erin Hall and award winning troupe Hot Raw Fire, they're bringing along with them recent prize winners in their own right, Tall Boys2men and Cousins.
For a roundup of the best events that are guaranteed to make you feel glad you were there to see all that, we pick the brain of the organizer of both events, Erin Hall, co-producer of the Sketch Republic and Communications Director of Ladyfest, Ladyfest co-director Emma Wilkie, as well as all of the aforementioned troupes.
Ladyfest runs Thursday July 20th and Friday July 21st, both at 10:30pm at the Montreal Improv Theatre. Info here.
Sketch Republic runs Friday July 21st and Saturday the 22nd, at 7:30pm at the Mainline Theatre, hosted by none other than the queen of summer vibes, Amanda McQueen. Details here.
Has Ladyfest always been part of OFF-JFL? What gave birth to it?

Emma Wilkie: It has not. The idea to apply to the OFF-JFL festival came to me in a dream, so I got the team together and turns out the deadline was later that week. We are magical, mystical beings.

This year, Ladyfest is much more visible than ever. What is the importance of having a separate block for women at the comedy festival, as opposed to having more female representation throughout the fest?

EW: Celebrating femininity is a thing that needs to happen in all realms. Vocabulary is important in this movement too, I wouldn't say we are putting women in a separate block just as I wouldn't say the JFL Ethnic Show is separating ethnic people. Shows that showcase minorities exist because of the lack of representation in other forms of media, since the dawn of media. We are lightyears into the 21st century and terms like "racist" and "sexist" and "patriarchy" are getting tossed around like hot potatoes, meanwhile they are all very much alive in our day to day lives. We aren't separating, we are elevating women's voices in an arena where they had previously been unheard. Plus we're hilarious.

For the two nights of Ladyfest, what aspect are you most excited about?

EW: Seeing everyone's faces when I tell them they are on in 2 minutes.
Some people seem to think heckling is part of the standup experience, which brings us to the importance of pointing out that it is a safe space — do people tend to be douchier towards female performers?

EW: Some have tried. Few have bragged about it. Heckling is usually drunk assholes who think they're participating, and safe spaces in the comedy sense are shows where audience members are guaranteed that the acts won't mention certain topics that would trigger past trauma, and are respectful to all walks of life. The douchiest thing that happens all the time though is when guys leave for a smoke break when a girl gets on stage. I don't understand the logic behind that. Its like some men complain they don't understand women and then literally walk in the other direction when we start talking. But its their loss, really!
How did you get Sketch Republic to be part of the OFF-JFL program?
Erin Hall: We took part in the festival last year as well so this year it was a matter of reaching out to the producers and pitching the show again. Sophia Salador, one of the producers at Just for Laughs, is a great champion of local comedy and has been very supportive of mainstay shows in MTL (The Sketch Republic but also amazing initiatives like Ladyfest, Ladies & Gentlemen, Joketown etc.)
Why do you look forward to being part of OFF-JFL?
HOT RAW FIRE: The sic parties, groupies, limos, champagne for breakfast, cocaine for lunch, salad for din din to balance it all out. Our festival regime is a one way ticket to burn out city but every single artist ESPECIALY Jerry Seinfeld fest's this hard. There's no other way.
What is the benefit of bringing together the alt comedy scene with the well established organization?
EH: These shows are a big deal for local artists. Troupes get to play on the same field as some of the industry's most well-respected comics and creators, gaining them the credit, confidence and recognition to move forward and achieve dreams! It's an opportunity to showcase what we have been working on in Montreal year-round and it's really exciting!
I see that OFF-JFL is investing more in the homegrown and alt-comedians; is it also their way of giving back to the community and nurturing the future or something else?
EH: We are really happy to see the biggest festival in the world nurture home-grown talent. I would say that there is an increasing audience for alt-comedy in the scene and why not focus on the stuff being created right here in good old MTL. Kudos to JFL for recognizing all of the incredible local talent.
Winning awards have changed you in what way?

HOT RAW FIRE: Our parents have finally started talking to us again.

What does HOT RAW FIRE have that others don't?

HOT RAW FIRE: $250 worth of rad, in the form of cold hard american made steel.
Tallboyz: all are tall, but who's the BoysIIMen fan?
We've never heard of the BoysIIMen. Are they another sketch troupe? A friend suggested we name ourselves Tallboyz because we're a bunch of extremely tall prepubescent teens. Some of us just started going through puberty so we thought it would be appropriate to choose a name that honours this sexually transformative phase in our lives. Hence, TallboyzIIMen.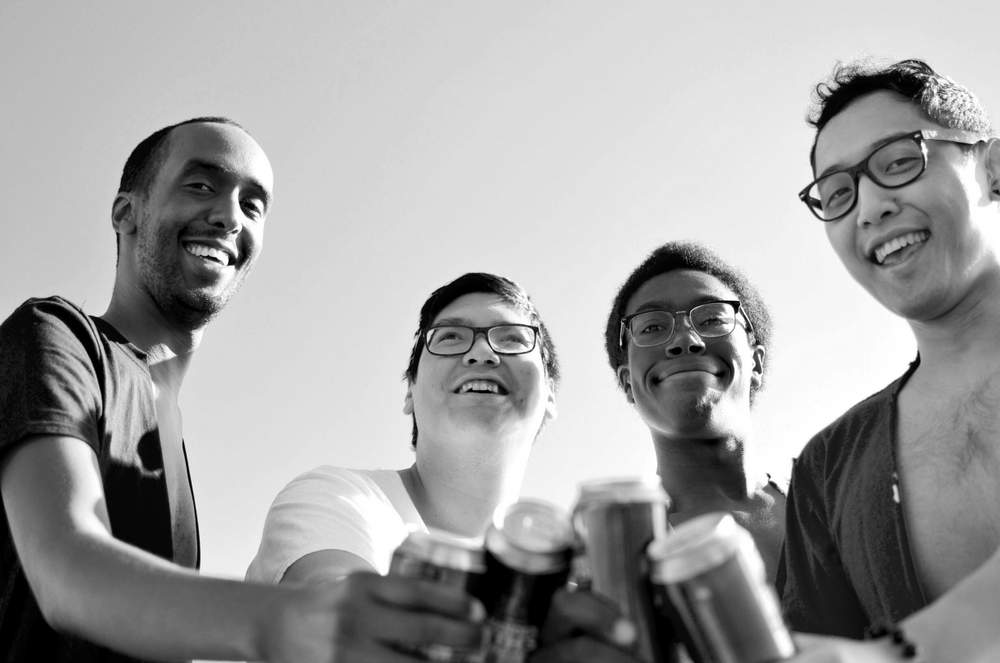 The diversity of your troupe in terms of genetic makeup — was it a conscious choice to create the troupe this way? Or did the realization come later?

It wasn't a conscious choice to be a diverse troupe. We're all Toronto based standup comedians who find each other funny and wanted to create a sketch troupe. Our hope is that audiences enjoy seeing a funny sketch troupe that happens to be diverse.

Congratulations on winning the big bag of beer as this year's Montreal Sketchfest! Did you have any clue what the trophy was going to be? Have you received any other awards? You must be thinking "where do we go from here?" – so where to next?

Thank you! We knew the prize would be a bag of beer but we were hoping they'd let us pour it into cups or something. The only other award we've won is the Producer's Pick and the Toronto Sketchfest which was a bucket of beer. Honestly, we just want to keep writing funny sketches and we truly hope our next award is a keg of beer.
Cousins: sources say some of you are related, the rest are not. Were they adopted?
Emery and D.J. are related. Kevin and Alex are elated! All members of Cousins have graduated.

Is this your first OFF-JFL?
Alex, D.J., and Emery have appeared in other OFF-JFL shows, Kevin has appeared in everyone's dreams at night, but this is the very first time they'll be in one all together (an OFF-JFL show AND a dream)! Yipee!

The famz: did you know each other existed, or did you meet here and realize you were related?​
Emery and D.J. met in university and have been doing sketch together in one group or another for over three years. D.J. met Kevin because her dad is a restaurant man and Kevin's dad sells salad dressing sometimes. Alex and Emery met when she couldn't reach something off a tall shelf at the general store. Alex and D.J. met when they 'Lady and the Tramped' petting a dog and accidentally kissed in the middle. The real Kevin died in 2014 and the Kevin in Cousins now is our son that we made from clay.

What can the audience expect from your brand of comedy?
A big scary fire and then Solsbury Hill will play and Emery will put his hand on your shoulder and say, "You know what guys? I think everything's gonna be aaaaaaaaall right."
Ladyfest runs Thursday July 20th and Friday July 21st, both at 10:30pm at the Montreal Improv Theatre . Info here.
Sketch Republic runs Friday July 21st and Saturday the 22nd, at 7:30pm at the Mainline Theatre, hosted by none other than the queen of summer vibes, Amanda McQueen. Details here.
While we're still on about the best in the local scene that's so funny you hope none of them leave town anytime soon, you've also got the OFF-JFL editions of monthly Joketown and All Star Improv on Saturday, July 22 as well as the wildly popular 50/50 on Sunday, July 23.