Interview: Moshe Kasher on Problematic, the Endless Honeymoon Tour with Natasha Leggero and the charm of Ann Coulter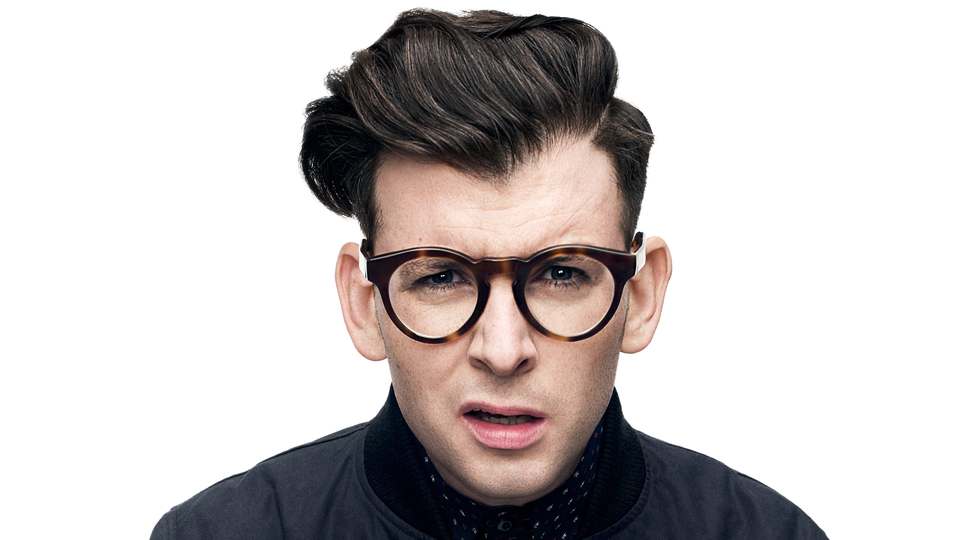 Comedian Moshe Kasher has never shied away from discussing contentious topics in his stand-up, and that willingness to confront preconceptions (including his own) now fuels his new Comedy Central show Problematic, where he discusses button-pushing issues with a series of panelists.
Kasher is about to kick-off the second round of the Endless Honeymoon co-headlining tour with his wife Natasha Leggero, which brings them both to Just for Laughs next week for their own respective All Access Live TV tapings at Club Soda.
We caught up with Kasher to discuss the origins of Problematic, why touring with your spouse / fellow comic is an ideal situation, and the unexpected charms of Ann Coulter.
Moshe Kasher returns to Just for Laughs to host All Access Live at Club Soda (1225 St Laurent Blvd) on July 27, 7:00 and 10:00 pm. Tickets are $35.99 plus tax, available here.
How did the idea for this honeymoon tour with you and Natasha come about?
Well, I mean, it's basically you see a need, you fill it. And the need is, the worst part of doing stand-up is — especially when you're not single — is that after the show you're just bored and lonely. So if you marry a comedian you want to go on the road with them. Then you don't have to be lonely, you can just hang out with the person that you love. It's a good deal for everybody. And then for the people watching the show, you get a 2-for-1. You get two headliners for the price of one.
Do you end up collaborating on material when you're spending all that time on the road?
For our show we do two stand-up shows, I do a set, she does a set, and then we bring couples up and we do live relationship counseling for people, so we collaborate in that way.
In interviews you've talked about how important the Just for Laughs Montreal festival was for your career. What did it mean for you coming up?
Oh, I mean it's really huge for people, especially young comics. It's one of the biggest opportunities that you can get. They were the first guys to take a chance on me. The biggest moment in my career was getting that call that I got New Faces for Just for Laughs.
What sparked the idea for your show Problematic? You've said it wasn't a term that you were necessarily fully on-board with when you started the show.
Oh, I just think that people — I did my podcast for a long time about specific topics, and basically I think that the conversations around political stuff in this particular era have been, "If I don't agree with you, It's time to stop talking." And I think that was the opposite of what we wanted to do with this show, which was, "I don't agree with you, that's when we should start talking."
Do you think having guests face-to-face facilitates a better conversation than online would?
I think so, yeah, definitely. The unfortunate truth is that all the trolls that you meet online, when you meet them in person become human beings, so that's kind of an issue. If you hate people that disagree with you then you meet them and you go, "This person is actually pretty cool." [Laughs] I mean not "cool," but definitely a person.
Was there a guest that surprised you the most?
I would definitely say that Ann Coulter being incredibly charming was not something I anticipated, but she was very charming. I don't agree with anything that she thinks or says, but there's no question that she's polite and charming.
When a public person like that comes on the show, is it hard for them to shed their public persona and actually have a normal conversation with people they might not agree with?
That's an interesting question. When I talked to Mike Cernovich, in the end the bit that we did with him ended up being much more of just a silly concept where we were playing with the notion of manipulating editing, but there's no question that because he was in enemy territory he was being a little bit more diplomatic. I think he was treating me with more respect than he would have treated me with online. By the way, I've got different personas based on different contexts as well, so I think people give you what they want to give you.
The Liberal Case for Guns episode was really interesting — you have liberal fave Killer Mike making the case that he should be allowed to have any kind of gun he wants, which was sort of surprising but interesting. How did that episode come about? Are you happy with the results?
I was very happy with that episode, it was one of the first ones that I wanted to do because I thought it spoke exactly to the premise of the show, which is that every topic that seems on its face to be an obviously polarized topic…it's obvious that liberals are against guns. Every topic like that that is obviously one way or another has a counter-argument that is salient and not insane. I think people have a tendency when they don't agree with something to write it off as being completely insane. If you write off gun advocates as just lunatics, then that might be really fun for your feelings of superiority and self-satisfaction, but you're not really getting what people care about. I'm not a pro-gun guy, but I'm not willing to write off every pro-gun person as just some lunatic, I think that itself is a kind of lunacy.
Has working on the show influenced your current stand-up at all?
No, my stand-up is as ignorant as ever, so enjoy it. [Laughs] It's true, I don't do a particularly political stand-up act which is good, because I think people sometimes want a little bit of a break from that.
Does that change when you come up to Canada or anywhere abroad? How much of your act is set in stone?
I do a lot of crowd work and improvisational stuff during my show, so no show is ever the same at all.
Has that always been the case? Or did that take a while to get that looseness?
No, that's pretty much always been the way that I've performed. The less written jokes I tell, the more fun I'm having on-stage. So, depending on the crowd, and depending on the night, I'll not tell one joke that I've written, that's when I'm really having a good time.
What are your plans for your Montreal show?
TV tapings can always have an added layer of pressure. The good thing about Club Soda is that I've done TV tapings there before, and it's very easy to make a show feel intimate there. The TV-ness of it kind of goes away because of how open and diffuse that space is. I don't think there's a better place you could watch a TV taping.
Can you leave us with your thoughts on the best hip hop album of the year so far?
The best hip hop album of the year? I think Damn by Kendrick Lamar. I continue to be blown away by Kendrick and when I heard the album I said, "Damn! This dude is the best."
Moshe Kasher hosts Just for Laughs' All Access Live at Club Soda (1225 St Laurent Blvd) on July 27, 7:00 and 10:00 pm. Tickets are $35.99 plus tax, available here.