Interview: Boss Hog's Cristina Martinez on Brood X, sketchy New York and eating well on tour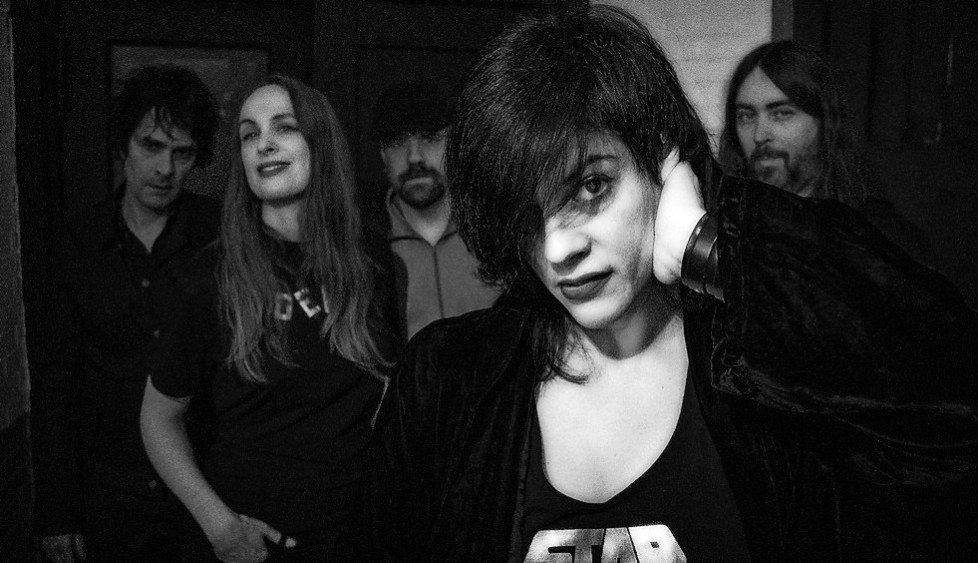 Led by the husband and wife team of Cristina Martinez and Jon Spencer, Boss Hog were one of the most thrilling acts of the 90's, a provocative blend of punk rock and blues coated with the unmistakable grit of New York's Lower East Side. Following a pair of great LP's, the band then seemed to disappear, with Spencer focusing on recording and touring with his beloved Blues Explosion project. Apart from a brief resurgence with 2000's Whiteout LP, it appeared that Boss Hog had simply called it a day.
But as Martinez tells us over the phone from her lunch break at Bon Appetit (during which Spencer calls to discuss what to do for dinner), Boss Hog never really went away — the band's return was simply simmering on the back burner for some time. Thankfully, Boss Hog is now back with Brood X (In the Red Records), their first release in nearly 17 years, a welcome return that finds the band as fired up as they've ever been.
We spoke to Martinez about the new record, her love of the sketchier side of New York, eating well on tour and much more. Boss Hog returns to Montreal on Saturday, May 20 at Bar le Ritz (179 Jean Talon West) at 7:00 pm with Danny & The Darleans and Pale Lips. Tickets are $20 / $23 available here.
Brood X is the first Boss Hog record in 17 years — how did this record come about? Are these songs you've been working on for a while?
I think in 2008 – 2010 the band picked up a lot of shows, mostly overseas but a couple of anniversary things, and when we went to do those, the keyboard player that we worked with on Whiteout, our last record, had moved to the West Coast. So it became difficult for us to do too much without sort of recasting that position to who's in there now, this guy named Mickey Finn. When he joined the band, we wanted to work out all the old material with him, so we started rehearsing on a pretty regular basis, and as we did so, we started to do half and half — go over old material so he could learn how to play it, but also just writing. And he was very good at recording and sort of cataloguing all of the stuff that we recorded. So in the past we had maybe used cassettes (laughs) but now we had the ability to digitally record all of our rehearsals, and he was very, very good about cataloguing this stuff and sorting through it, and sending us all out bits of songs that we had written that were very good.
And it got to a certain point where we were like, "Oh wow, we've got at least a record's worth of material here." It seemed like we had like, over 200 hours of little bits and pieces. So we started to whittle those down and write different parts for them, and really structure them into songs. And after we had maybe 20 songs or so, we decided we should record, and then logistically it just took a while for us to get that done.
We decided we wanted to work outside of the city, so that we could all be very focused and we hadn't done that since we went to Steve Albini's for the first record (1990's Cold Hands). John had worked with Bill Skibbe at the Key Club Recording Studio in Benton Harbor, Michigan, so we all flew out there — which probably was two years ago now — to record basic tracks. And then, we ended up going back to overdub final vocals and to mix. So this record has been a long time in the making. But I would say that the process really probably started in 2010. So while it may seem that we've been dormant for a long time we really haven't, we've just been working at our own pace. It's difficult when you have five adults who have like, other lives going, so I'm glad we finally did it!
Was there any self-imposed pressure to come up with new material after so long? 
No, there was absolutely no pressure, that's what's so nice about getting together to work with these people because we all are very aware of the fact that it was — primarily because John was very active with the Blues Explosion at the time, we didn't feel like, "We've got to get something out!" We just weren't able to do it because one of our members was busy. I think the desire was there, but there certainly wasn't a pressure to do stuff. And then when we got together and it became so easy to write stuff, and we were writing great stuff, I think we were all very excited about the prospect of putting out a new record, but never felt any pressure like we had to do it. And in fact, we knew that this was going to be an uphill battle, because it has been so long, and because you know, it's not easy to get the ball rolling again after such a long hiatus, and it's always been a little difficult for Boss Hog to continue the momentum, just because we do work sporadically. But we absolutely love what we do and we approach it and do it in the best way possible.
What's it like to play together now? Is the energy on-stage and in the crowd any different than it was when you started out? 
I feel like we have more fun now. Before maybe — I think the older you are, the more experience you have, the better performer you are. For me, I feel much more relaxed and sort of, not so self-conscious. I'm just focusing on how much fun I'm having. I sort of have to let go of a lot of stuff, especially being a middle-aged person on-stage, you're obviously not there because you're the "hot new thing," you're there because people have come to see the music and the performance, and so that gives you a certain amount of liberty to really just focus on that and not be stressing anything else. It's just kind of like, 'Hey, we're all here together this evening to have a good time and for us to entertain you, and to play our songs to the best of our ability, (laughs) and to really let loose and be in the moment." And when a band has such limited time to do that, you can bet that the time they do get to do it will be well-used.
Are you finding that the crowds are people who've been with you from the beginning? Are new people coming out to the shows as well?
There's definitely some of both, yeah. It's funny because we just had to talk about designs to sell at the merch table, and we have to get feedback from the people who sell the merch, like's who's buying the merch — should we be making the girl's shirts, or do we just make unisex shirts. And of course you can tell from what's sold, but also you want that immediate feedback from people, and that kind of rapport. And that's interesting, the demographic of who buys shirts vs. who comes to the show, it's been funny looking at that. But yeah, I think we are convincing a whole new set of younger fans who come because somebody told them about it, or for a multitude of reasons. And not that they would stick around to tell me, but I have yet to meet a disgruntled customer (laughs).
On this album you're really brought more to the forefront — was it intentional to have a bit less of that call and response between you and John?
Yeah, I think it's just because that's the kind of songs we wrote. The lyric-writing process for this record was a little different than it ordinarily is. It used to be that we would lay out the songs a lot more before they were recorded and on this record we did not do that at all. In fact, none of the songs were 100% finished. I would say they were about 95% of the way there. I had skeletal lyrics, but not really like full lyrics.
Usually when there's a song that John is also on it's because — well for two reasons. One is because live it sort of happens naturally, and in this case we didn't have any of that, or another one where it just doesn't come super naturally to me and John will take the lead vocal, which sometimes happens, you sometimes just don't feel it (laughs). Like, "You do this one, I can't figure it out!" And we do enjoy the back and forth on-stage, and I think that's one of the best things about Boss Hog is that kind of tension and that dialogue. So when we go back to do vocals we'll try to find parts for him to do so that it's more inclusive, and for (drummer Hollis Queens) as well, it's nice to have layered vocals. There's some of that on this record, but not as much as there has been in the past.
Does living in New York still influence the sound of the band? The city's obviously changed quite a bit since you first started out.  
Yeah, where we rehearse hasn't changed a whole lot. We rehearsed yesterday, and walking home I was like, "I'm so glad that this part is still here." Because there's still crazy junkies and there's trash on the street and there's still drug deals happening, and so that's kind of nice that that still exists somewhere, that it's not so stale and sanitary. I will say that the East Village has become very much — like on Thursday, Friday, Saturday nights, it's like the French Quarter in New Orleans, it's just full of drunk people walking around, which is annoying to me.
But on a Sunday afternoon it seemed perfectly fine and kind of nice. It still has weird old bars, there's some of those left. I mean, it is getting more and more gentrified of course as we go along, but yes, I'm still able to find weird New York, there's plenty of it. Especially when you live here and walk around late at night. There's still an element of surprise, and of  — danger not so much, but definitely surprise. And of delight, I smile a lot when I just see weird people walking around. It's a nice mix of people and there's a lot of people, so you're bound to run into the lunatics, and they're great to have! It makes it a little bit more interesting.
What do you think about people calling this a protest record? It was obviously written before the current election, but have the songs taken on a new meaning to you now?
Yeah, it was oddly much more relevant once the election happened, and we did not have that in mind. As you said, this was written before the primaries even, and when I was 100% sure that our country was sane, and would never elect a megalomaniacal… this crazy ass motherfucker to be our president, and I'm still so ashamed of that. I guess it was a fighting spirit. I was thinking more about an individual. My son had his first year in college this year, so he was about to go into this new phase of his life. I was remembering what it was like, and a lot of the songs touch on this, about being that age and going out on your own for the very first time, and about shielding yourself and how you carry yourself and who you are, and becoming an adult. That was largely on my mind, and I think a lot of those sentiments sort of segue easily into  — not protest so much, but rebellion, and also standing up for yourself and for your own rights. So that language is all in that same grey area I think. And it's very appropriate for our current situation.
What's your relationship like with your label, In the Red Records — do you feel a kinship with the bands on that label?
Oh, absolutely. Larry Hardy (In the Red Records label founder) is so great, we've known him for a long time and he's one of the good ones, as they say. He's still putting out really great music on a small level. There aren't that many places for small, noisy bands to go, so god bless that he's doing this. And he really cares about not just a single — the mentality that's taken over a lot of the industry is that people don't really listen to albums anymore, but he's still very much invested in making sure that that process is largely left up to the bands and that there is a full picture there, he's not just trying to make a buck. And he's in it for the long haul, which we are too, so I think we're like-minded in that sense and we appreciate the same kind of irreverence and noisiness, so it's a good fit for us.
Since you work for Bon Appetit, does that mean you guys eat really well on the road?
It's funny that you should ask that! We just played Portland and (Bon Appetit) had done what we called a "City Guide" to Portland, Maine, and I printed it out for everyone to read. We were off-season so a lot of the places weren't open, but we live in New York City, so first of all, we're spoiled when it comes to food, and Hollis also works at a food-oriented magazine — she works for Rachel Ray, so we're constantly reading, and we have a test kitchen here, and people also send us food all the time, so you're getting sort of the best of the best. Unfortunately, on tour we really don't have that much time, so we don't get to always go to the cool place or whatever, but we do try and eat well, we are all fans of eating well, we don't eat trash anymore (laughs). We try and take care of ourselves. We're worth it, damn it!
Anything else you want to let people know about the new album and this tour?
I love Montreal, I'm super psyched to be going back. I want to shout out Donnie The Punk and hope he shows up! Come see some old, noisy New York rock n' roll. It'll be fun, I promise you a great evening. And then you can show me where I should eat in Montreal, that's what I'd like to know. I really want someone to come and tell me!
Boss Hog with Danny & The Darleans and Pale Lips, Saturday, May 20 at Bar le Ritz (179 Jean Talon West) at 7:00 pm. Tickets are $20 / $23 available here.