CJ Ramone: 'I wanted to bring back what the Ramones lost over the years'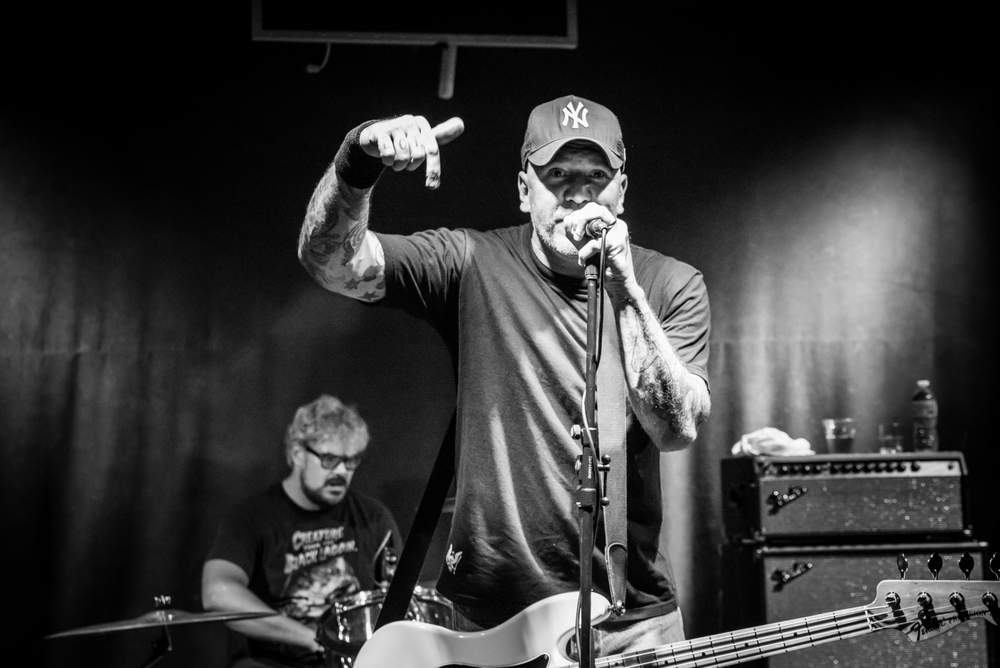 CJ Ramone (Christopher Joseph Ward) was given an impossible task when he was brought into The Ramones fold in 1989 to replace beloved original bassist Dee Dee Ramone. CJ entered the band during their lowest point, and his youthful energy and enthusiasm helped propel the band through what would come to be their most successful (and sadly, final) era.
Now with three full lengths under his nom de guerre with Fat Wreck Chords (his latest, American Beauty, was released back in March), CJ continues to tour relentlessly, playing a mixture of fan-favourite Ramones tracks, as well as cuts from his ever-expanding solo catalogue.
We caught up with CJ following his last Montreal show to discuss his role in the Ramones, what people don't understand about Johnny Ramone, his upcoming plans (including a long in the works autobiography) and much more. The entire episode will be posted as a podcast soon, but in the meantime check out highlights from the conversation below.
CJ returns to Montreal's Foufounes Electriques on Sunday, May 14 with support from New York's Big Eyes and locals Screaming Demons. Tickets are $18 in advance, available here.
What was coming into the Ramones like for you?
It was just really weird. I kinda was walking into the worlds of being a band member and a fan, so it was definitely odd. When I first joined the band I thought I was joining a gang. I always looked at the Ramones as a gang, you know what I mean? So to get there and to find out that it was really the opposite of that — it was disappointing at first. But I realized that, hey, that's the reality of the situation, and I just had to deal with it accordingly.
What would you consider to be your role within the band?
I guess I really was kind of…not so much a peacekeeper, but I think I was just kind of like the thread in-between Johnny and Joey. I think that's why the last few years went so smoothly, and it wasn't quite as chaotic. I was able to maintain a really close friendship with both of 'em, without stepping over any lines or insulting one or the other. There were a couple of times when early on, Johnny would get upset if I spent too much time with Joey, and Joey would get upset if I talked politics with Johnny and stuff. I just looked at it as a family, that's really the bottom line. Every family is dysfunctional to a certain degree. Any family with a lot of brothers, there's always one brother that's the troublemaker that just can't keep his mouth shut. It's like all the cliché personalities, we had them all. I was kind of the peacekeeper, which is funny because I was the youngest one, but in some ways I think I was the most mature, because those guys were frozen in a time where there was a lot of bad dealings and stuff. And I think emotionally, between the two of them, since it was never resolved, they always acted towards each other like teenagers would. So, that was kind of weird (laughs).
And then of course Marky was the one who could make everybody laugh and made touring possible, to a certain point, because he knew how to diffuse a situation by cracking a joke at the right time. He was definitely good at that, he really was. And he also maintained relationships with Johnny and Joey. That was really the only way to survive.
Are you and Marky in contact now? 
No. I contacted Mark a few years back about playing together, and he turned me down. I contacted Richie about playing together, he turned me down too [the two ended up playing together earlier this year]. I think those guys just see themselves as being in a different class as far as the Ramones members go because they played in the band earlier, and Marky had a bunch of years in the band, but my thing has always been, the Ramones had their most successful years when I was in the band. And I'm not saying that I'm the reason for that, there were a lot of things at work that caused that. Dee Dee left the band — original member — I come in, all of a sudden there's new interest from the press, we get a new record deal, we put a new record out, a lot of things happened. Johnny and Joey and even Tommy and Dee Dee and even Danny Fields all told me what my role in the band was, they all told me what my contribution was, and I've always been comfortable with that.
I read a while back that you were working on a book based on your experiences in the Ramones, is that still on the table? 
I've been working on a book for a long time, I'm just a vicious self-editor and I'm fact-checking and date-checking as I go along, because my biggest fear is that I'll hand it over to somebody to do that with and they'll get something wrong.
You probably have the most unique story in the band, coming into it when you did. 
That's always been my point, that I have the most unique perspective. I was not peers with the Ramones, they weren't my peers, you know what I mean? I came long after they had already created their history. But I always said, I'm the ultimate insider, but the ultimate outsider at the same time, so my perspective is really unique. And I've got to tell ya, most of the other books I've read have cast a really negative light on the legacy. Most everything I've read, a good half of the book is spent on trashing Johnny, with no consideration given to what his position actually was, what he was actually dealing with. In my book, my experience was really positive, I had nothing but fun for seven years straight, I understood each one of the guys because being in a band with people you idolize, you learn to keep your mouth shut and pay attention and watch, and really find out who they are. it's like the ultimate voyeur's position. My whole approach to it was actually the most objective. I'm not looking to paint myself as being more important than anybody else, or brag about my contributions or anything like that, that's totally not what my book is about, it's strictly about my experience and relationship with the band and the fans.
What's something about Johnny that people never got right or understood? 
I've always heard people say Johnny was an asshole, he was really mean, blah, blah, blah, but think about it — he was dealing with Dee Dee who was a drug addict, Marky was an alcoholic, and Joey who had mental problems. There aren't too many ways to deal with a situation like that except to run a tight ship and rule with an iron fist. There's really not a lot of ways you're going to be able to deal with that group of people. And were it not for Johnny, the Ramones would not have ever done anything, because once Tommy decided he couldn't be on the road anymore, who would've taken the leadership position in the band? A drug addict? An alcoholic? Or somebody with mental problems? Who's going to take the lead there? Who's going to step up and captain the ship? It ain't gonna happen. They would've been done, gone, finished. Two records and gone.
You pull some deep Ramones cuts in your live show, how do you pick what to play?
Being a fan, I just pull out my fan favourites. "Outsider" is one of the songs that I most identified with when I listened to the Ramones, that was one of the songs where I was like — you know a great song when you hear it, and you go, "They fucking wrote that song about me." That's the feeling I had with that song. and that's why I put it in the set. I try to pick songs that are fan favourites. We've all heard the Ramones play 'Blitzkrieg Bop," and "I Wanna Be Sedated," every show we've ever seen. But, my idea when I first came back and started out playing all Ramones songs was, I wanted to bring back what the Ramones lost over the years, and that was the melody and the harmony to their music. And to me, those were two of the things that made them the great band they were. But we played it so fast, the melodies were gone, there was no room for harmony anymore. The magic of the melody and the harmonies was completely lost from it.
What's your experience been like recording for Fat Wreck Chords? Is that a good fit?
Oh yea, absolutely. They're the only label that every showed any interest or even considered us. They're the only punk rock label that ever did. I've been out playing again since 2010, I've been on tour a lot. So I've been making noise as much as I can as loud as I can. My approach is kind of old-school. I just get out on the road and tour. That's it. I'm not in the background trying to work the business end of it, that's not my mission in life, it's not what I'm interested in doing.
I don't have a whole bunch more years of touring and stuff, and I like doing it the way I'm doing it. I was gone from music for quite a while and I really missed the hell out if it. My plan has been, since I came back, I want to do five albums, I want to get my book out, and then maybe have a documentary done. That's my own career, on my own terms, outside of the Ramones, without any help from anybody else except the guys in my band and my manager, and that's really how I've been going at it.
What can you tell us about the new record, American Beauty? 
It's Steve Soto [The Adolescents], Dan Root and Pete Sosa from the Street Dogs on drums on the record. Absolutely, without a doubt, 100% positive — I know a lot of people say it, but I can say it really honestly because I'm always hyper-critical about my own stuff, it's absolutely my best record. You've got to remember, even though I've been writing songs for a long period of time, your song-writing is always maturing, and I really feel like I'm really starting to hit my stride as a song-writer at this point. I'm really, really happy with the record.
CJ Ramone with Big Eyes and Screaming Demons at Foufounes Electriques (87 Sainte-Catherine East), Sunday, May 14 at 7:00 pm. Tickets are $18 in advance, available here.