Full-time goof: Kirsten Rasmussen joins Montreal Sketchfest for solo show this Thursday at Theatre Sainte-Catherine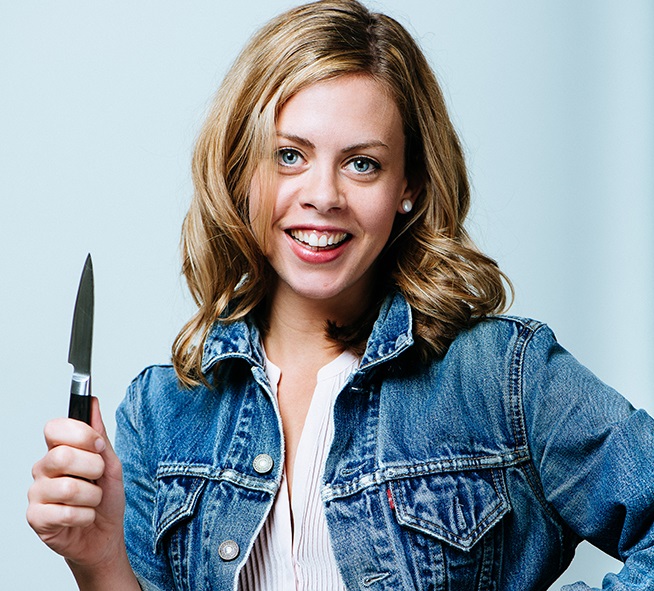 As Kirsten Rasmussen returns to perform her one-person show Fulltime Idiot, along with a slew of hosting duties and guest spots at this year's Montreal Sketchfest (which is currently underway), I jumped at the chance to interview someone still approachable whom I feel has "made it". I say made it because she has already achieved so much, for herself, and for the community at large — she's racked up endless hours performing improv and sketch comedy nationwide and abroad, she's one of the co-founders of the Montreal Improv Theatre; she is a teacher, coach, and director at the Bad Dog Theatre, she's joined the Mainstage at the Second City, produced web series', appeared in small roles on TV shows (i.e. Schitt's Creek), basically everywhere that could use her brand of funny.
Comedy Origins
As her parents dealt with their divorce while she was very young, she and her siblings would watch a lot of comedy on TV together, which sparked her interest in wanting to make people laugh. Later, at a high school that had no drama classes, she had the chance to write the sketch review portion for the school's spring show. Vaguely knowing what a sketch was at the time, she realized this sort of thing is what she wanted to do all of the time. Fast forward much later to a move to Edmonton where a few of her friends were established sketch & improv performers at a theater company, and after auditioning many times before finally getting in, her ambition to stay in this career path, where she felt the most comfortable, further solidified. And the rest is history.
The Show
Now after a decade of remaining in this milieu, she's relieved that she's finally moved up to a station in her life where, in the last three years, she's reached her own level of success where she's been able to do this full time and "not have to serve a single hamburger in many, many years," Kirsten looks back in retrospect. Her one-person show, this Thursday, May 11th, in conjunction with Lady Fest, Kirsten Rasmussen: Full Time Idiot is a celebration of just that — the relief that her job now is to be a paid goof, and that makes her happy.
As she's a genius at generating strong memorable characters on the spot, expect many of them, many never-yet-seen and a few crowd favourites.
Of her favourite characters, she guesses it has to be ultra-lovable Courtney from her new upcoming web-series Healing from Heartbreak, about a middle-aged man having to forge a new life for himself after dealing with the throes of divorce. But she also enjoys playing less likeable characters and living in their skin for a while. What's fun about doing this is that she may one day feel low status and then suddenly play this high status character, it can feel so uplifting, like "wow, you could walk around in the world like this!"
Starting out in improv, like every beginner, she would often get the boring and standard advice of "play more to your own self" — it didn't seem to work out, so she kept doing her own thing, and it's paid off big time. One can see that when she does these big characters on-stage; there are truths about herself hidden in plain sight. While she plays a lot of male characters, Kirsten admits, "Courtney is the most vulnerable and the most revealing about myself as a person, than any character I've ever played."
Influences
Though many have likened her to TV comedy legend Carol Burnett, Kirsten knew of her show as a kid, but rarely watched any of it. She's only just become a fan and may perhaps list her as a sort of subconscious influence. Jim Carrey, Mike Myers and John Candy were her real comedy heroes growing up. Then when she was ten, she started watching Saturday Night Live, where Ana Gasteyer, Molly Shannon and Rachel Dratch quickly became huge inspirations.
About her upcoming workshop at Montreal Sketchfest on May 13th
I took this workshop a while ago and I was floored at the different possibilities I could follow, and I'm definitely considering taking it again. It's a character workshop for sketch writing: how to find your characters, riff on them and think about the most interesting places to put them. While brainstorming for a good sketch, instead of thinking "this is a funny situation," Kirsten explains, we'll find "a character that could hold a sketch, and where could we put them." Think of all the memorable characters you've seen on SNL, and this is how you could easily reach that level, too.
What helps keep her characters fresh and allows her to recharge once in awhile, is some good old alone time, a cherished activity since she was a kid. This is mostly easy to achieve since she does a fair share of traveling for solo shows and festivals. During the time spent at airports or wandering around new cities, she says she really enjoys people watching in addition to going to other performers shows.
In the future, she'd like to find herself "writing and performing in a TV show, submitting the content and performing in it would be a goal." However, she stresses the importance to always keep a handle in live comedy, "because you can get the material out to the audience faster and see the reactions first hand," which keeps her so grateful and happy. Wherever she is from this moment, keep an eye on this one, because if she's mirroring you, consider yourself one of her next characters, that would be the greatest form of flattery.
To find her shows, be on the lookout for her web-series Healing from Heartbreak, her Girls Show at the Bad Dog theatre in Toronto, and definitely do check out her solo show and other cameo appearances at this years Montreal Sketchfest happening right now!
Kirsten Rasmussen: Full Time Idiot, in conjunction with Ladyfest, runs Thursday, May 11th at 8:00 pm  at Theatre Sainte Catherine. Info here. Info for her Saturday workshop on May 13th is here. Montreal Sketchfest runs now until May 13. For tickets and the complete schedule visit the festival's website.