Slowdive return with new album, hosting listening party ahead of their May 6 show at Olympia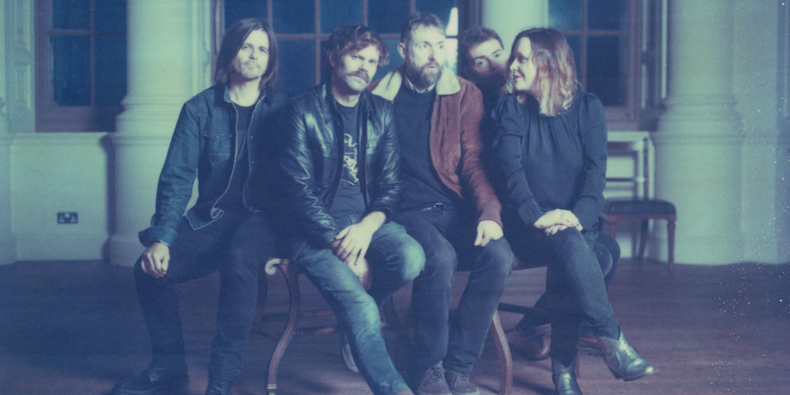 U.K. shoegaze progenitors Slowdive are set to release their first new album in 22 years on Friday via Dead Oceans, and fans will get a chance to hear those new songs live just 24 hours later when the band returns to Montreal for a show at Olympia Theatre on Saturday, May 6.
The band will also appear at a listening party for the new LP at record shop Aux 33 Tours from noon – 1:00 pm, where the album will be played in full, with the band on hand to sign autographs. Entry is free.
Tickets for the Olympia show are $31.50 ($28.50 for students), available here. In the meantime, check out the video for "Sugar for the Pill" below, off the band's upcoming self-titled LP. Below that is the just-released "Avalon Emerson's Gilded Escalation" remix of the song, which offers up a longer, ambient take of the track. All current Slowdive tour dates are below.
Slowdive – 2017 Tour Dates:
Tue. May 2 – St. Paul, MN @ Palace Theatre
Wed. May 3 – Chicago, IL @ Vic Theater # — SOLD OUT
Fri. May 5 – Toronto, ON @ Danforth Music Hall # — SOLD OUT
Sat. May 6 – Montreal, QC @ L'Olympia
Sun. May 7 – Washington, DC @ 9:30 Club # — SOLD OUT
Mon. May 8 – Brooklyn, NY @ Brooklyn Steel # — SOLD OUT
Tue. May 9 – Brooklyn, NY @ Brooklyn Steel
Wed. May 10 – Carrboro, NC @ Cat's Cradle
Thu. May 11 – Atlanta, GA @ Variety Playhouse
Sat. May 13 – Santiago, Chile @ Fauna Otono
Sun. May 14 – São Paulo, Brazil @ Balaclava Fest
Tues. May 16 – Buenos Aries, Argentina @ Niceto Club
Thurs. May 18 – Lima, Peru @ CC Baranco
Fri. June 2 – Oxford, UK @ O2 Academy
Sat. June 3 – London, UK @ Field Day
Sat. June 10 – Skopje, Macedonia @ Zdravo Mladi Festival
Fri. June 16 – Sun. June 18 – Mannheim, DE @ Maifeld Derby
Sat. July 1 – Roskilde, Denmark @ Roskilde Festival
Thurs. July 6 – Trencin, Slovakia @ Pohoda Festival
Fri. July 7 – Madrid, ES @ Mad Cool Festival
Sun. July 9 – Six Four Les Plages, France@ Pointu Festival
Fri. July 21 – Los Angeles, CA @ FYF Fest
Sun. July 30 – Tahar Shi, Japan @ Fuji Rock Festival
Sat. Aug 19 – Trondheim, Norway – Pstereo Festival
Sat. Aug 27 – Paris, France @ Rock En Seine Festival
Thu. Aug. 31 – Salisbury, UK @ End of the Road Festival
Thu. Sept 7 – Tel Aviv, Israel @ Barby Club
Fri. Sep. 15 – Sat. 16 Sept – Angers, France @ Levitation Fest
Sun. Sep. 17 – Birmingham, UK @ Beyond the Tracks Festival