Troubadour brings live music and improv together this Friday at the Montreal Improv Theatre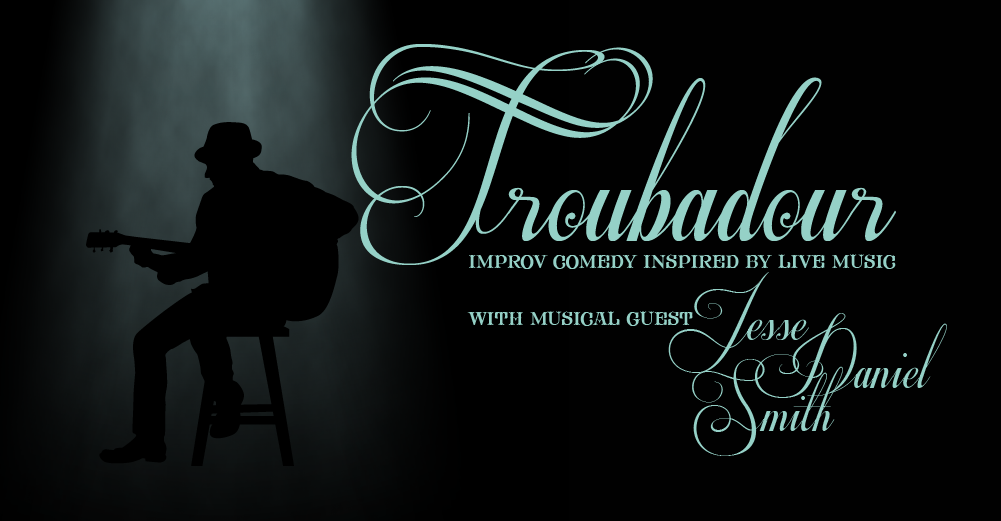 With improv permeating nearly every facet of our life, from creating a few hit TV shows to helping build team spirit in the corporate world, the majority is hip to what is generally involved in this art form: the audience is asked a suggestion and the performers begin a funny scene based on that. Or the improvisers act out a series of quick paced performance based games. That's the easiest way of getting into it. But beyond the short/long form frame, there exists many formats, and the Montreal Improv Theatre, a school as well as an improv lab, is a home to try out and explore new ways to keep the spectators delighted and pleasantly surprised.
A favourite among many patrons and students is the Armando, where scenes are usually inspired by a true, relatable monologue at the beginning. The Armando is a tried and true format at MIT along with the Harold, but what if the monologue was replaced by a musical performance?
This Friday, April 28th at 10:00 pm, the Montreal Improv Theatre is premiering this semi-new format as Troubadour. This will be the first production mounted by Dale Bernier, instructor, and coach to independent improv troupes for many years. I spoke to him about his very first show, clearly a labor of love.
Tell us about the night… live music and improv — not separate entities, but one depending on the other…
Troubadour is a live music and improv comedy show. I have been performing and teaching improv for a number of years but this will be the first show that I produce. The long form improv sets will be inspired by the lyrics and origin story of the songs that are performed live on the night. We will take the lyrics and source out what we think has potential to be funny. I wanted to do something that combines two of my biggest passions; music and comedy. I am really excited to get the chance to do that with this show.
I'm not sure if this particular way of generating scenes this has been done at the Montreal Improv Theatre, or rarely. Where did the idea come from?
I got the idea from listening to my favourite podcast; Improv 4 Humans. They regularly have musical guests on the show and I thought it was a cool idea that would feel like a treat for the audience. The format that we are doing for Troubadour is called an Armando, and is typically done using monologues for inspiration. I put a bit of a twist on the format so that the audience can discover and enjoy some music while the improvisors are being inspired for their sets.
You're a teacher at the Montreal Improv Theatre, and you do teach the Armando. This seems to be a style you like best.
Yes, I have been teaching the Level 6 Armando format for over a year and have helped to build the curriculum for it at Montreal Improv. I believe that it's one of the most fun and successful formats because the audience can see the players' interpretations of the monologues or in this case, the song lyrics. I enjoy having a jumping off point to be inspired by, and personally believe that it's a very consistently funny way to create long form improv.
Tell us about the members of the cast, how it's balanced in terms of experience. Some of them are still doing the levels, others are improv grads…

The cast for this one is stellar, some really amazingly funny people. I have been having a great time in practice just watching them, they all make me laugh on a regular basis. Since I have been teaching for awhile at Montreal Improv, I get to see a lot of the students who are moving up through the levels and I wanted this show to represent that. This show is all about mixing up the groups.

Many of the newer performers have told me that it's been great for them to work with some more experienced players to learn from, to be inspired by them, but also just to see that we all just want to have a good time and do some crazy make-em-ups. Troubadour is a big melting pot of the students that I have seen come through my Armando class mixed with people I enjoy watching on stage.
As Troubadour becomes a regular night, how often will it run, and do you see a rotating cast of improvisers?
At the moment I have this show on April 28th at 10:00 pm and I will be doing it again on June 30th at 9:00 PM. I am going to start casting that one very soon. I want to get mostly new students, vets who have caught my eye, and performers in Montreal who delight me when they are on stage. The plan is to keep it going as a monthly or bi-monthly show in the fall with many different styles of musicians and a diverse cast of players for each show.
So it's at the Montreal Improv Theatre, which has two performance rooms. Initially, Troubadour was meant to be in the more intimate studio B. What do you see as the benefit of performing in the larger studio A?
I would like everyone to get to see this show. The cast, myself and Jesse [Daniel Smith] have been working hard to make a really awesome evening this Friday. I originally was going to do it in the Black Box Theatre which is a really great, intimate space but I may have had to turn some people away because it's a little smaller in there. I decided to do it in the bigger theatre because I want this show to feel like a party, and for that I would say the more people, the better.  It's going to feel like a big jam. I hope that people really enjoy the experience of Troubadour and want to make it a regular thing that they come back to see.
How did you choose to go with this style of music for the first show?
Jesse's lyrics are so beautiful and he is a real performer. It was an easy choice. This guy has it all. He is very deep and introspective, but also goofy and fun and that fits in so well with the style of this show. I don't even know the songs that he is planning to play on Friday and that's what excites me as a fan of his.
How do you know each other?
Jesse and I used to work at Chapters (RIP) together back in the day. I have been staying in contact with him and listening to his music online for years. Two of his good friends were students at Montreal Improv and our worlds just collided. He is a fan of comedy and improv, so it made perfect sense for him to be the first guest.
What other musical styles would you like to see at upcoming Troubadour sessions?
I want it to be a showcase for Montreal songwriters. It would be great to get a female musician for the next one on
June 30th
. I found out that a female Troubadour is a Trobairitz. In future shows, possibly hip hop artists or any style of music in which the lyrics are clear and the setup is minimal. It's an intimate setting in which I want to present one or two musicians but not a full band. The lyrics should be highlighted in every show. It's really about the words and how they can be made into short comedic plays.
I like the poster, and the name, Troubadour, it has a romantic notion to it, and the smokey artwork reinforces that… Any story about the name choice and the poster coming together?
Stefan Spec, who is a friend of mine and one of the cast members, created the poster. My girlfriend and I liked the idea of a silhouette in a spotlight. I pretty much told Stefan that. He came up with this and I loved it immediately. He does really great work, and totally captured the mood of what I was looking for.

For the name, I received a free tee shirt that said Troubadour on it and I thought that encompassed what I wanted to do. I think it represents not only music, but being one person, not a band. One person who is willing to turn over their lyrics that they hold dear to their hearts to the audience and cast, to be interpreted however they want. I think that takes guts.
Anything else you'd like to add I haven't asked?
I feel very fortunate to be able to produce this show. It has been my dream to do this for awhile. Montreal Improv is really growing in terms of the amount of talented people who are producing and creating their own stuff each week. There are shows for everyone, and I am proud to be adding Troubadour to the list. Check them out online at montrealimprov.com for a list of all the shows and classes that are available.

If you come to the show on Friday, please say hello to the cast, Jesse and myself and tell us what you thought. We want this to feel like a party where everyone can just hang out, enjoy some good music and have a laugh or two. Thanks!
Troubadour at Montreal Improv's Theater A (3697 St Laurent Blvd), Friday, April 28 at 10:00 pm. $6, or free for Montreal Improv students. To reserve, email: contact@montrealimprov.com.