Preview: Colour Outside the Lines brings improv and multicultural perspectives together on Thursday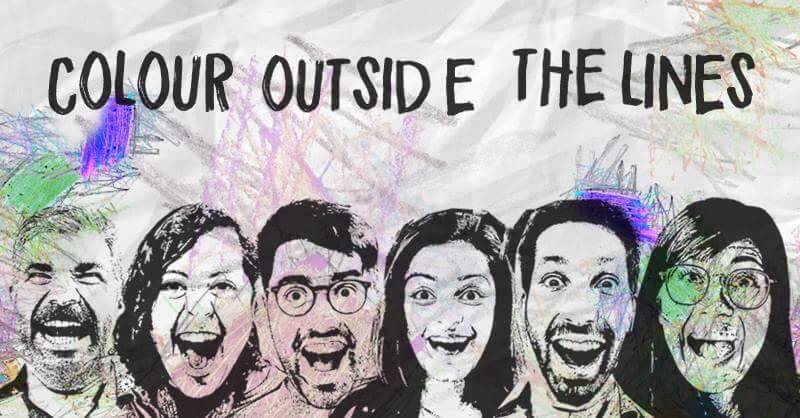 One thing about a fast growing comedy improv scene is that everything happens so fast that often, though not at all intentionally, voices from cultural backgrounds that aren't considered the norm by the Western mainstream society often fall unheard. Though the Montreal improv scene has been around for 10+years, a few attempts have been made to remedy this and extend the conversation beyond "white voices," but nothing really quite stuck. This is where Sara Meleika comes in. World traveler, academic, and improviser, Sara has decided that now, especially with the current political climate of rising intolerance and ignorance, is the perfect time to bring us all Colour Outside the Lines at the Montreal Improv Theatre, which gathers a cast of "improvisers from diverse cultural, religious, and linguistic backgrounds to put together an incredible night of art and comedy!"
I spoke to Sara about putting such a night that is sure to breathe inspirational, awesome new perspectives into the Montreal community scene, "inspired by stories of family, moving to new places, and mixing traditions!"
What inspired you for Colour Outside the Lines, and why do you think this and similar works are important?
In late 2016, a conversation began amidst my local improv community regarding 'diversity,' how we define that as a term, and how we can promote a more inclusive environment.
The discussions that I continued to have over the next few months made me think more and more about an issue that we are all still grappling with, that of systemic prejudice, and how it can insidiously trickle down into our personal lives.
Particularly, in light of the present media climate, and of the recent US election, I began to feel that it was important for me to partake in promoting the experiences and narratives of minority groups. I certainly don't claim to have all the answers, or to know precisely how to tackle such a profound and enormous task, however it felt imperative to begin to engage the social climate in an active way.
I think this and similar works are important, because the current political climate has again really illuminated that it is not enough to trust in the initial dream or vision of 'progressive' or 'liberal-minded' nations. It is crucial to continue to build upon those dreams, by actually going out and talking and listening to others, and the arts continue to be an incredible space within which to have those conversations.
Is the choice to use the brit spelling in the title a commentary between multiculturalism and the current Brexiting going on?
I am very grateful to have the opportunity to live in Montreal, and with that Canada, and felt that need to affirm that in the title of the show, by using the spelling that is more specific to the Canadian experience.
With that, that is certainly a manner in which Canada's status as a member state of the British commonwealth continues to be signified. Moreover, the legacy of the British Empire is still very much felt in the present political climate of areas such as the Middle East.
I felt a sense of ownership in choosing that particular spelling, in stating that I have a space in which I now belong here in Montreal, and in Canada — however, it would certainly be interesting to reflect further on the way the nuances of that spelling affect identity in a post-colonial context.
Going into this, what did you want to keep in mind when forming this special group/night?
I wanted to create a show where those from marginalized groups could see their experiences represented and reflected.
I also felt as though there was a desire to talk about issues such as race and religion, and that there were people in my community who have had to reflect on those topics regularly in their personal lives, who are very much equipped to begin to pave the way to have those discussions.
Yet it was also my intent to engage the maximum amount of people in these conversations as possible, and thus I sought out themes, such as family or immigration, that could be relatable to a vast spectrum of individuals.
Talk about the process of selecting the players, and how are these folks different from the rest of the community at large?
I began by choosing players who I have seen over the years, who not only perform quality improv, but who I have also known to really engage with difficult issues of race, religion, and gender. This led me first to Sehar Manji and Aquil Virani.
Through Aquil's time on Montreal Improv's house team 'Doreen,' I saw him time, and time again take each opportunity to turn what could've simply been an uncomfortable improv moment into a really constructive conversation on stage. He's an individual who over the years has really shown that improv can be a safe space to talk about hard topics.
Sehar was in the very first Montreal Improv show I ever saw, and was persistently a positive, encouraging role model of a woman of colour in comedy. However, it was really when I saw the Fringe show 'Total Liquidation' that she co-wrote and performed in with Lar Vi, that I saw Sehar's strength as a performer who could tackle hard issues and bring beauty and reconciliation to them.
I was also enthused to integrate members of the Montreal Improv community who had perhaps only joined in the past year or two, but who had also demonstrated their abilities as thoughtful, engaging performers. Stacy Gagnidze (a member of Montreal Improv's present house team 'Mess Hall'), Anthony Assaf, and Howard Mitnick are all individuals who without a doubt can consistently bring strong improv performances and tactfully broach difficult subjects in a warm, engaging way.
Moreover, between the six of us, there are individuals who are biracial, who are from minorities even within their own faith systems such as Ismaili Muslims or Coptic Christians, there are recent immigrants to Montreal from other countries, and some from other provinces in Canada, there are born and raised as Montreal anglophones, and born and raised as Montreal francophones — so there's really quite a spectrum.
What do you hope the audience will take from this?
I hope the audience will consist both of individuals who after the show can say "Yes, I related to that – that helped me feel a greater sense of connection and belonging to people in Montreal," and individuals who can say "I learned something new about what it is like to be from a different cultural/religious/linguistic background, and my sense of what is 'normal' for someone to have experienced has been stretched."
In Montreal, there seems like so much untapped potential to get different and sometimes eye opening perspectives…
For sure. Montreal's an interesting place, where there is an enormous spectrum of people, but where on some level people continue to be segregated to their communities. For example, kids who grow up in the East End might never meet kids from NDG/Montreal West and vice versa until they're around 17 and go to CEGEP, and even then might not really intermingle.
It's so important that there continues to be a push to get different kinds of people really talking and listening to each other, and there be a real exchange of ideas. Otherwise, that's how we end up getting into difficult political and social situations.
Has the community been supportive?

This has been such a new initiative in the Montreal improv community, that it has taken time to develop and communicate the project. However, especially as the show date draws closer, the community has been very positive in their response.
I am also very grateful for Montreal Improv's artistic director James McGee who has really taken the time to listen and support the project from day one. Vance Gillis has also really equipped the project to succeed with his quick, enthusiastic involvement in coaching and providing mentoring to me as a first time producer.
How do you see improv scene in Montreal compared to the other metropolises?
The improv scene in Montreal is definitely still small enough that there is still a real sense of community. There are natural pockets in that community at different theatres, but there is a real opportunity to exchange ideas between those spaces.
It is certainly a scene that can continue to develop with regards to creating a framework that will invite players and audiences from more diverse backgrounds to partake, but there are definitely steps being taken in the right direction.
Where would you like to see Montreal improv and comedy scene in 2 years?
I for sure hope to see it grow in diversity, and with that I really hope to see the community producing more shows that those who perhaps haven't had a 'typical' Canadian life can relate to.
Comedy's also a really powerful mechanism with which to discuss more serious issues that we might be experiencing, and I would love to see a comedy scene where comedians continue to affect society positively in allowing audiences to talk about those hard topics.
What can we expect that night in terms of performance/format? Also a vernissage?
You can expect comedy from Daniel Carin and Chris Sandiford of the Ladies and Gentlemen Comedy Show. A long-form montage set from our truly excellent opening act. The main set will contain a Living Room set alongside an Armando. A Living Room set allows the players to chat about a topic, and when another player hears something that could be a fun short scene, they tap then out, play that scene, then return to the conversation.
An Armando is a series of long-form scenes that typically gain their inspiration by drawing on themes/premises from a longer story. So both formats are those which really provide the opportunity to highlight different narratives and experiences as well as the improv.
And yes! there will also be a vernissage! Saima Ahmed who has been an incredibly integral part of our community as a producer and photographer will be showcasing her photography. Aquil Virani, who is also performing in the show, produces incredible art highlighting the narratives of different people, or highlighting conversations around different issues, will also be showcasing his art.
And if you choose to stay after the show, you can catch Marc Rowland and Brent Skagford, two of the most acclaimed improvisers in Canada, perform in Easy Action for just $2 more!
What's next?
Colour Outside the Lines will performing at Montreal Improv's Indie Night on May 13th. However, we also hope that this will be a start of series of shows where we continue to highlight art, music, story-telling, improv, comedy, and sketch from diverse [voices] in the Montreal community.
Colour Outside The Lines plays Thursday, April 13th 2017 , from 7:00 pm to 8:00 pm at Montreal Improv Theatre, 3697 Saint-Laurent. $8 or free for M.I.T. students. Doors open for the art and photo vernissage at 6:30 pm. Details here: facebook.com/events/1884272188527770/