Three-time Canadian Comedy Award-winning sketch troupe Peter N' Chris to Headline the Sketch Republic on St. Paddy's Day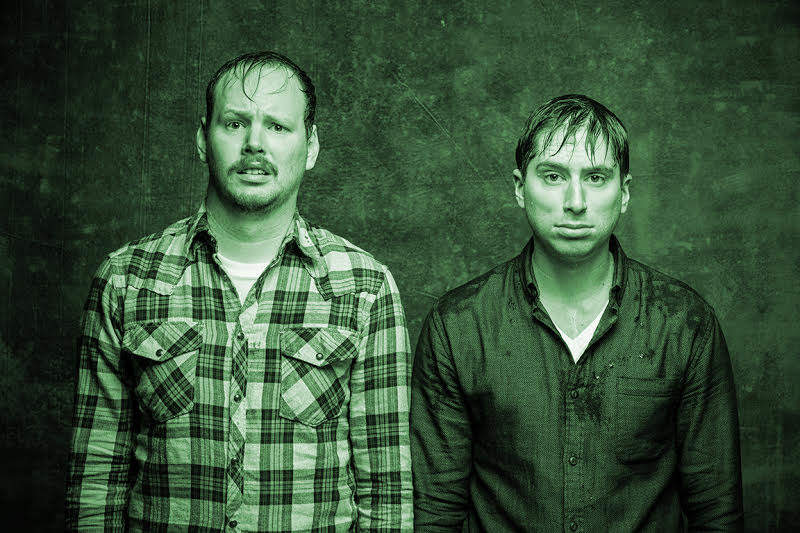 With cold winters like this, I like to think the things that make this city exciting are being preserved under all that deep frost, waiting to be unleashed with warmer times.
We've seen that groundhog in the news, we notice the days getting longer, March is here, yet why is the cold still eating away at my face like it's a zombie in the apocalypse every time I go out? Although I doth protest, the cold has never stopped a person's will to be outside, if there's something worth going outside for.
In addition to St-Paddy's falling on a Friday to warm our bodies with inebriating drink, so is the next Sketch Republic, the monthly hour-long sketch comedy night featuring the funniest comedy troupes, homegrown and from abroad. And as if the cosmic alignment of these two events weren't enough to blow your mind, try to contain yourself when I write that three-time Canadian Comedy Award-winning, touring sketch troupe Peter N' Chris (Peter Carlone and Chris Wilson) will be making a stop in Montreal, to headline the Sketch Republic show this Friday at The Theatre Sainte Catherine at 8 pm, and to teach a sketch writing workshop the following day.
Perhaps you've been a rabid fan, perhaps you're only hearing about them just now. These comedy juggernauts have been going at it for 10 strong years and have shown no signs of ever slowing down. Joining this perfectly funny pair will be local sketch scenesters Pickle Party and Goddamn Bear. I spoke to the producers of Sketch Republic, Erin Hall & Danny Belair, funny in their own right, about bringing big names such as Peter N' Chris to the their live comedy sketch show.
Paint the picture of when you came across the highly entertaining, comedy multi-award winning sketch comedy duo and all around funny Canadians Peter N' Chris.
​Erin Hall: Peter N' Chris have been hyping up audiences in Montreal for years now​. They have been mainstays of the Montreal Fringe Festival, winning multiple Best English Language comedy awards from Just for Laughs. I first saw them at the Fringe in 2012 and they have been consistently blowing me away every since. They won the Just for Laughs award at Montréal Sketchfest in 2016. Seeing them for the first time is pretty amazing – they've got these expert skills of comedic timing, all the while making it seem effortless.
Danny Belair: I first saw them two years ago at the Toronto Sketchfest and it was one of the greatest shows I've ever seen. It opened my mind to what was possible with sketch. I was also wearing jeans that day if that helps paint the picture but doesn't say anything about the troupe. It was a truly great show.
The Winnipeg Free Press calls them "reliable". That makes for a great review quote. What other review quotes would you add to that?
​E: Reliable is so true – they have been creating shows for so many years now you would think there would be one dud in there – but I certainly can't think of one. If I was reviewing Peter N' Chris I would probably say something super granny-town like "delightful" or "clever"  – maybe Danny will be able to off-set my quotes by saying something cool.
D: Peter N' Chris: "No duds" or "Dud-less" would sum them up for me.
What made this appearance possible? (How easy was it to book them — was it done through known acquaintances, or did you befriend them in person?)
​E: Danny and I are always planning ahead for the Sketch Republic shows. Though Peter N' Chris started in Vancouver, they actually don't live in the same city. Chris is in Toronto and Peter is in Vancouver. When we found out that they would be performing at Toronto Sketchfest in March we figured it would be easier to get them to do a show while Peter is already on this side of the country. We basically just asked them ​and they are cool chill buds so they said yes.
D: Erin is the sketch comedy mothership of our city and did the booking on this one. Peter N' Chris have been on our dream list for a long time so it's super sick to have them on the show.
What do you think we can expect from their upcoming set at Sketch Republic — any chance we'll get a taste of what they've been touring with recently (i.e. here lies Chris, Peter vs. Chris…)?
​E: Peter N' Chris have promised a never-before-seen in Montreal set. The last time they were in town was during Just for Laughs in 2015. Seeing how prolific they are as a duo, we can expect totally new stuff, ​which is super exciting!
I honestly didn't know they existed (it's great to discover already-established acts) They've made a multitude of sketch videos available on YouTube… What would be a great Peter N' Chris primer before they grace our TSC stage?
​E: I love their online videos so much. Here are a few good ones:
Would you like to talk more about the workshop they'll be teaching while they're here?
E: ​Yes! The workshop is such an amazing opportunity. These guys truly are the best in the country when it comes to physical narrative sketch. This is a rare chance to take your sketch practice to new places and construct a quality sketch set/show. Of course, really hope people in Montreal jump on this as the result will be more super amazing sketch shows in town. With Montreal Sketchfest coming up and some pretty great awards up for grabs, it makes a lot of sense to work on those sketches!
Who are the next visiting performers?
​E: Well our April show which hasn't been announced yet will feature all-time-favourite MTL acts. We are planning some big stuff for the summer and hopefully we will participate in the Montreal Fringe Fest and OFF-JFL again but for now we can look forward to Montreal Sketchfest for out-of-town gems. ​
I heard that the audience participation within a Peter N' Chris show is like no other…
​E: Peter n' Chris have a way of bringing the audience into a world with them, but keeping it outside of the awkward "audience participation" zone that sometimes make some people uncomfortable. They are masters of storytelling and surprise and they consistently (throwback!) craft solid shows with engaging storylines that are hilarious throughout. There is a reason they keep on winning all of these awards!
The fact they've been together for nearly a decade is truly a testament to them being good friends, mutual tolerance of each other on and off-stage, and keeping each other as well as the audience, engaged… you folks produce a monthly sketch comedy night, you've hosted countless troupes as well as manage your own,Hot Raw Fire — what's that one common quality that you see in every great troupe that you just know they'll be around?
​E: Yeah I have seen so many sketch troupes come and go over the years. And when troupes disseminate or break up, its for a variety of reasons – sometimes its because of a lack of mutual artistic direction or maybe sometimes there is group drama (like in rock bands – sketch troupes are the, marginally less punk-rock, punk-rock bands of comedy). I would say the number one reason is that it is hard to make money in sketch and hard to really find a place to consistently perform. This is why Danny and I started The Sketch Republic. We saw a plethora of troupes that would appear from nowhere just before Sketchfest, they would come and do one or two killer shows, and then they would disappear into the ether. More shows in Montreal means more chances for troupes to perform and a higher likelihood of them staying together.
D: Gigs, festivals and deadlines are the engines that keep a sketch troupe going. The more that exists within a city, the faster a troupe can progress. It's really hard to write anything without a deadline. I hope that more sketch shows pop up in the city! I'd also add that being great buds before forming a troupe is key. You're going through everything with your troupe, especially when on tour. Communication and respect are things that have to be constantly worked on. (As cheeseball and obvious as that sounds.) Just talk about your friggin' feelings all the time and you'll be fine.
What does it mean to bring in out-of-town comics? Is it instrumental at expanding our local comedy scene?
​E: In my mind, bringing troupes from out of town has two great purposes — first, local audiences and performers get to see acts that they wouldn't normally get to see. Performers can take inspiration from different styles and methods — further instrumented if the out-of-town performer can offer a workshop. Secondly, our *VERY* low-budget way of bringing in people from out of town is just another way of fostering our North American comedy community. We all get better when we can learn from each other's work, make new friends and and check out new scenes. Out of town artists benefit from coming to Montreal because they have access to new audiences that will have a different sensibility. The whole comedy community flourishes and the world is a better place, yada yada yada. <3
D: What Erin said.
Peter N' Chris perform at Sketch Republic at Theatre Sainte Catherine (264 rue Ste-Catherine East) Friday March 17th

 @ 

8PM 

$8 or $6 for students