A Tribe Called Red brought their vibrant and vital dance party to a sold-out Corona Theatre.
---
---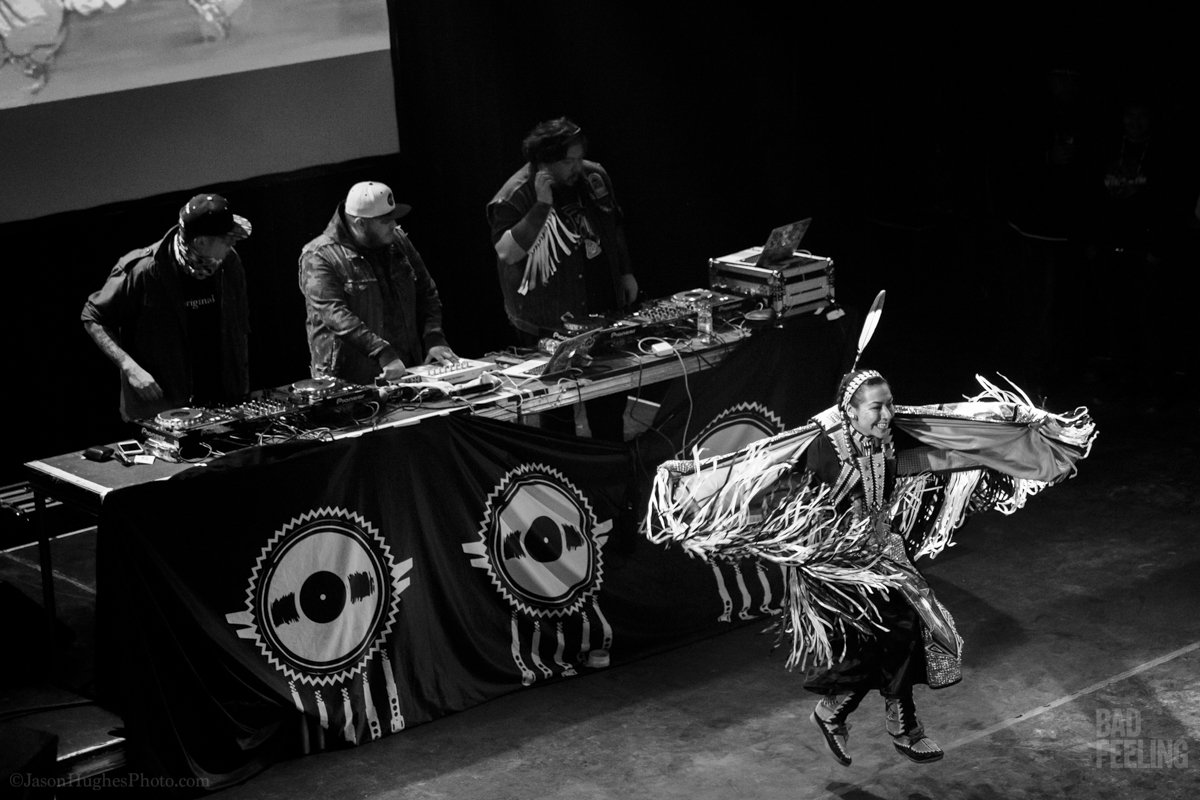 A Tribe Called Red
Corona Theatre
December 15, 2016
Review: Kathryn Simpson
Photos: Jason Hughes
The colossally talented Canadian electronic music group A Tribe Called Red (ATCR) – currently comprised of DJ NDN, Bear Witness, and 2oolman – graced us with their vibrant, vital presence at the Corona Theatre on Thursday night. The band is touring to promote their third full-length album, We Are the Halluci Nation, and their show in Montreal was sold out. And for good reason: ATCR, who first got together in 2008 and in 2014 won the Juno award for Breakthrough Group of the Year, are a powerhouse of excellence in both innovation and tradition.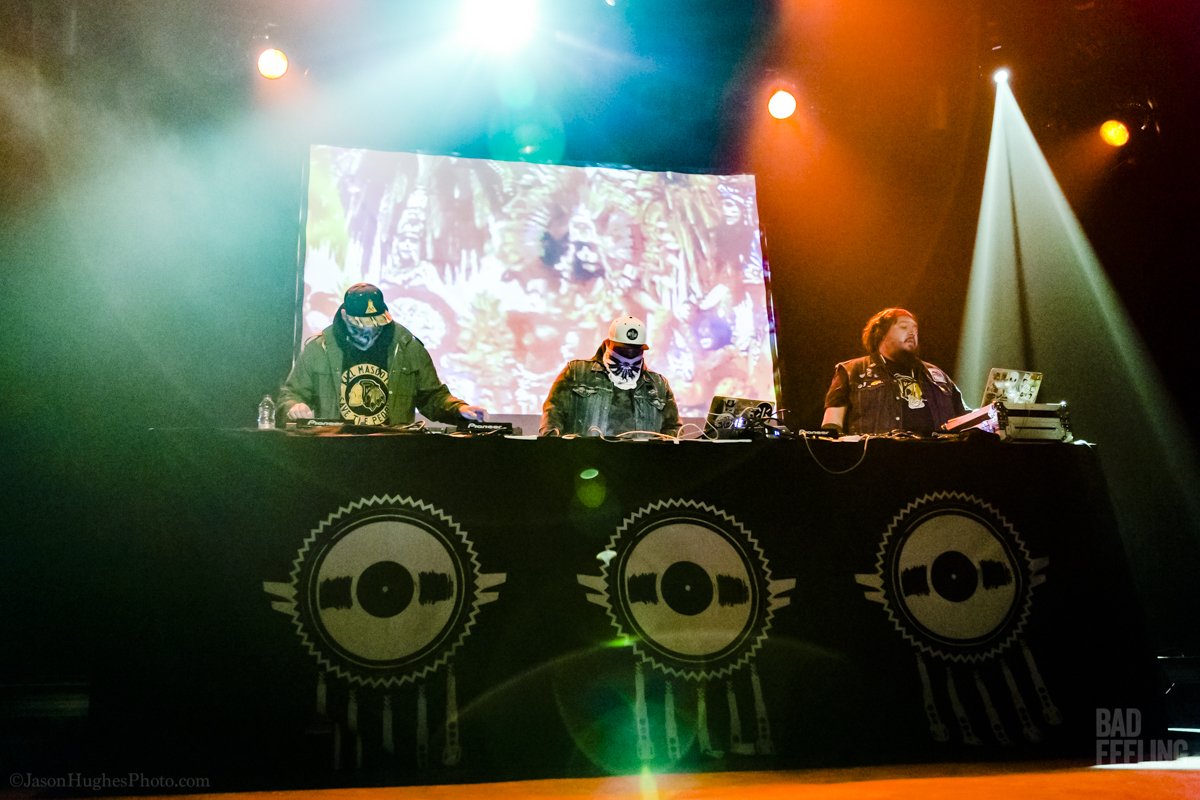 Describing their sound as "modern hip-hop, traditional pow wow drums and vocals, blended with edgy electronic music production styles," ATCR also advocates for Aboriginal rights and social justice. During the show their political and aesthetic vision was further embodied – thrillingly – by a range of amazing and diverse dancers on stage. Aboriginal dancers in stunning regalia were joined by breakdancers, including Montreal's own Luca "Lazylegz" Patuelli. I will never forget seeing Patuelli, who wore a T-shirt emblazoned with the motto "Pas d'Excuses, Pas de Limites," throw away his arm braces to do handstands and spins for a madly appreciative crowd.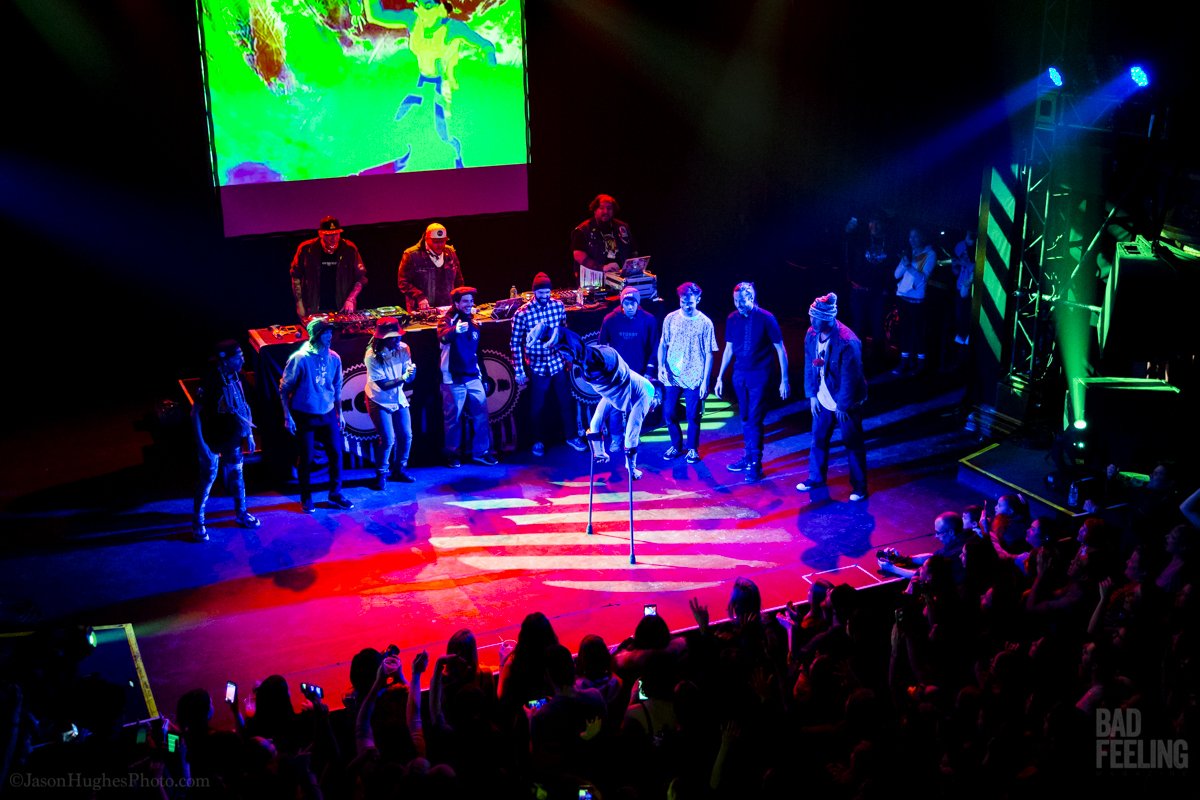 Bear Witness, who has been making professional video art for at least a decade, provided video accompaniment to the concert that reframed representations of Indigenous peoples in critical, hallucinogenic, and also sometimes humorous ways. One of the most memorable aspects of the show for me was how it was such an intensely great party – the floor was literally bouncing – but also felt so safe. Two small children, lifted up by their parents or guardians, spent the whole show pressed right up against the stage and in the midst of one of the most riotously industrial hip-hop segments, a dancer went forward and took the happy child's hand. During the encore that same dancer ran out and, sliding across the stage on his knees, gave the child a gift of some kind. It was a perfect moment encapsulating a perfect show, for ATCR themselves are nothing if not a precious gift.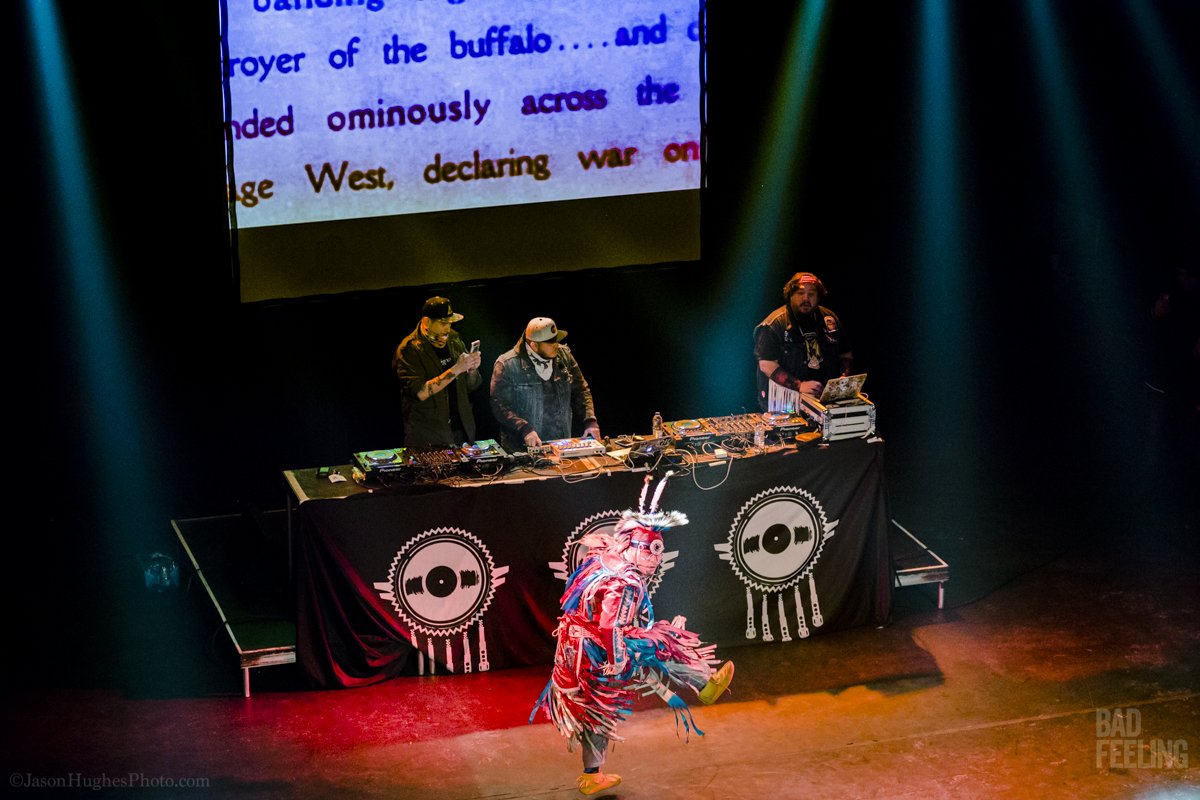 Infused with the energy of the ecstatic crowd I thought to myself, "This feels like the future, the dance music of the future." As ATCR say in their press kit: "A Tribe Called Red promotes inclusivity, empathy and acceptance amongst all races and genders in the name of social justice. They believe that indigenous people need to define their identity on their own terms. If you share this vision, then you are already part of the Halluci Nation." ATCR's Halluci Nation is the only nation I want to be a part of.