I've Been So Lonely Baby, I Could (Try To Get Over It): Healing From Heartbreak advance screening this Friday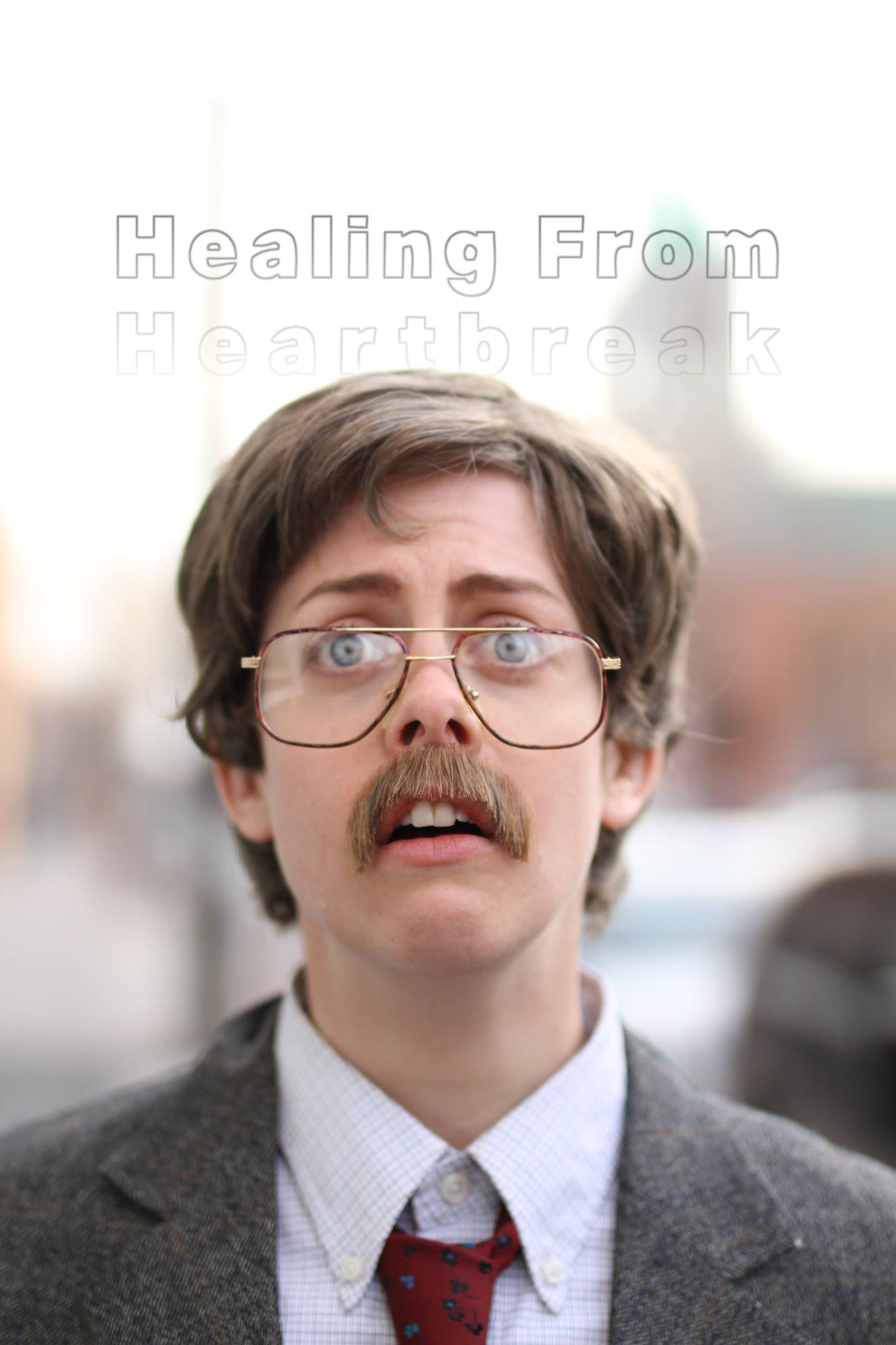 We've all dealt with, or at least tried to recover from some form of metaphorical emotional pain at one point in our lives. Or was it just me?
If we can say the human condition is big business fodder that popular culture can mine from, then it has not failed to capitalize upon the notion of heartbreak, either.
Elvis Presley's "Heartbreak Hotel" held onto the #1 positions of nearly all the charts for several weeks in 1956 and sold enough records to reach double platinum status, back when records were the only available music format out there. That was decades before cassettes; try handling your to-do list with a record player in your arms! Among other notable heartbreaks are playwright Neil Simon's The Heartbreak Kid, which went on to be a film, which in turn got rebooted in 2007 as a Ben Stiller vehicle. To probably allude to this fact, he's even driving a car in the movie poster! "Hey, this movie is another Ben Stiller vehicle, in which I, Ben Stiller, am driving the movie with my unique patented Ben Stiller charm!" (Seriously, I love you Ben Stiller and everything you've done for comedy so far, and glad you're in better health.)
But has anyone attempted to help people heal from it, short of a shrink?
Enter Courtney Douglas, played by Kirsten Rasmussen, starring in his own 8-step, self-help mini-series, called Healing from Heartbreak. Having recently gone through a terrible divorce and thus handling his midlife crisis his own way, Courtney enlists his nephew as camera man to help shoot his web series, in the hopes of healing himself and hopefully others like him.
Underlying heartbreak and the feeling of loss, is the human nature to lie to oneself, in order to get over things quicker than one should, but as Kirsten puts it, "that usually leads to hilarious and awkward situations."
This 8-part comedic web series was shot in the span of three days and is a cross-city collaboration between Kirsten who resides in Toronto, and Danny Belair, the director who calls Montreal home. They recently kicked off the first leg of the screening tour in Toronto at the Bad Dog Theatre, where Healing From Heartbreak was given nothing but a warm & positive reception.
This Friday, Healing from Heartbreak will screen at Theatre Sainte Catherine. I attempt to find as much as I can from the two performers who make being part (as spectator or participant) of the improv and sketch scene so worthwhile…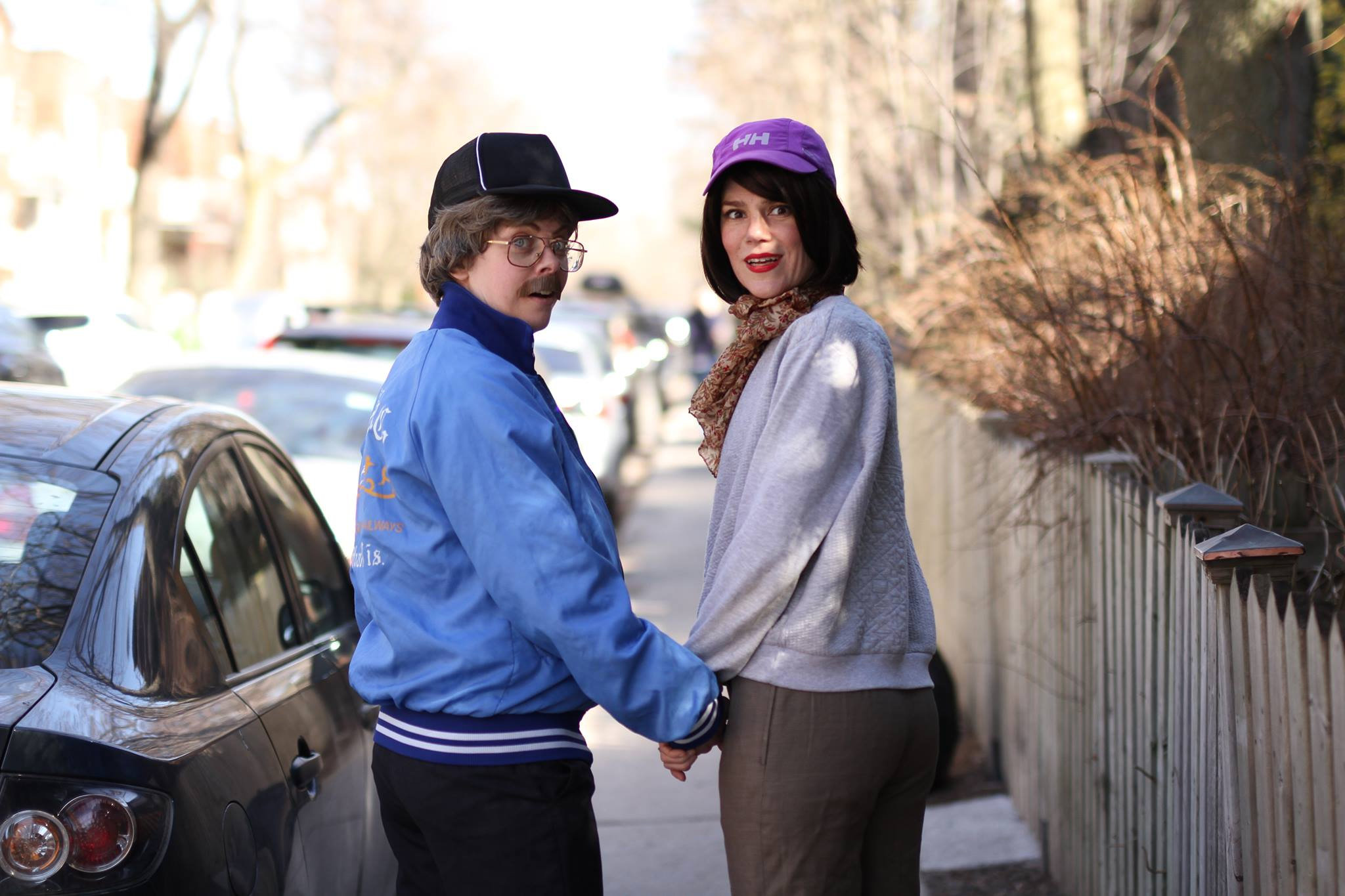 Is there a format being followed (fake reality, tutorial format, sitcom)? Does each episode lead into the next, or is each a standalone look into the lives of the protagonists?
Kirsten: It is a very short web series, just one or two minutes each and the whole series of eight episodes has an arc that follows Courtney's healing. It is a straight to camera "self help video" situation.
Danny: The series follows an infomercial format, and Kirsten came up with the idea that it should look like Courtney's nephew filmed it. After that it was game on with shitty zooms, awkward editing and just really messing around with the "multiple cam" format. It basically gives you free reign to embrace every aspect of your low budget production 'cause good old nephew Carl filmed it.
The both of you are improvisers and use this skill as a tool to discover these larger than life characters and generate hilarious situations that touch on the awkward and the absurd… can you tell us about the process that inspired the main character? What made you want to take their story to the screen?
Kirsten: Courtney Douglas' character came from an improv show that I directed at Bad Dog Theatre called "9 to 5 Working Women." He was a support character in that show, and he was actually originally supposed to be played by a male actor, but that actor was busy with his sketch troupe and had to pull out of the show. And so I decided to play Courtney Douglas myself. Courtney was raw and obsessed with his ex wife Carol, and would often break down in front of the other characters. I fell in love with Courtney, he was so sad and awkward and beautiful. And so I started thinking about something I could do with Courtney beyond that show and eventually pitched the idea to Danny Belair.
What led to this project? Also, tell us about you and Kirsten's meeting origins and keeping in touch since…
Kirsten: Danny and I met in improv class. I was the teacher and he was the bright eyed student. People I've met through improv have become some of my best friends in life because you are bonding over something you both love very deeply. In our case it was comedy. Danny has a rare skill in the comedy community being a director, editor and cameraman. And he brings his comedy chops to that technical side of the game. Our first project we did together was called Date Mountain, and we had planned to do a few episodes on that but then I moved to Toronto, and Danny got busy with other projects as well, such as Dépflies which won a CBC Comedy Coup award! When I was thinking of the project that I wanted to make with Courtney, Danny came to mind immediately because he is really great at combining heart and comedy, which is what my favourite kind of comedy is too. He's also a breeze to work with, endless ideas and a fountain of positivity.
Danny: BLITZ ORIGIN STORY: Kirsten and I met at Montreal Improv Theatre (she was the teacher and co-founder of the theatre)-> She's the coolest -> We teamed up to make a short Date Mountain -> Goes really well -> She moves to Toronto -> (Sadness) -> Is the collaboration gone forever? -> 2 years later she sends me the scripts for Healing For Heartbreak -> Rejoicing -> We shoot it -> Goes well -> Edit -> Answer questions for Bad Feeling Magazine -> Screen series Nov 25th at TSC! -> Sleep till Jan.
Danny, you live in Montreal. Another one of your favourite projects is co-producing the monthly comedy showcase, Sketch Republic. You're also an improv & sketch performer in various friends' productions. Kirsten, you reside in Toronto where you teach and perform improvisation at Second City and Bad Dog Theatre… Can you tell us about the logistics of making that cross-city collaboration happen, as well as any challenges?
Kirsten: I love coming back to Montreal any chance I get. So I came back to shoot it. Of course the shoot had to be very quick which was hard. But for me, Montreal is my happy place.
Danny: Two things that saved our lives were Google Drive & Skype (HUGE PLUG). Having all your scripts on the Drive and editing on the same page is amazing. THANKS GOOGLE (Gets paid $1000000 and retires) But seriously, it's the only way to pull a project like this off.
So the mini-series was shot in Montreal… how did you decide on the location and what does the film crew consist of?
Danny: All the crew + equipment was in Montreal so we shot here. Also our dear friend and real life angel Lise Vigneault has an amazing apartment that's the perfect location for any shoot. PLEASE RENT HER APARTMENT FOR SHOOTS FOLKS. (Part of the deal to get the location was to advertise her apartment to every living person I meet.) Please email her at liseapartmentforcomedyskitsorwebseries@yahoo.au for all deets.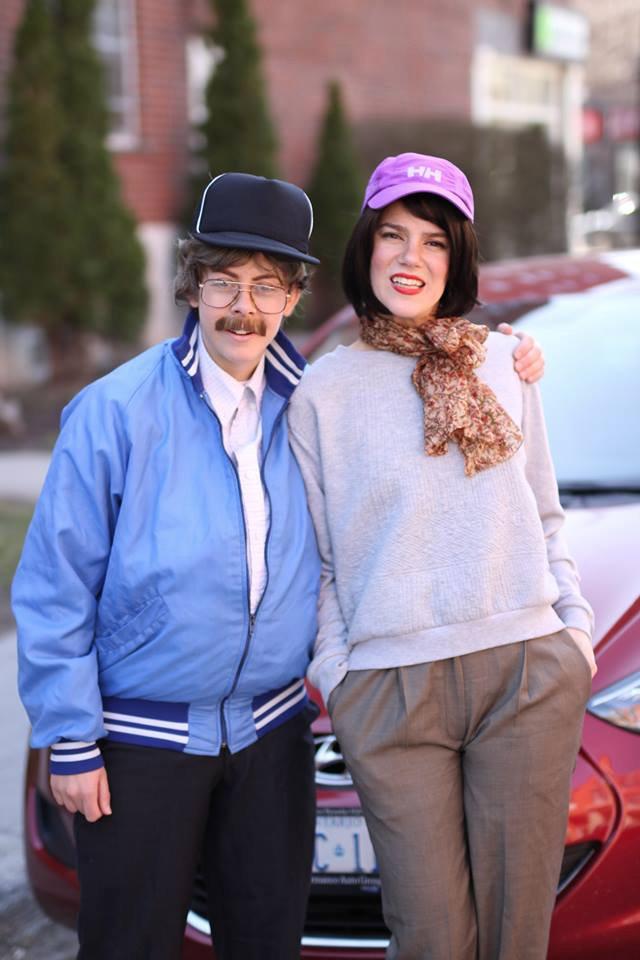 So you've shot and edited all of the episodes already, 8 in total. How long did it take for the shooting? How important does organization become with a tight schedule?
Danny: It took 3 days to shoot and at the end, it felt like my brain and body had been passed through a pasta maker and just squeezed into linguini (I'm not sure linguini is the right pasta for this metaphor but heck I'm going with it). It was draining is what I'm trying to say. We were organized but there was only me, a sound guy (vibe guy extraordinaire Stephen Trepanier) and Kirsten. We had no money to hire anyone and that's why I recommend getting a Gatorade sponsor or 5 Hour Energy, heck even Michelina's frozen dinners will probably throw half a mill at a web series right? Send them a letter or something. If you don't try you'll never know, right!??
Kirsten, how did you like working on this project with your Montreal buds?
I love coming back to Montreal. I moved to Montreal when I was 25 and so I feel like my comedic voice was really shaped by the experiences, people and comedy communities I was a part of there for almost four years. The people at Theatre Sainte Catherine and Montreal Improv Theatre and Free Standing Room and the Montreal Fringe, are some of the most supportive, loving artists you'll meet anywhere. In Montreal, people stay after your shows and discuss them with you, tell you what they thought, how they felt. It was an unbelievable learning experience for me doing comedy in Montreal and it helped me, I think, to stand out once I moved to Toronto. I am grateful to this community and so delighted to come home and perform and collaborate any chance I get.
Also, you keep the main character likable and relatable. In moments of pathos, we feel sorry for him instead of hating him, we laugh because we recognize heightened bits of ourselves or someone we know. As I'm learning improv, it seems the best characters are the ones with some kind of problem, an imbalance, which I still find difficult to do, because they come from a difficult place that's shitty to revisit. What's your approach for portraying difficult characters under a humorous light?
Kirsten: I love seeing people in difficult situations. That's what storytelling is all about. We don't want to watch a story about a person whose life is going great. We want to see them suffering and then how that specific person deals with it? I think Courtney is loveable because of how he deals with his pain.
I've been lucky to preview a clip of Healing From Heartbreak at a cozy outdoor comedy event sometime last summer. It's very very promising, production values are of the highest caliber. I'm very excited to see my favourite character performers on screen and can't wait to finally watch all of the episodes made. Tell us about the Healing From Heartbreak tour…
Danny: We did a magical screening at Bad Dog Theatre in Toronto last week and now we're continuing our NORTH AMERICAN TOUR: Toronto -> MTL -> Ottawa and I can't wait to show more people this thing.
Danny, obviously this was a labor of love and you wanting to put some of your very good friends in the spotlight. Has the experience left you folks wanting to do more comedy together in the near future?
Yes absolutely, I've already greenlit every idea that Kirsten hasn't even come up with yet. IN MY MIND. It's always a dream to work with her and can't wait to start the next thing.
You've also directed another series that CBC recently picked up for development, Dépflies (which Lise Vigneault is also in) … What got you into filmmaking and what made it stick?
Danny: I got into filmmaking by making silly comedy videos with buds and I'm still just making silly comedy videos with buds haha. Things just get a tiny bit better everytime. With more experience you just find better ways of telling a story and finding the funny and heightening it. But it still has the spirit of a grade 9 comedy vid.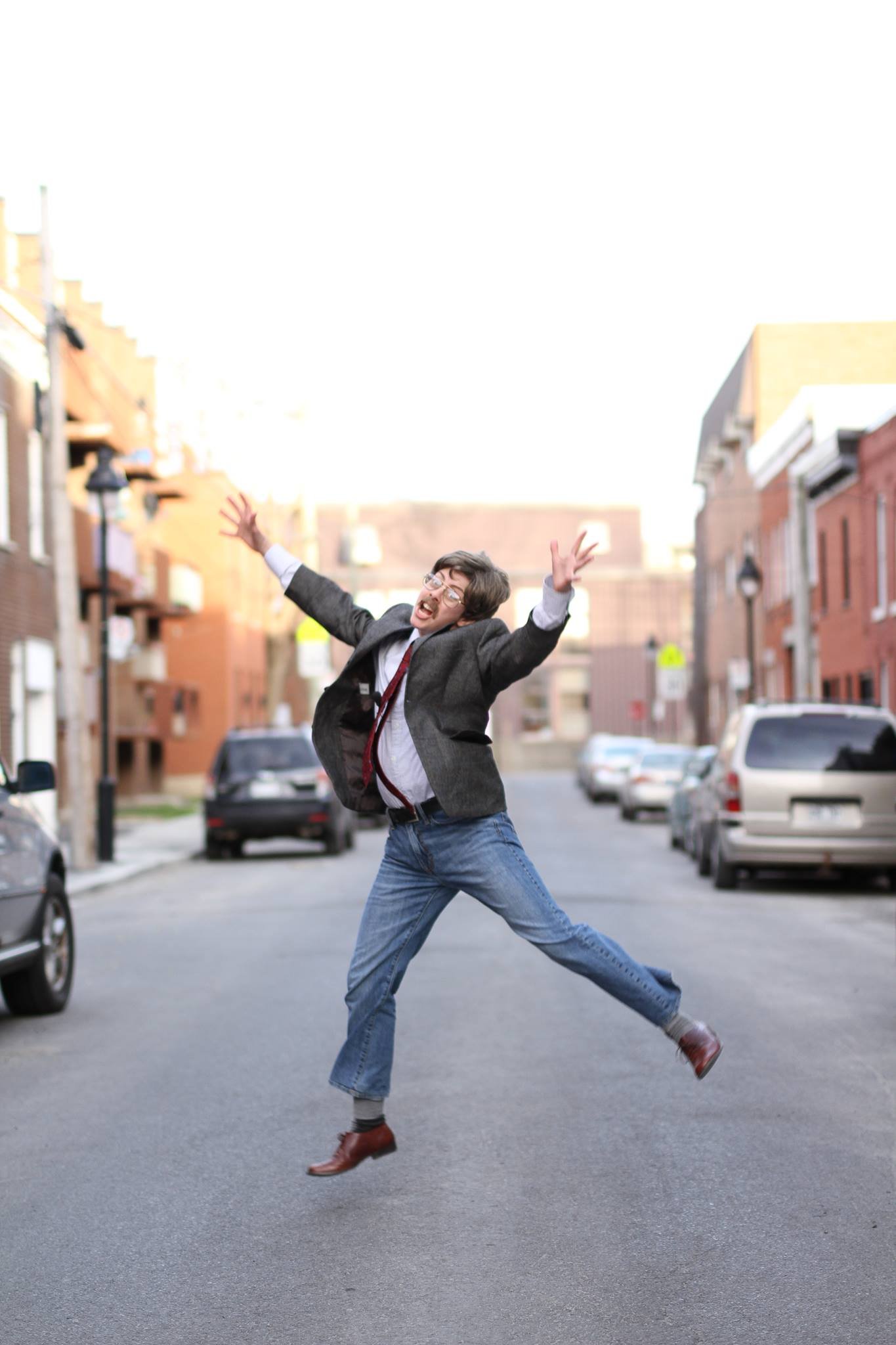 A few comedic actors whom I love to bits also play very convincing characters of the opposite sex, to the point of not realizing it until I read the credits. I'm thinking of Tracey Ullman as one of them. And now I'll name you in the future, Kirsten. When I saw the photos, I was amazed. Not just the face props, but so much being told in the eyes, in the expressions. I can recognize Kirsten Rasmussen, but if you wore that and just walked into a men's public rest room in NC, no one would bat an eye. To me, you really get into playing any gender equally… but it must have been so much fun to play this man, right?
I love playing Courtney and he feels like sometimes the truest part of myself. He is very comfortable with being vulnerable and emotional, something that I haven't always been so comfortable with. And so it's a delight to let that clumsy, love sick side of myself soar with Courtney. He really is a heart on his sleeve kind of guy and that is a delight to play.
Let's say there exists a support group for male divorcees who cannot recover from their recent divorce, what do you think they'd say after watching the first episode ? What would you impart unto them as they quietly file out at the end of the viewing party?
Kirsten: I hope they leave quietly with a smile and maybe hungry for comfort food?
Danny: give me one fun fact about Kirsten. Kirsten: give me one fun fact about Danny.
Kirsten: Danny's curiosity and hunger for comedy. Whenever I get to hang with Danny he has stories of five new troupes he saw and what they were doing with sketch comedy. That love and curiosity is infectious.

Danny: While we were shooting for like 14 hours she farted and she couldn't stop laughing and I got mad at her and I'll never forgive myself for being mad at a fart. But I was soooo tired and sometimes you're allowed to be mad at a fart ya know??
The first 5 episodes of Healing From Heartbreak will be presented at Theatre Sainte Catherine's advance screening party, 264 Sainte-Catherine East, on Friday, November 25 at 8pm, with crowd-warmers/openers HOT RAW FIRE. Details on their facebook event page. Tickets are 8$ at the door.