NOFX: The Hepatitis Bathtub and Other Stories is a harrowing look at the band's past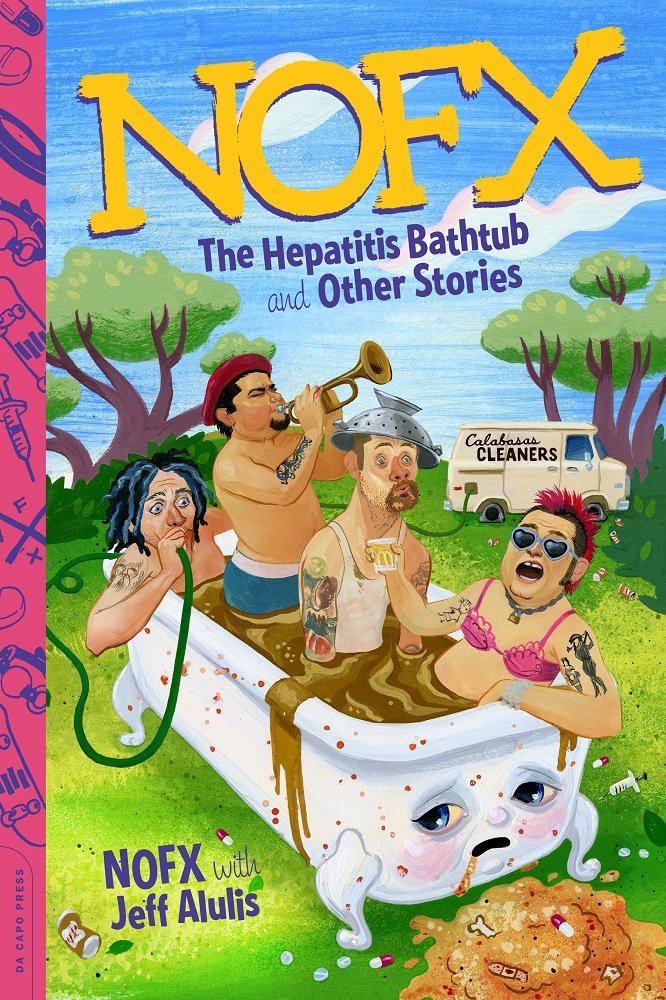 It can often be difficult to separate NOFX from the countless melodic punk bands they have inspired over the years. Their use of humour and eagerness to offend is directly responsible for much of the glut of bro-friendly, monolithic skate-punk that began flooding out of California in the mid-90's (and eventually worldwide). Every city has at least one NOFX clone band (Montreal had dozens at one point), which makes it easy to resent the band for their overarching impact on modern punk.
Written by the entire band—Fat Mike, El Hefé, Smelly and Melvin—NOFX: The Hepatitis Bathtub and Other Stories shows that behind the band's shenanigans lies a long history of violence, drug abuse and physical assault, which each member of the band recounts in their respective chapters of the book.
Co-written with Jeff Alulis, the current Dead Kennedys singer who also worked with the band on their Backstage Passport TV series, the band members' individual chapters lend the book a confessional feel, as they often recount stories they have never even admitted to each other.
The narrative follows the chronological arc of the band, from their early days as a ramshackle L.A. hardcore band to their surge of popularity when punk once again broke wide in the 90's. The 80's L.A. punk scene was consumed by violence, from warring gangs, skinheads, drug dealers, and of course, the police themselves. Singer Fat Mike often takes the time in his chapters to wonder how he escaped so many volatile situations, when so many of his friends were injured or even killed.
Interspersed between the band's early years are chapters on each member's upbringing, including guitarist Erik Melvin publicly recounting his childhood story of sexual abuse for the first time (including to his own bandmates).
The band's early years consisted of poorly-attended shows in backyards and redneck bars, with all the attendant sex and drug use you would expect from NOFX. But those formative years for the band signaled issues that would remain with its members to the present day, from Fat Mike's burgeoning interest in S&M to drummer Smelly's increasingly out of control drug and alcohol use.
Smelly's chapters are the most unsettling, with his first-person accounts of years of drug abuse, thievery and violence. His unflinching tales of heroin addiction and his circle of degenerate friends from that era offer a stark contrast to the glamour of NOFX's current success, and make for a riveting cautionary tale.
Perhaps unsurprisingly for NOFX, the book never feels like a congratulatory leap, but comes across more as a collectively bewildered look back at how they survived to this point. Apart from their various difficult back stories, the book brings up a number of issues that the band are still coping with. Fat Mike's current drug use is discussed in worrying terms by the band, especially Smelly, whose sobriety dovetailed with Mike's late blooming interest in pills and cocaine.
The Hepatitis Bathtub offers up a disturbing look at NOFX's backstory, and presents the band members in an often-unflattering light (except El Hefe, who comes across as the least troubled). There is not necessarily a happy ending or resolution to the NOFX narrative, at least not as they choose to portray it here. While they are members of the very exclusive punk millionaire's club, one gets the distinct impression that their turbulent pasts and current coping mechanisms still weigh heavily on their minds, even as they continue to be one of the most successful punk bands on the planet.
With often unflinching honestly, NOFX have recounted a harrowing story that showcases the real life pain behind the band's often-obnoxious façade. It makes for a compelling read, and provides a unique fly-on-the-wall look at one of punk rock's most unlikely success stories. (Da Capo Press).