Bad Feeling Magazine Podcast # 18 with author Tony Rettman ('NYHC: New York Hardcore 1980-1990')
Early New York hardcore was always a distinct entity from neighbouring scenes in cities like Boston and D.C. Young bands in the city had no central record label championing upcoming local bands, and as author Tony Rettman maintains, whatever money kids had was more likely to be spent on a 6-pack than on self-releasing a record. Unfortunately, that reality means that many early New York hardcore bands are only known within tight record collector circles, their origins and music discussed in mythological terms on message boards, but not widely known outside of the hardcore community.
Thankfully, there is now Tony Rettman's NYHC: New York Hardcore 1980-1990 (Bazillion Points), a comprehensive new book focused on the developing years of New York hardcore, as it transformed from a thrashy subset of punk in the early 80's, to the harder-edged sound of bands like Sick of it All and Agnostic Front.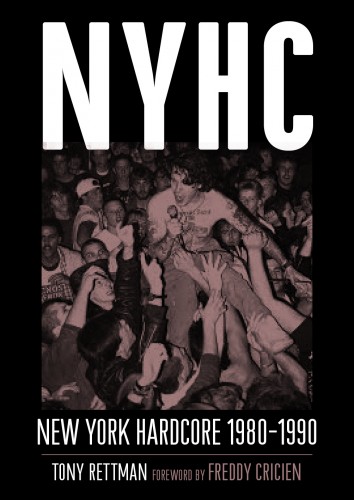 With a brief chapter devoted to each subject and band, Rettman charts the progression of hardcore as it emerged from the demise of the initial New York punk scene, featuring over 100 interviews with band members, zine authors, and scene experts. Chapters on the controversial crossover of metal into hardcore are covered, as well as the mid-80's Krishna influence, the rise of straight-edge and youth crew, and the turbulent scene politics that arose between the more mainstream hardcore scene at CBGB's and other rock clubs, versus the underground ethos of establishments like ABC No Rio.
We spoke with Tony about his roots in the hardcore scene, the long process of conducting all the interviews for the book, and how New York City differed from the early hardcore scenes in neighbouring cities.
Listen to the full interview here, or via the embedded media player at the top of the page. Let us know your thoughts on this episode in the comments below!
NYHC: New York Hardcore 1980-1990 is available now. A release party for the book will he held at 3:00 p.m. on Sunday, March 1 at Grand Victory in Williamsburg, Brooklyn, featuring performances by The Nihilistics, The High & The Mighty and Altercation. For more info, visit the event's Facebook page.