Owen Pallet and Doldrums delivered a hypnotic homecoming show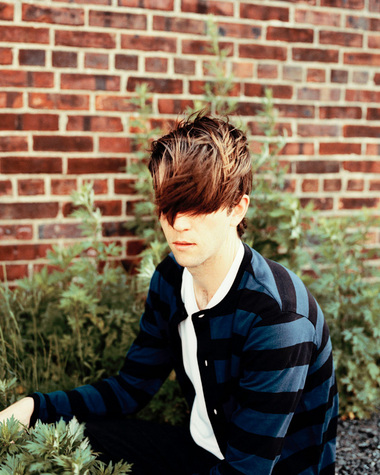 This past Friday, Owen Pallet and Doldrums kicked off their summer tour with a sold out show at Montreal's Sala Rossa, the city both bands now call home. Seemingly antsy and eager to get the loops rolling, Pallett politely informed the crowd this was the tour's first show and that he had planned on playing a long, arduous set. "I don't even know what I'm getting into," he said with a coy chuckle. The crowd laughed along with him, knowing they had come ready and willing to endure every one of his heartfelt songs and self-depreciating quips.
The first show of a tour usually means hic-ups, breakdowns, awkward sounds and unexpected moments of silence. However, aside from the odd pause or telling glance between band members, both Doldrums and Pallett delivered mesmerizing performances.
Doldrums sauntered casually onstage as the houselights started to dim. The four-piece looked vernal, almost as if plucked from a modern version of La bohème. Their live band consists of Airick Woodhead as front man and conductor, his brother Daniel Benjamin, who seems to have mastered every electronic noisemaker that exists, a synth player with an astral vocal range, and a drummer with killer timing. Without introduction, the band started playing. The monochromatic projections that danced onstage behind them were lost in their all-encompassing performance. Woodhead wailed, swayed and engaged the crowd, hypnotizing with his vocal dominance and sultry movements. "Golden Calf" from Lesser Evil, was flawless, with Daniel batting on the electronic pad in front of him with equal amounts power and ease. "Anomaly" was velvety and energetic. Woodhead stared into the crowd with a soulful, longing gaze as their synth player belted out an unreal harmony.
The most captivating aspect of Doldrums' live show was their constant energy; it did not fade at a single point during the performance. At one instance, a tambourine rattled so vigorously it threatened to shatter. Woodhead broke the music only briefly to greet the crowd with a serene "hi," thank Pallett and introduce the band. Most of the set consisted of new material, or what Pallett referred to later in the night as "bummer jams." This did not take away from the ebb and flow of their show; Doldrums worked hard throughout the entire set and made it look effortless.  Their new tracks are just as dreamy and spontaneous as their old ones. The crowd swayed with Woodhead, stared back into his thirsty eyes, lost and wandering within the mythical world Doldrums wove around us.  They finished cleanly with "Egypt" and headed to the bar with the rest of us to wait for Pallett.
Pallett appeared onstage almost unnoticed, clad in a bright and flowery shirt. He discreetly removed his shoes and picked up his violin. The crowd watched with intense anticipation, almost silent expect for a few cries that escaped the mouths of those who waited with bated breath. He began.
Pallett's live show consists of himself and his violin, keyboard and several looping pedals. It is one thing to listen to his music, but seeing him play live is something completely of its own. All of Pallett's songs start out simple enough, usually with a single strum of his violin or a tap on its lower bout. Slowly, they build into deeply complex and rich soundscapes. Watching Pallett is magical; each sound perfectly timed and specifically placed in his spider web of orchestration.  He has mastered every intricacy of his hardware, and it shows. His voice is compelling and ethereal. In between solo numbers, Pallett periodically brought out his live band of bassist and drummer, both of who will be joining him on the rest of the tour. Playing songs from his previous release Heartland, "Midnight Directives" was tender and cinematic. "The Great Elsewhere" and "E is for Estranged" wooed the crowed into submission, fully at the mercy of his music. He also performed some older numbers.  "The Butcher" was melancholy and transfixing and "This Lamb Sells Condos" was silly and sincere. In between songs, he engaged with the crowd. Pallett is beyond charming.  His banter was refreshing, bringing the audience back down to earth. Although the violin is an emotive instrument and his songs can sit heavy, the atmosphere was light and playful. Pallett played several new tracks ("bummer jams") without objection from the crowd. His live band was the perfect accompaniment to his already immaculate composition, offering him reassuring smiles after loop hic-ups or the odd false start.  However, Pallett does not require reassurance. He is a fantasy to watch, and knows it. He accompanied the entire performance with a slight smirk, and seemed just as impressed with his own abilities as the delighted crowd.
Owen Pallett's In Conflict is out May 27.